Fibaro Swipe review: Is it a game changing device?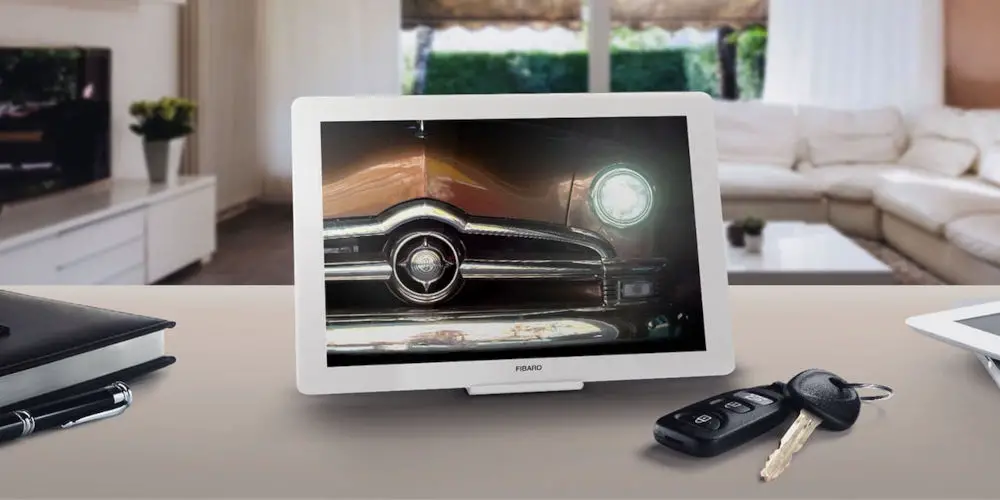 Imagine if you could control your Z-Wave smart devices using gestures. A swipe to the left turns on the living room lights. Swiping up raises the blinds. Well, the good news is the Fibaro Swipe does this and more.
Looking looks like a tablet, the Fibaro Swipe is a battery or USB powered controller. In standby mode, it displays a photo of your choice, hiding its true purpose behind an attractive vernier.
Swipe up, down, left, right, or make a circular gesture to activate preset sequences, allowing intuitive control of your home. A built-in buzzer will confirm that you've performed gestures and other actions.
The Fibaro Swipe isn't a touch screen tablet that can control your home automation system, like those offered by Crestron and Control4. However, it does offer another option for operating your Z-Wave or Fibaro smart home system. Plus, it looks far more attractive than a remote.
Let's explore the magic of the Fibaro Swipe Gesture Controller and how you could use it within your home.
What the Fibaro Swipe isn't
Looking at Fibaro's marketing for the Swipe, it would be easy to believe that it's some sort of LCD / TFT display that rival those used by the high-end home automation system. Sadly, Swipe isn't a tablet or a display.
Instead, the Fibaro Swipe is a large motion sensor that looks like a photo frame and has space to display a physical 15cm x 10cm photo in front of the technology. You can position it either landscape or portrait on the included stand.
Even as a photo frame, albeit with hidden technology, Swipe effortlessly slots into any interior and is available in white and black. You could place it on the wall, on a console table or hide it in a draw!
You'll need to improvise a wall mount as Fibaro is yet to release one, but this shouldn't be too difficult. You could even cut a hole in a stud wall and flush mount the Swipe in the wall.
We were sceptical at first whether the gesture detection would work when installing the Fibaro Swipe under a table. However, it most definitely does work. Even when testing it under several different surfaces, it works every time.
Overall, the Fibaro Swipe is incredibly accurate at detecting different gestures. It might not respond to some of the somewhat whimsical and flowing movements shown in the Fibaro marketing video! However, real-world tests are positive as it's easy to programme and operate.
What can you use Swipe for?
Getting the Swipe set up and configured is very straightforward, taking a few minutes. Once, up and running, it responds to the "basic" gestures of Swipe Up, Swipe Down, Swipe Left and Swipe Right.
A simple Wizard programme lets you assign "reactions" that will be actioned for each gesture. It's very easy to programme. That said, not every Z-Wave device will support the Fibaro Swipe functionality, so you should check with the manufacturer before trying.
Swipe offers flexible control over your smart home devices. You can turn devices on or off, set a dimming level, toggle it, and even complete a delayed action. It can run an entire Scene or send you a notification.
In addition to the basic gestures, you can also use "circular" Clockwise and Counter-Clockwise gestures. You need to enable them in the configuration settings. Enabling these adds a slight recognition delay that helps it distinguish between the basic gestures and these movements.
Does it respond to sequences?
After experimenting with using a single gesture with the Fibaro Swipe to control a device, you might wonder if you can use multiple gestures in a sequence. Swipe becomes instantly more impressive when used with "sequences".
A sequence can be made up of three basic gestures that are carried out sequentially. However, each gesture has to be different from the previous. For example, you could use "Swipe Up, Swipe Down, Swipe Left". But you can't use "Swipe Up, Swipe Up, Swipe Left".
As before, a simple settings Wizard walks you through the two-stage process. First, it will ask you to configure the sequence that you wish to use. Next, it will "wake up" the Fibaro Swipe so that these details can be transferred to it.
After the new sequence has been added to the Fibaro Swipe, you will be able to select it in the "reactions" Wizard and assign one or more devices, notifications or scenes to be executed when that sequence is recognised.
What are associations?
In addition to the basic gestures and sequences, the Fibaro Swipe also supports an array of options for using it with Associations. For example, you can choose whether the commands are sent to the Associated device using Security or not.
When a device is integrated into a Z-Wave network with Security, it will only communicate Securely. If you try to Associate it to a device that doesn't support Security, the commands sent may not be recognised and acted upon.
Interestingly, you can select within Fibaro to send commands to Associated devices without Security, even if the Fibaro Swipe is itself operating with Security.
Five Association Groups are available and they correspond to both the basic and circular gestures. These allow you to Assign up to five devices to each Group. Be mindful that using multiple devices in multiple groups can slow down Z-Wave communication.
Extras: multiple and configurable Parameters
Like other Fibaro devices, which are highly configurable and flexible, the Fibaro Swipe supports over 25 Parameters, including selecting the device's orientation (adjust the settings to suit portrait or landscape) and how it uses the internal buzzer and LED.
It's worth reading the product manual with a good cup of tea as it walks you through each Parameter and how you can maximise the use of each.
Is it useful or just unnecessary fluff?
It's easy to discount the Fibaro Swipe as a bit of a gimmick, particularly as you can use remote controls, wall-mount switches or the Fibaro KeyFob to achieve pretty much the same level of functionality.
That is only part of the picture (no, pun intended). Using a remote requires finding it and remembering the right button combination to complete a series of actions. Switches, while simple, don't allow you to dim lights to preset levels and so will always need adjusting.
Swipe allows you to use a gesture or sequence of gestures to activate devices or presets. You could mount it under your kitchen worktop and control your smart speaker using it. Swipe down to access your playlist, swipe left to play the previous track, and swipe right to skip songs.
In the garden, you could use the Fibaro Swipe to control your gardening lighting, allowing you to use different gestures to turn on lights. Swipe down could turn all lights on. By swiping left, you light up the decking area, ideal for late-night entertaining with your fire pit also lit.
Instead of using a Fibaro The Button switch to activate your "leaving home" sequence, you could use the far more attractive Swipe. A simple swipe down will shut down all non-essential devices and appliances; and turn on the house alarm.
With some experimentation, it's surprising the number of different uses the Fibaro Swipe offers. All of which improves how we live and operate our smart home system. Not to mention, how pleasant it looks, particularly compared to a bank of switches or yet another remote!
Does Swipe have any downsides?
Swipe, like every other device, isn't perfect. So, it's worth discussing the issues we and other customers have encountered.
Battery power slumber
Swipe can be powered by batteries or via USB. When using batteries, Swipe uses sleep mode to conserve energy. So, the first gesture only wakes up the device and doesn't execute a task.
Complex set up
Pairing the device to your Fibaro Home Center hub is a little tricky. During the pairing process, swiping too fast won't be recognised. Too slow, and it may timeout and fail to pair.
Hard to memorise what gestures activate
Memorising the different gestures and what they do, can be difficult, especially if you have young kids or old relatives. The more gestures you associate with one swipe, the harder it will likely be for a spouse, kids, and other relatives to operate the system.
Not portable
Unlike your smartphone, you can't walk around with Swipe in your pocket. So, you'll need to consider where is the best place to locate it to allow for maximum use.
Should you use a Swipe with your Fibaro system?
With Swipe, Fibaro has designed a superb device that's highly flexible yet easy to programme. Even your guest will enjoy using it as it'll take them a few seconds to pick up the basic gestures.
If your smart home consists of a mix of Fibaro and Z-Wave devices, you might struggle at the start to get non Fibaro devices to fully integrate with Swipe. You should be able to overcome most of these issues with experimentation and by talking with the manufacturer.
Overall, the Fibaro Swipe is a welcome addition to the range of Z-Wave control options and is worth buying for your home. So, consider purchasing one today.