Can I use Alexa and Fibaro together?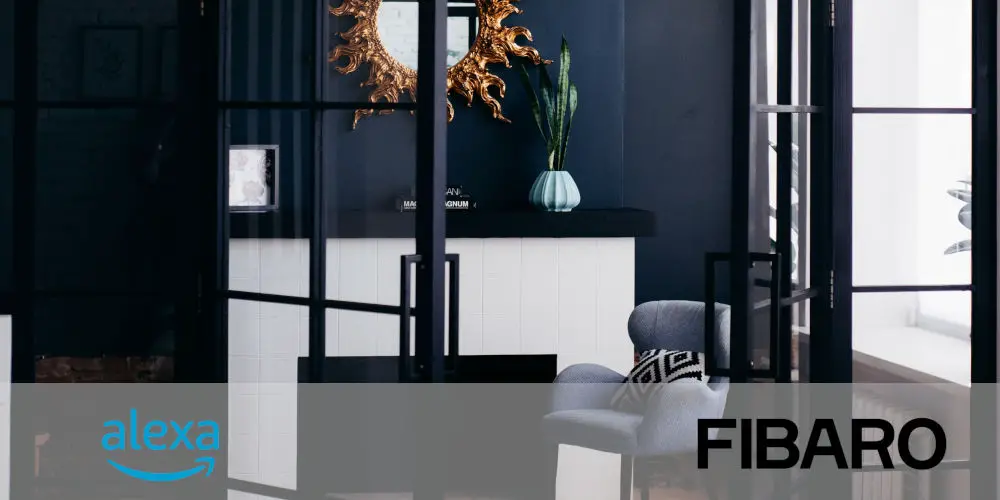 Using Fibaro to automate your home is a great choice. The system is highly affordable, easy to install and programme. Plus, as it uses the Z-Wave protocol, you can painlessly integrate devices from many 3rd party brands. You can even use Amazon Alexa and Fibaro together.
If you already own an Amazon Echo device, being able to use it to control your home automation system will be welcome news. Using Alexa and Fibaro, you can operate your smart home system using voice commands.
And while Alexa won't replace any of the other control options we have, such as the Fibaro app or Swipe, it does offer a quick way to operate your system. Who wants to look for their phone or have to make adjustments using a switch when you can ask Alexa to take care of it.
What makes Fibaro ideal for automating your home
Fibaro is widely considered one of the most advanced wireless smart home systems. Underpinning the system is the Z-Wave protocol, found in thousands of 3rd party devices. Fibaro devices are also compatible with the Apple HomeKit protocol.
There are Fibaro devices to control pretty much every aspect of your home, including heating, lights, blinds/window treatments and door locks. You can operate the system from anywhere with Wi-Fi.
In addition to the system processing voice commands with Alexa, you can control Fibaro with Google Assistant. So, either way, you can speak and let technology do the rest. And all without needing to locate your phone.
Fibaro offers both retrofittable and plug-in and play products, allowing easy installation. As a Z-Wave compatible system, if Fibaro doesn't offer a particular product, you can always use a device from a 3rd party brand as thousands of compatible devices are available.
As a DIY-friendly system, you will have to solve any problems you encounter. That said, there is a superb online community that are always willing to help. Fibaro are constantly releasing new updates and products that make their system even better.
There are plenty of control options available, including an app, Swipe, KeyFob and The Button. However, the most exciting is using Alexa and Fibaro together; and controlling your home automation set up using voice commands.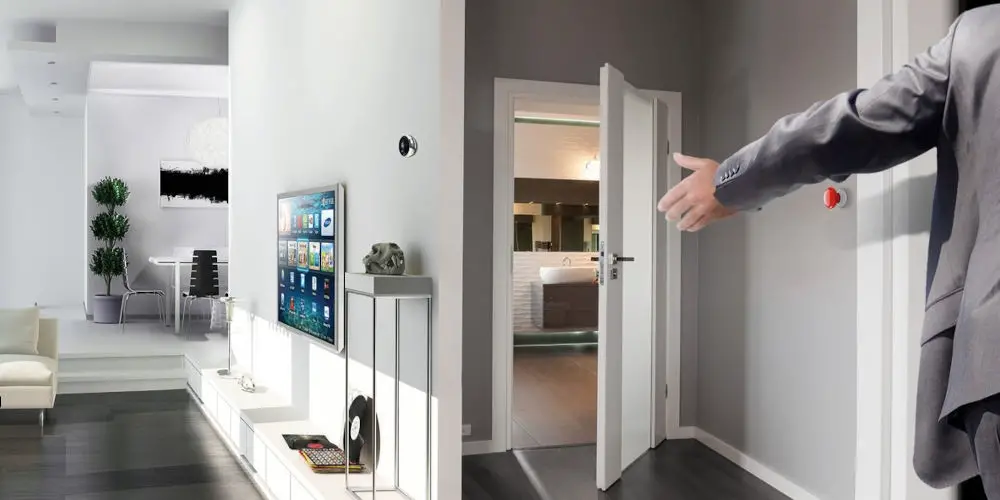 How does Amazon's Alexa work?
Alexa is an advanced AI-driven voice assistant. It uses complex cloud computing to translate voice commands into instructions that it can act upon. For example, you ask Alexa for the news headlines, a joke, the date or time, it can play music to help you sleep better and so much more.
As an Amazon product, Alexa was initially developed installed on Echo devices, Fire tablets and Fire TV sticks. Since allowing other manufacturers to use the service, Alexa is now compatible with hundreds of smart devices.
You can now use Alexa to control light bulbs, TVs, robotic vacuums, home cinema equipment, robotic lawn mowers, and home automation products, to name a few.
Alexa makes controlling devices easier as you don't have to search for an app or find the switch. Simply say your command, and it'll do the rest. To use Alexa, you'll need an Amazon account and either the Alexa app or an enabled device.
Basic requirements
Before you can get Alexa and Fibaro working together, there are a few basic requirements you need to meet:
Amazon Echo or Alexa device
Home Center 3, Home Center 3 Lite, Yubii Home or Home Center 2/Lite (with firmware 4.130 or newer)
PC or Mac connected to the Internet.
How to connect Alexa and Fibaro
The next step is to download the Alexa FIBARO Smart Home Skill. Using this skill provides a simple way for you to enable Alexa voice interaction to control and check the status of your FIBARO System.
Open Amazon Alexa mobile app
Tap Devices on the bottom menu
At the bottom of the screen tap YOUR SMART HOME SKILLS
Tap ENABLE SMART HOME SKILLS
Tap looking glass and search for "FIBARO smart home"
Select FIBARO Smart Home Skill
Tap ENABLE TO USE
Log in with FIBARO ID account with added Home Center gateway
Go back to the Alexa app
Smart Home skill will be added, tap Discover devices.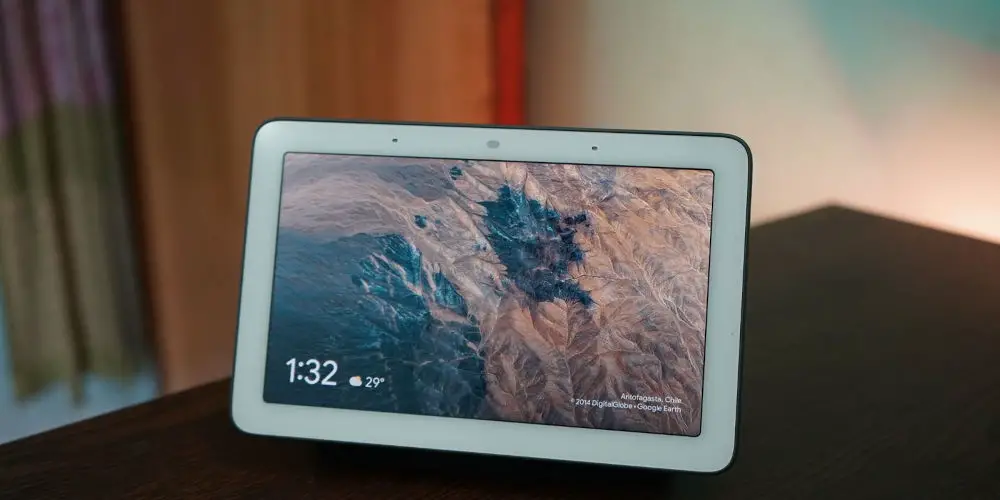 Try these basic voice commands
You can use a seemingly endless list of voice commands with Alexa to control your Fibaro devices. Here are a few basic voice commands:
Discover devices: "Alexa, discover my devices"
On/Off: "Alexa, turn on [or off] the [device name]"
Dimming: "Alexa, set [dimmer name] to [number]"
Dimming: "Alexa, increase [or decrease] [dimmer name] by [number]"
Blinds: "Alexa, Open/Close [room name] blinds"
Blinds: "Alexa, set the blinds in [room name] to [number]"
Set temperature: "Alexa, set the [room name] to [number] degrees"
Increase/decrease temperature: "Alexa, increase [or decrease] [thermostat or radiator valve name] by [number] degrees"
Door locks: "Alexa, Lock/Unlock front door"
Door locks: "Alexa, is the front door Locked/Unlocked?"
Scenes: "Alexa, run scene X"
Can I delete the Fibaro app?
Not so fast! The app does far more than action commands. Alexa and other control options are fantastic for completing simple actions such as "dim dining room lights", "increase the temperature by 5 degrees", or having a single button to turn everything off when you leave home.
But you can't use Alexa to build scenes or sequences. So, the Fibaro app is still highly useful for configuring and controlling your smart home. Alexa compliments the app and other control options; rather than replacing any or all of these.
Can I use IFTTT with Alexa and Fibaro?
Not every device uses the Z-Wave protocol making integrating them with Fibaro a little tricky, not to mention Alexa. Thankfully, we can control multiple devices using IFTTT (If This Then That).
It sounds more complex than it is as IFTTT takes care of the heavy lifting, allowing you to painlessly programme your system to react to your requirements and lifestyle. Take control of even more devices with Fibaro and IFTTT to build your dream connected home.
You can use voice commands with Alexa to start IFTTT applets that operate a range of devices, including ones from Fibaro. The combination super-charges your home automation system.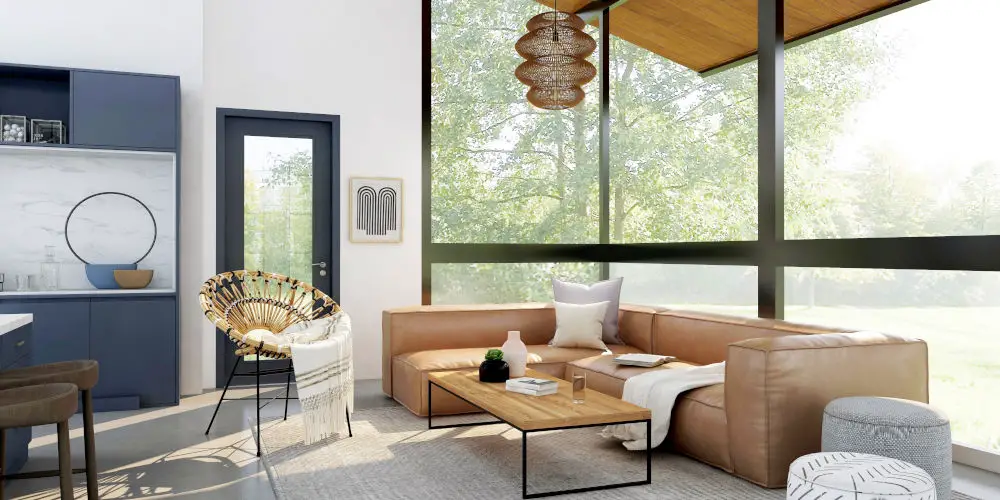 Getting started with Alexa and Fibaro
It's very easy to get Alexa and Fibaro working together and add a unique control option. You need an Amazon device with Alexa built-in, such as an Echo device and an Amazon account.
Next, download the Alexa app onto your smartphone and install the FIBARO Smart Home Skill. Finally, start experimenting with controlling devices using voice commands rather than the Fibaro app.
You can always add another layer of control options by using IFTTT as it makes your system even more flexible and can trigger a range of devices, scenes and sequences. Combining IFTTT, Alexa and Fibaro creates a powerful system that's far more advance than the individual parts.
While Alexa won't replace the control options we have such as the app, Swipe or the web portal, it will enhance how you control your Fibaro smart home system.