7 ideas to make automating your home cinema easy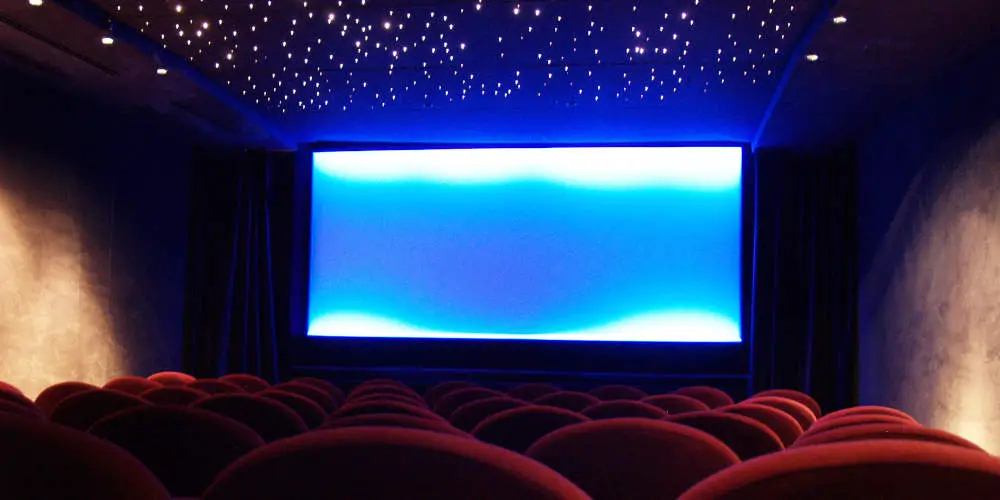 Building a home cinema in a spare bedroom or converting your garage into one is an exciting prospect. However, with many moving parts, you'll want to invest time and money in automating your home cinema, allowing you to operate it with a few clicks.
The difference between automating your home cinema and not, is stark. Imagine for a moment want to watch a movie, but first, you have to dim the lights, turn on the projector, adjust your AV receiver's volume and lower the screen. Not to mention grabbing drinks and snacks! We're not off to the best start!
By using a home automation system such as Z wave, you can eliminate most of the hard work and set the system to run these remedial tasks. So it's worth investing in the right technology as it enables you to turn your budget-friendly cinema room into a more professional looking set-up.
Why use z wave to automate your home and cinema room?
Z wave is an open-sourced home automation system that is based around a computer chip. The chip is integrated into thousands of products with many well-known brands adopting the technology. For example, Samsung, Yale and Honeywell all offer z wave products.
Unlike other home automation systems, you can build a smart home using multiple manufactures without having to worry if they can interact together. Another benefit of Z wave is the products are widely available. So there's no need to spend a small fortune hiring an authorised dealer.
Once you have a Z wave hub, you can start pairing a nearly limitless number of devices with it. For example, you can add heating controls, light switches, smart door locks, motors and more. You can easily automate your home, cinema room and garden.
Where to start automating your home cinema?
For the sake of simplicity, we'll break the process of automating your home cinema into a few key areas. Theses are:
Lighting
Audio
Visual
Media
Control
Extras
Security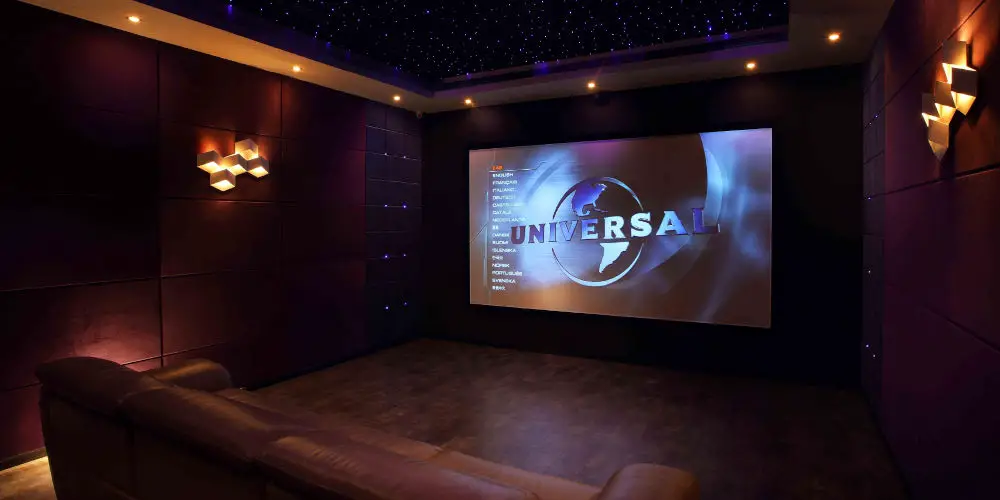 Laying and automating lighting
A common issue with lighting a cinema room is that it's all or nothing. Thankfully, by automating your lighting in the room, you'll be able to dim it. You could use Fibaro Dimmers which sit behind the light switch in the back box and adds a ton of smart features.
It's also worth installing LED strips as it's a good idea to have low-level lighting on while your watching movies, so you can see where the door is and that your bowl of snacks is low! Sadly, you can't buy LED strips with Z wave built-in. So you'll need to install another a Fibaro dimmer 2 module.
What makes Z Wave ideal for controlling lighting is that you can preset different scenes and recall them with a few clicks. For example, you can have a preset with everything on, another with dimmed LEDs for watching movies and one with lights on at 50% for TV watching.
Another aspect worth controlling is window blinds, which can be easily integrated into a Z wave system and add to a lighting preset. Just imagine pushing the cinema button on your Z wave app, then the blinds close and lights are dimmed.
It's possible to automate curtains in your cinema room, but it's far more expensive and invasive as you need to install motorised runners.
Making sense of audio and visual devices
The overwhelming majority of cinema rooms use an AV receiver at there core to combine and control multiple devices and distribute audio and visual to the right places.
In terms of inputs, your Blu-ray players, game consoles, DVD players and streaming dongles will plug into the receiver. The unit then distributes signals to your display (either a TV or projector) and speaker set-up.
Controlling this collection of devices usually involves a pile of remotes. However, by using an iTach TCP/IP to IR, you can use Z wave to send and receive commands. You need to attach an iTach Flex Link Emitter Cable over the remote receiver on each device and to the iTach unit.
By centralising control, you no longer have to deal with multiple remotes and can use any smart device (such as a smartphone or tablet) as a single, grand remote. Another benefit of using an IR blaster is you can hide devices in a cupboard, creating a more seamless look.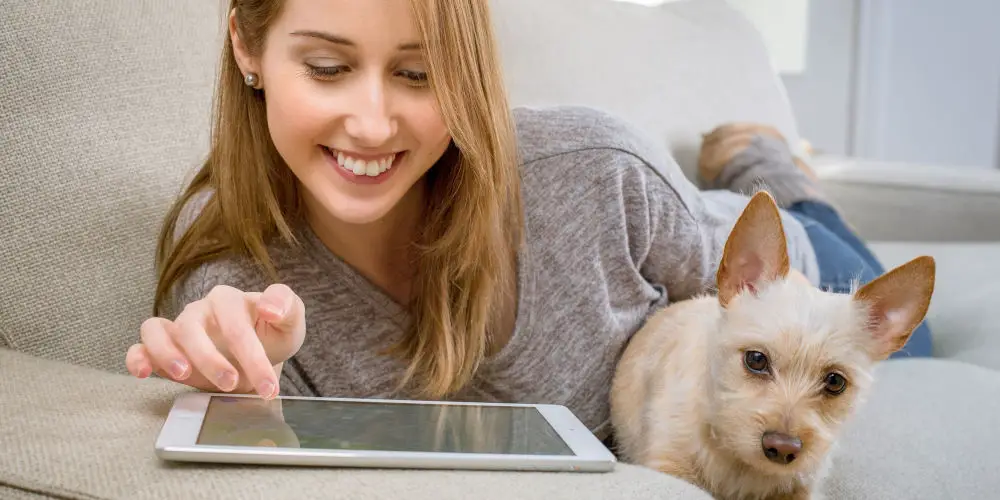 Automating your projector and screen
For some, their home cinema is a stand alone room with a single purpose. Others may wish for the room to be an entertainment space with bar, snooker table and arcade games, and might want to hide the projector and screen.
There are plenty of motorized screens available, most of which can be controlled using a relay. For example, the Qubino ZMNHCD1 Flush Shutter Z-Wave module is ideal, even if it's designed for blinds! As far as it's concerned, it's still only raising or lowering a piece of fabric.
Another way to control the screen is to use the trigger output on your projector. When turned on, it sends a control signal to the screen's motor, which then starts to lower it. After pushing the projector's off button, another control signal tells the screen's motor to raise it.
Just like with the AV receiver and media devices, you can use an iTach Flex Link Emitter Cable and iTach IR blaster to send signals from Z wave to the projector and therefore control it remotely.
You can also integrate a motorized projector mount into the system, allowing you to hide the projector in the ceiling until you want to use it. At the push of a button, it'll magically appear!
Playing media from multiple sources
As there's isn't a single service that offers every title ever released, you will have to spend some time inserting discs or searching Netflix, Prime Video (30-day FREE trial) or Disney+. Sadly, there's no way around this.
You could simplify your equipment to a few different streaming dongles such as a Google Chromecast and Amazon Fire TV Stick. Add 4K Blu-ray player like the Sony UBP-X800M2, which plays a range of formats including Blu-rays, DVDs, CDs and others.
It's likely more on-demand streaming services will become available and add to the frustration of finding content to watch. So consider a few options you can't live without and buy the rest on Blu-ray or DVD.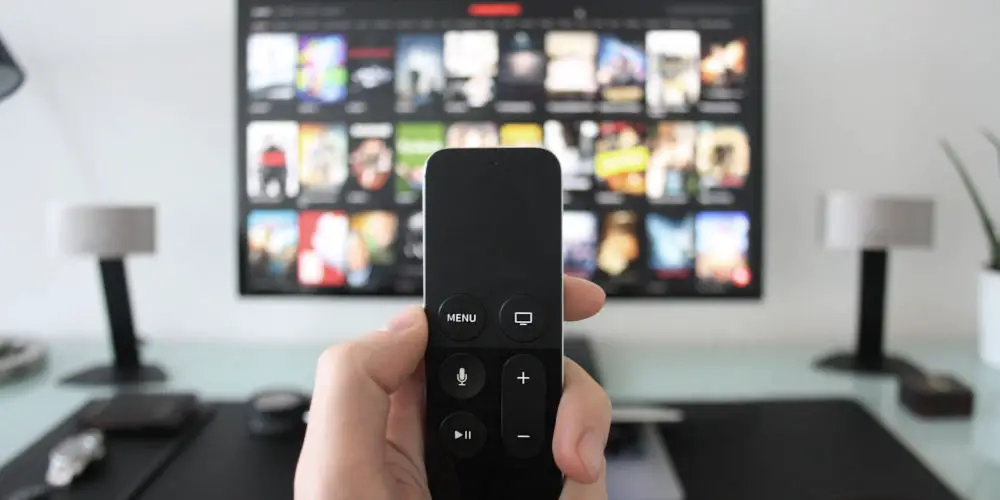 Seamless control
Hopefully, you have a clearer idea of how Z wave makes automating your home cinema far easier. That said, ideally, you want a single home cinema app rather than needing to load multiple apps or constantly having to switch between them.
One solution is to use the Logitech Harmony Hub, which allows control over a multitude of devices and function from your smart device. It works with Netflix, Amazon Alexa, Apple TV, Sonos and Z wave devices, to mention a few.
Another excellent feature of the Harmony Hub is being able to pre-programme sequences. For example, you could have a TV scene for watching programmes in the day. A preset cinema scene that lowers the blinds, screen, dims the lights and starts to play your Blu-ray disc.
The Harmony Hub also can be controlled by voice commands. Great news if you're already using an Amazon Alexa or Google Home.
Automating some nice extras
Part of building and automating your home cinema room is being able to customise it to your preference. For some, this means adding a small bar area, while others will be happy with a way to make hot drinks.
Sadly there isn't a Z wave controllable popcorn maker or drinks machine. However, there are a few automatic bean-to-cup coffee machines that produce a range of hot drinks and offer control by a smartphone App, including the Krups Evidence EA893D40.
We've heard of people installing bass shakers into seats which move with the action creating a 3D experience. While you can't technically automate them, you can control the power to them, which is a form of automation! So you can add them into pre-programmed lighting scene!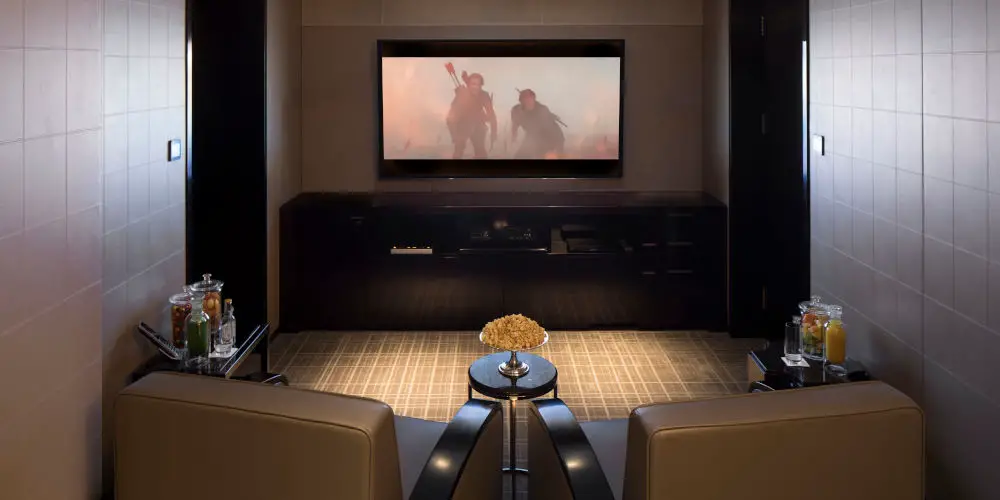 How to ensure your home automation is secure
Many don't consider how they can keep their home automation system secure. And while people hacking smart home devices are a rare occurrence, you must stay on top of security. Thankfully there are a few simple ways to protect your smart home from hackers.
Firstly, ensure you keep devices up to update. It's worth checking for firmware updates every month and installing any. Failing to keep your devices or software up to date is the same as leaving a window open while you go on holiday.
Another way to keep your system secure is to limit access and regularly review who can control the system. For example, you might grant a friend them access to your smart home system, so they can control features and make themselves comfortable.
However, when they leave, you should revoke their access as you can't control what happens to their devices. The more users that have access to your smart home system, the greater the risk of it being hacked.
Starting to automate your home cinema
As with building a smart home, automating your home cinema will involve some effort and planning. Once you have all the components talking to each other and controlled by a single touchpoint, using and enjoying your cinema room becomes much more fun.
It's worth research your options and trying to integrate a single element at a time into your home automation system to cut down the amount of time you'll spend troubleshooting.
After automating your home cinema, controlling it will be easy. Just remember to check for device updates monthly!