LG UBK90 vs Panasonic DP-UB820 Blu-ray players compared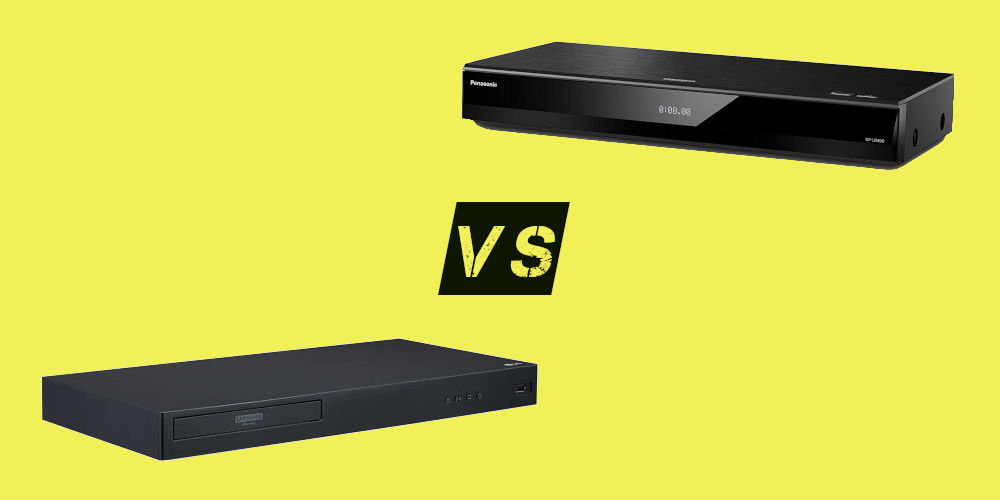 PUBLISHED: 28th February 2022 | LAST UPDATE: 10th July 2023
Comparing LG UBK90 vs Panasonic DP-UB820 Blu-ray players isn't child's play! It's quite a tough exercise to complete. Putting the price to one side, both have many unique factors, making them ideal for different situations.
Beyond the basic black nondescript boxy design, the LG UBK90 is a multi-region Blu-ray player that allows you to enjoy movies and shows regardless of where they were released. You don't have to wait for studios to release content in Region B (Blu-rays) or Region 2 (DVDs).
The Panasonic DP-UB820 offers voice control via Google Assistant or Amazon Alexa and includes a remote; if you prefer that. On the rear, you'll spot it offers multiple outputs, including phonos 7.1 surround sound. So, you don't an AV receiver, just powered speakers.
If you can't decide between LG UBK90 vs Panasonic DP-UB820 Blu-ray players, don't worry. We've done the hard work for you! Here's an honest, direct comparison of these two excellent 4K Blu-ray players.
LG UBK90 Blu-ray player overview
As a multi-region media player, the LG UBK90 Blu-ray player allows you to enjoy content without limit. With 4K playback from multiple sources, LG electronics have released a future proof unit that delivers sharp and vibrant images, with rich audio to match.
After watching your Blu-ray and DVD collections, connect the LG UBK90 to the internet and enjoy streaming content in 4K from services such as YouTube and Netflix. You can even play media from a USB drive.
Regardless of the starting resolution, each image is displayed in near 4K quality, thanks to built-in technology. Offering support for premium HDR and Dolby Vision™, images are more realistic and natural, just as the director envisioned.
As one of LG's premium Blu-ray players, it offers dual HDMI ports. These allow you to send separate audio and video from the UBK90. In addition, there's a separate digital audio output.
Panasonic DP-UB820 Blu-ray player overview
Under the sleek design, the Panasonic DP-UB820 Blu-ray Player offers true to life colours and texture, onboard 4K upscaling, and access to your favourite streaming services. It's even voice control ready!
Built around Panasonic's unique HCX (Hollywood Cinema Experience) processor, the result is excellent picture quality. Each frame displays stunning depth and texture with true to life colour.
As a 4K Blu-ray player, you can play CDs, DVDs, 3D Blu-rays, 4k Blu-rays, and more. The unit also supports High Dynamic Range pictures (HDR10, HDR10+, and Dolby Vision) and HLG (Hybrid Log-Gamma HDR) formats.
The Panasonic DP-UB820 also produces fantastic audio. Enjoy Hi-Res music via streaming or the USB port and discover hidden depths in your favourite tracks. Plus, with 7.1 phono outputs, you can run a powered surround sound system.
As more than a Blu-ray player, connect the DP-UB820 to Wi-Fi and access your favourite streaming services, a multitude of apps, and a web browser. Also, when connected to Wi-Fi, you to control the unit using Google Assistant or Amazon Alexa.
Design
Design-wise neither is world-changing. The Panasonic is slightly taller, 2 cm in fact. The LG's front panel is always visible, whereas the Panasonic disc tray, basic buttons and USB port are hidden behind a panel that wraps around the LCD screen.
Both units offer a USB port and disc tray, allowing you to enjoy content from a variety of sources. On the LG, you'll notice it has four control buttons (power on/off, play, stop, disc tray open/close). The Panasonic, in comparison, only offers two (power on/off, disc tray open/close).
The rear is where the Panasonic shines. It offers far more options than the LG. You shouldn't base your decision solely on connectivity, it's worth bearing in mind your requirements.
The unimaginative design continues to the remotes. The LG is far simpler than the Panasonic remote, which offers buttons for controlling Netflix, the internet, and HDR settings. Both remotes allow you to control your TV using it.
Winner: Panasonic
Features
One of the biggest differences between them is the LG isn't limited by region. As a multi-region Blu-ray player, you can enjoy discs from all over the world and don't need to wait for regional releases. On the other hand, the Panasonic DP-UB820 is restricted to EU regions (B and 2).
With both, you can enjoy watching Blu-rays, HD Blu-rays, 3D Blu-rays, DVDs, and CDs. Enjoy more content options using the USB port, including various image and audio formats, including Hi-Res audio.
As 4K Blu-ray players, both units have built-in upscaling software to ensure even older content comes to life with vibrant colours and expressive contrast. We don't know what process the LG UBK90 uses. But the Hollywood Cinema Experience (HCX) chip.
The two units support HDR10 and Dolby Vision, creating an even more immersive experience. Again, the Panasonic goes a step further, as it also supports the Hybrid Log-Gamma (HLG) format.
Two features that make Panasonic DP-UB820 stand out are the rear audio connectivity and the voice control options. It works with both Amazon Alexa and Google Assistant; because remotes are for grannies! (only joking!)
Thanks to built-in Wi-Fi and an Ethernet port, both units offer a host of smart features, including 4k streaming (YouTube and Netflix). A bonus only on the DP-UB820's remote is a Netflix button, making it super easy to access the service.
Winner: Panasonic
Connectivity
Despite the similarities of the front panels, the Panasonic offers an array of connectivity options on the rear. The LG offers a solid set of options. However, it has a fitted power cable, which we're not massive fans of as it removes some of the flexibility.
Both units have the same basic connections of 2 HDMI ports (1 x video and audio, 1 x audio only), optical audio output, Ethernet port and power socket/cable. Both also have built-in Wi-Fi, giving you two different internal options.
The major difference is the Panasonic also offers a second USB port and 7.1 surround sound via passive phono outputs. These are ideal if you already have powered speakers and want to bypass needing an AV receiver. The Panasonic has the edge over the LG unit.
Winner: Panasonic
Set-up
The LG UBK90 has fewer options. So, it's easier to set up. If you're looking for maximum flexibility, consider the Panasonic.
You can connect either unit using an HDMI cable between your TV and the Blu-ray player. It should take a few minutes for you to be up and running. Both offer an optical audio output, allowing you to easily add a soundbar or external speaker.
Due to the surround sound speaker outputs, the Panasonic DP-UB820 can be trickier to set up. As these outputs are passive, you'll need powered speakers, which can take a little longer to set up.
If you enjoy streaming content, you might decide to use a hard-wired internet connection using the Ethernet port instead of the built-in Wi-Fi. That said, both units have excellent Wi-Fi capabilities.
Both have dual HDMI ports. So, you could connect the first HDMI port to supply video to a TV or projector and the second HDMI port to feed audio to an AV receiver, which powers a surround speaker system.
Winner: LG
Performance
Regardless of whether you choose the LG UBK90 vs Panasonic DP-UB820 Blu-ray player, you'll notice an improvement with old content and its picture resolutions. However, thanks to Panasonic's unique HCX processor, the unit has a slight edge with the picture quality.
A feature only available on the LG UBK90 is as a multi-region Blu-ray player, you can enjoy content from all over the world. If you enjoy foreign films or TV shows that aren't released in the UK, the UBK90 will be ideal.
Both units perform well across multiple file formats, particularly when the HDR options are engaged. You can easily stream content using both units. But you might already have a streaming stick, that's likely to be easier to use, especially in the case of the LG UBK90.
The Panasonic remote has a Netflix button, making it easy to load content that way. However, the user interface is slightly difficult to navigate. So, you might want to try using voice commands or spend the money on a streaming stick.
Winner: tie
LG UBK90 vs Panasonic DP-UB820 Blu-ray players: Which is better?
While the LG UBK90 is more flexible from a content standpoint, the Panasonic DP-UB820 is the clear winner of our LG UBK90 vs Panasonic DP-UB820 Blu-ray players comparison.
The Panasonic DP-UB820 offers more connectivity options, allows control using voice commands, and has a slightly better remote. The picture quality is marginally better too, thanks to the HCX chip and support for HLG file format.
Some users will feel the LG is superior or have brand loyalty. That's great. But we'd urge you to consider the Panasonic. It's worth spending the extra cash.