Robomow RX12u robotic lawn mower review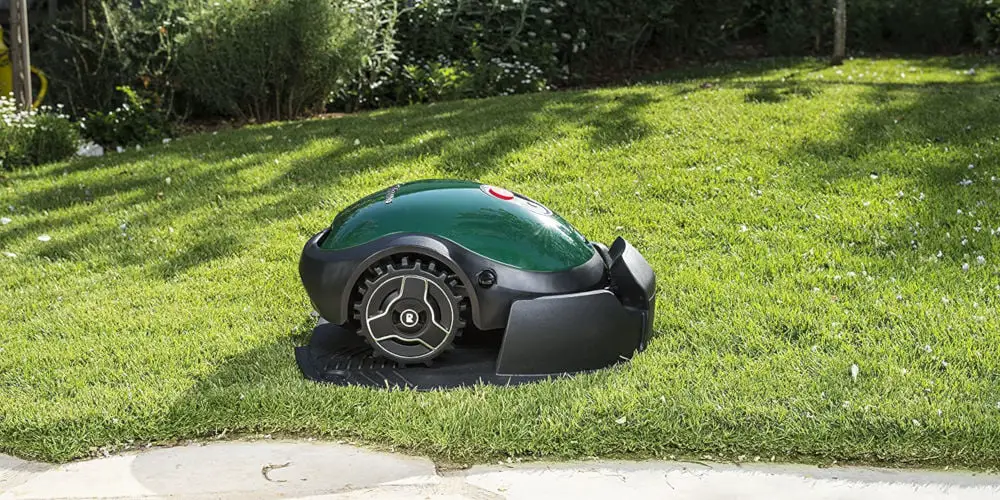 PUBLISHED: 20th September 2020 | LAST UPDATE: 29th August 2023
Specifically designed for smaller lawns up to 150m2 (maximum lawn size 250m2), the Robomow RX12u robotic lawn mower is compact, feature-packed and affordable.
The RX12u uses a height-adjustable 18cm stainless steel mulching blade that efficiently mows the lawn. It uses a unique Edge mode and 'cut-beyond-the-wheel' design for that iconic Robomow finish!
The RX12u perfectly follows the contours of any lawn resulting in an even finish across the entire area. Clippings fall to the ground as mulch, providing the vital nutrients and water back into your lawn for a healthier, more beautiful grass.
Robomow's long-lasting Lithium-Ferrum batteries provide plenty of power to the unit. As a battery-powered tool, the RX12u is quiet, allowing you to enjoy your lawn even while it's mowing.
A range of safety features are built into the unit, including PIN code, child lock, and lift and tilt sensors which turn the unit off when ether is triggered.
An integrated rain sensor ensures your Robomow stay dry when the weather turns. Once the rain has stopped, it will wheel itself from the dock and restart mowing.
Ideal for covering lawns up to 150m2, the RX12u can effortlessly navigate different zones in your garden (connected by a pathway or a strip of grass) and returns after completing each zone.
As one of the best robotic lawn mowers available, the Robomow RX12u score 7/10.
Pros
Compact design
Unique drive system
Super low cutting height of 1.5cm (range of 1.5 to 4.5cm)
Cons
Charging time of 16 to 20 hours
Requires someone to start it
Design
Blending the classic lawn mower colours of green and charcoal grey, the Robomow RX12u weighs 7.5 Kg and measures 53 cm (w) by 42 cm (d) by 26 cm (h). Like most robomower, the simplistic design is pleasing to look at yet it's the unit covers a lot of ground.
On the top green section is a control panel which covers the basic controls (start, stop, battery level, warning LEDs and on/off). To the rear, is a carry handle and a disabling device. There are charging contacts on the rear side and a cutting height adjustment knob on the left-hand side.
Turning the RX12u over reveals two large wheels. In the centre is a blade which sits on an adjustable platform. Rather than a rear wheel, there is a glider surface.
Finally, the dock. It has sockets for mains power and boundary wires, and status LEDs as well as charging contacts which mirror the unit.
Features
Even for its budget price, the Robomow RX12u offers many innovative features which make mowing your lawn easier without needing too much input from you.
Different battery type
As a battery-powered garden tool, it's worth talking about this aspect first. It uses a Lithium-Ferrum battery rather than the typical Lithium-Ion. The RX12u battery (7 Ah) is larger than the ones commonly found in other robomowers.
However, and this is important, it means the charging time is a massive 16 to 20 hours. You did not read that wrong. On a single charge, the RX12u offers between 90 and 120 minutes of mowing time. You don't need a degree in maths to realise this is quite a poor ratio.
Blade and cutting system
An 18 cm wide stainless steel blade sits at the heart of the Robomow RX12u and is fixed to an adjustable platform that moves with the contours of the lawn. The cutting height can be adjusted between 15 and 45 mm, which means it provides a closer, more even cut.
Designed to cover a lawn up to 150m2 and slopes up to 15% within a single charge, the large rear wheels ensure the blade can cut to the edge of the lawn. Clippings fall to the ground, providing nutrients to the grass and soil, resulting in a healthier lawn.
How it navigates
Using a combination of sensors and boundary wire to navigate, the Robomow RX12u uses a random pattern to ensure every blade of grass gets cut, yet it avoids obstacles. Simple to use, press the go button, and it'll jump into life and start mowing the lawn.
Onboard security and safety
Several security features make it safe to leave outside while you're not at home including the PIN code, allowing only you to operate the unit. A child lock also stops unwanted people from using your RX12u.
In terms of safety, the built-in adjustable rain sensor ensures the Robomow docks when it feels rain and restarts mowing the moment the conditions are better. If the unit is lifted or tilted, the blade automatically shut off.
Auto-docking after mowing
When finished mowing, the RX12u like other Robomow robot lawn mowers, automatically returns to the dock and starts recharging.
Set-up
As you need to lay and secure boundary wire, installing the Robomow RX12u take a little bit of time. Once done, you can start it to operate at will and sit back as it mows your lawn.
Firstly, you'll need to install the dock, which should be located within your lawn on a flat surface. The dock needs a clearance of a 1 metre to each side and in front. The included a 10-metre power cable allows you to locate the charging base near an external power source.
Secure the dock in place with the included 4 stakes. Next, it's time to lay the boundary wire which needs to run from the first terminal on the dock, around the lawn and connect to the second terminal, thus creating a complete loop.
With boundary wire, it's vitally important to keep a safe distance from the edge especially if the lawn border a fence, paving or a pond. You can also use wire to mark objects that should be avoided as well as spilt the lawn into multiple zones.
With the wire laid, you need to peg it down using the included pegs and a hammer. Don't worry if it looks unsightly as the grass will soon grow over it, making it invisible. Finally, connect the power and two boundary wires into the dock.
Next, it's time to charge the RX12u and set the cutting height. Once the battery is charged, press the Go button, and it'll jump into action and start mowing your lawn using a random pattern.
Performance
If you're moving from a traditional electric mower to the Robomow RX12u, you'll notice how quiet it in comparison. It produces roughly 2/3 of the noise or 68dB to be precise.
At first glance, you might wonder how it can move with only two wheels and glide pad. However, Robomow has engineered this system to ensure stability while improving manoeuvrability. The RX12u can easily turn and quickly navigate around most gardens.
There's no built-in timer, so you'll need to be there to set it going. The single-piece blade is highly efficient and is different from most robomowers, which use multiple smaller blades. Two cutting modes are available.
In Eco Mode, the RX12u operates using minimal energy and is quieter. That said, this mode does slow how fast the unit mows, meaning it'll take longer to complete the lawn.
Selecting the Edge Mode means the RX12u follows the boundary wire ensuring you have neat borders! However, if the lawn is next to hard surfaces, then the robomower stops short of the edge. So, you'll need to strim this area by hand, which is no different from the majority of robomower currently available.
It's simple to set up the safety and security features. They ensure peace of mind when the unit is in action.
Is the Robomow RX12u worth buying?
If you have a small lawn and want to explore using a robomower on a tight budget, then consider the Robomow RX12u as it's feature-packed and easy to use.
That said, it does suffer from a few downsides. The Lithium-Ferrum battery is outdated and requires a frankly stupid amount of time to charge (16 to 20 hours)! It's understandable if this alone puts you off buying it.
As you need to be there to start the robomower, you're limited as you can't set and forget. Of course, the controls are simple, yet we'd like a built-in timer. As a budget robomower, there's no built-in Wi-Fi allowing for control using an App, which isn't a surprise.
The RX12u does offer some high-end features including a glide pad rather than a 3rd wheel and a floating cutting deck. We like the cutting height adjustment is located on the side, allowing for easy tweaking.
As it mows using a random pattern, your lawn is evenly cut every time. It can cover 150m2 per charge, and so should be able to mow your entire lawn regardless of how complex it is.
Overall, there are better but more expensive robomowers than Robomow RX12u. You may want to consider the Mcculloch ROB R600 Robotic Lawnmower, which costs slightly more but offers many additional and worthwhile features. 7/10