Top 15 best garden forks for 2021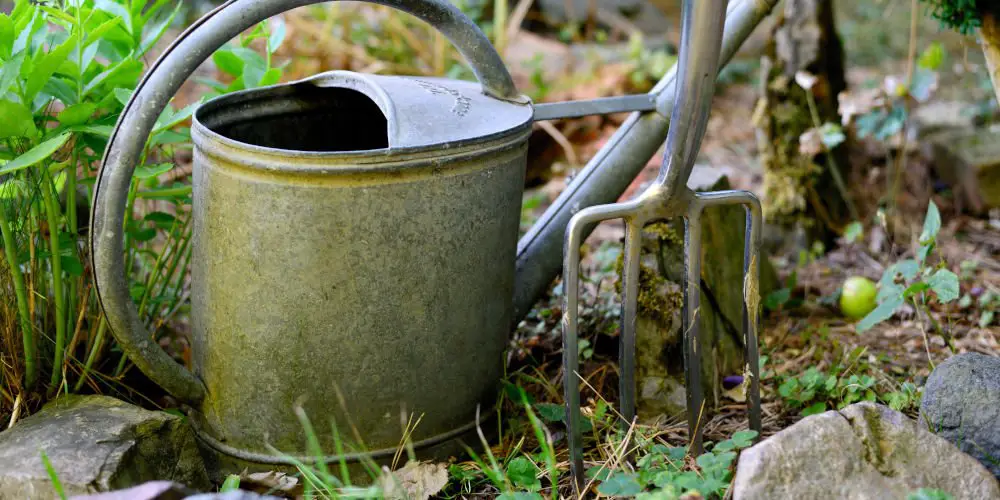 Many gardening tasks that only the best garden forks will solve and as one of the basic gardening tools, you should one in your shed. Whether you call it a garden fork or a digging fork, this tool has three main parts.
A handle, usually made from wood or plastic, with a "D" or "T" end. The shaft, again usually wood or plastic. And finally the head, which has several (usually four) short, sturdy tines.
Garden forks can be pushed more easily into the ground than the best garden spade can. So they're useful for loosening, lifting and turning over soil in gardening.
Also, a garden fork can easily rake out stones and weeds as well as break up clods.
Traditionally, garden forks were made of wood. However today, they are now made of carbon steel or stainless steel. Here are 15 of the best garden forks currently available.
Spear & Jackson 4550DF Traditional Stainless Steel Digging Fork
First in our list of the best garden forks is the Spear & Jackson 4550DF Traditional Stainless Steel Digging Fork, which is available for £25 (at Amazon).
The 4550DF blends a stainless steel head and hardwood handle, which gives it a classic look.
Starting with the head. Made from mirror-polished stainless steel, the head is rust-resistant. While useful for digging holes, it collects minimal soil debris, meaning it's easier to use and clean.
Using a single piece hardwood shaft, the handle is sturdy yet comfortable. The shaft splits to form a wishbone handle, which allows for a firm grip. The shaft and handle are coated with a weatherproofed finish. So, you are safe to use it in all weathers.
This Spear and Jackson digging fork is the ideal addition to any garden and is a "Grow your own great British growing 2018" award winners.
Silverline 675067 Border Fork
At 95 cm high, the Silverline 675067 Border Fork is designed for general use and is affordable at £12 (buy at Amazon).
The polypropylene shaft and PD handle ensure durability yet are comfortable to use. The stainless steel head is hardened to HRC 38/45 and has an epoxy-coated, hammer finish with flexible tines.
At 24 by 16cm, the head is slightly smaller than the average digging fork. However, the shoulders are not very wide to get your foot on to press it into the soil.
This Silverline Border Fork is Ideal tool for turning soil and light digging. And at under 2kg, it's fairly lightweight.
Draper 83753 Extra Long Stainless Steel Garden Fork with Soft Grip
Draper is well known for building fantastic garden tools and this fork is no different. Available at Amazon for £25, the Draper 83753 garden fork is an extra-long tool which features a soft-grip handle.
Like all Draper gardening tools, this fork is designed to be tough, durable and great value for money. It's suitable for anybody who requires a quality tool, whether your an occasional gardener or a professional landscape gardener.
At 105 cm, it's one of the longest garden forks on our list. This makes it ideal for people 6 ft tall and over. You'll be able to maintain a straighter back when digging, allowing for more leverage and less strain.
Using heavy-duty steel as the foundation, it's built to last. The plastic-coated shaft allows for an easy grip. The Y-Dee handle uses a soft hand-grip for improved movement.
The fully hardened, tempered and polished socket and tines, will make light work of moving soil yet are durable.
Kingfisher CS560 Border Fork
The Kingfisher CS560 Border Fork is a lightweight and very sturdy garden tool. Also, it's affordable at £11 (buy from Amazon).
This fork uses a carbon steel construction to ensure durability. Easy to grip, the plastic-coated shaft makes moving soil easy. The D shaped soft-grip handle adds to the user's comfort yet is strong enough to withstand years of use.
If you're looking for a superb general use garden folk, then you can't really go wrong with the Kingfisher CS560 Border Fork.
Fiskars 1001413 Ergonomic Garden Fork
The Fiskars 1001413 Ergonomic Garden Fork has a distinctive grey and black colour scheme, 4 prongs and measures an impressive 122 cm in length. It will set you back £33 from Amazon.
The ergonomic design makes digging and tillage easy. It's ideal for turning and loosening both hard and stony soils. At 122 cm, it's long yet is comfortable for users of all heights.
At first glance, the handle might seem too long for efficient use. However, it's size protects the user from back or muscle strain and is comfortable to hold over a long period.
The D-shaped handle is just as comfortable, regardless of your hand size. The Boron steel head has 4 prongs, so ideal for digging or tilling soil.
Weighing in at just over 2 kg, this Finnish designed garden tool will be long-lasting and easy to use. It's easily the most stylish of our garden forks!
Kent and Stowe 70100206 Carbon Steel Digging Fork
If you're working on a large area of soil, then you should consider the Kent and Stowe 70100206 Carbon Steel Digging Fork (available from Amazon for £19). It's ideal for cultivation, soil turning, aerating and breaking up soil.
The traditional design draws inspiration from classic garden tools of the 1800s. These designs coupled with modern manufacturing, means you're purchasing a tool which is durable and long-lasting.
This 111 cm long fork has been hand-crafted from steel and wood. The carbon steel head and tines are strong and durable. The handle uses FSC approved Ash.
The fork has a larger crank which provides added strength. It's weight balanced, so is enjoyable to use over a long period. As Kent and Stowe are extremely confident in their products, this garden fork comes with a 10-year guarantee as standard.
Bulldog 5715042820 Premier Border Fork
The Bulldog 5715042820 Premier Border Fork is a compact garden tool that costs £33 (buy at Amazon).
At 96 cm in length, this Border Fork is a smaller version of Bulldog's standard digging fork. So, it is ideal for working in confined spaces such as borders, digging out weeds and lifting plants.
The handmade split wood handle is made from FSC Ash and provides a comfortable grip. The shaft sits deep in the pocket, making for a sturdy construction.
As each fork is hand forged from one solid piece of steel, it's unique and with plenty of details. Weighing in at 1.6 kg, this is an ideal lightweight alternative to the classic digging fork.
SupaGarden Garden Digging Fork
While we haven't heard of SupaGarden before, it seems they are a well-established home and garden brand.
Made from carbon steel, this SupaGarden Garden Digging Fork is built to last. Available for the affordable price of £14 from Amazon, it's also a bargain.
The soft-grip handle is ergonomically pleasing and makes digging or tilling soil simple. The shaft has a PVC coating, making it easy to grab and use.
The carbon steel head features 4 sturdy tines and is finished with an Epoxy coating. This SupaGarden product comes with a 2-year warranty.
Kosma Digging Fork
Available from Amazon for £13, the Kosma Carbon Steel Digging Fork is designed for digging and cultivation. Blending carbon steel and polypropylene, Kosma has designed this garden fork for longevity.
The polypropylene shaft offers strength and is finished with a forward tilting soft-grip handle for comfortable use at the ideal digging angle. A carbon steel blade and socket have been heat-treated for strength and finished with a powder coating for resistance to rust.
Whether your digging, tilling or cultivating, the Kosma Digging Fork makes these and other key gardening tasks easy.
Wilkinson Sword 1111112W Stainless Steel Digging Fork
This Wilkinson Sword 1111112W Stainless Steel Digging Fork comes with a 10-year guarantee and can be yours for £26 (buy at Amazon).
It's larger than traditional garden forks, which means it easier to use whether your digging, cultivating or compacting earth.
As part of the stainless steel digging range, this garden fork will last for many years and uses high-quality materials. An Ash handle, which is comfortable to grip compliments the stainless steel head.
While larger than most garden forks on the market, the Wilkinson Sword 1111112W is light, weighing 1.8 kg. This means it's ideal if you have back problems or need to cover a large area.
Amtech U1700 Digging Fork
For a tenner and a couple of pennies, you can buy the Amtech U1700 Digging Fork. It's available for £11 from Amazon.
The drop-forged steel head compliments the Polypropylene D Shaped Handle to create a fantastic gardening tool. This fork is designed and manufactured to Amtech's premium standards.
These standards ensure longevity and durability. Along with great value for money, this tool comes with a 3-year product guarantee.
Hamble Green Blade BB-GF201 Border Fork
Hamble Green Blade BB-GF201 Border Fork is ideal for digging and planting. You can buy one from Amazon for £16.
This Hamble tool is perfect if your a novice or simply looking to upgrade. The stainless steel head ensures precision and has a durable rust-resistant finish.
A high impact plastic coated steel shaft and handle are easy to grip and make a range of gardening tasks easy to complete.
Hamble Green Blade offers a comprehensive range of garden tools and general garden maintenance products. Like other in the range, this Hamble Green Blade BB-GF201 Border Fork comes with a 12-month no quibble guarantee.
Rolson 82642 Border Fork
Rolson 82642 Ash Handle Border Fork is ideal if you're shorter than 6 foot, are looking for a balanced tool and hope to get change from £20.
A well made and sturdy garden tool, which will set you back £16 (buy at Amazon). It perfect for breaking ground, moving stony soil and digging over borders.
The Ash wood handle compliments the carbon steel head, which is heat-treated and has a hammer tone finish.
Weighing in at just over 1 kg, it's not heavy yet has enough weight in it to do a good job without requiring you to use too much effort.
As an affordable garden tool, Rolson 82642 Ash Handle Border Fork is worth considering.
Joseph Bentley Stainless Steel Border Fork
At a penny under £30 (from Amazon), this Joseph Bentley Stainless Steel Border Fork has some interesting features.
As it's smaller and lighter than the standard digging fork, you can use this tool for general cultivation and digging in tight spaces. Plus at 102 cm in length, it's a comfortable size and weight.
The FSC certified wooden handle provides heritage charm yet is comfortable to grip. This is coupled with a polished stainless steel fork tines for efficient cultivating.
Joseph Bentley has been designing garden tools for over 100 years and this garden fork builds on their years of experience. It's ideal for novices and professionals alike.
GroundMaster 28″ Border Fork
GroundMaster is well renowned for its quality and value for money. This 28″ Border Fork lives up to their high standards and costs £28 (buy at Amazon).
Using a mix of stainless steel and ash wood, this high-quality tool is easy to use yet comfortable. The hardwood ash handle has a fairly soft grip but it sturdy. The stainless steel tines ensure precision.
As this garden fork uses the best materials, it's an extremely durable tool. GoundMaster believes you'll love this fork so much that it comes with a 3-year warranty.
The best garden forks are?
In terms of finding the best garden forks, Spear & Jackson and Draper are still market leaders. Both produce tools that well-design and are built to last. We also like the Fiskars products but they are more expensive.