10 Best garden shredder reviewed 2021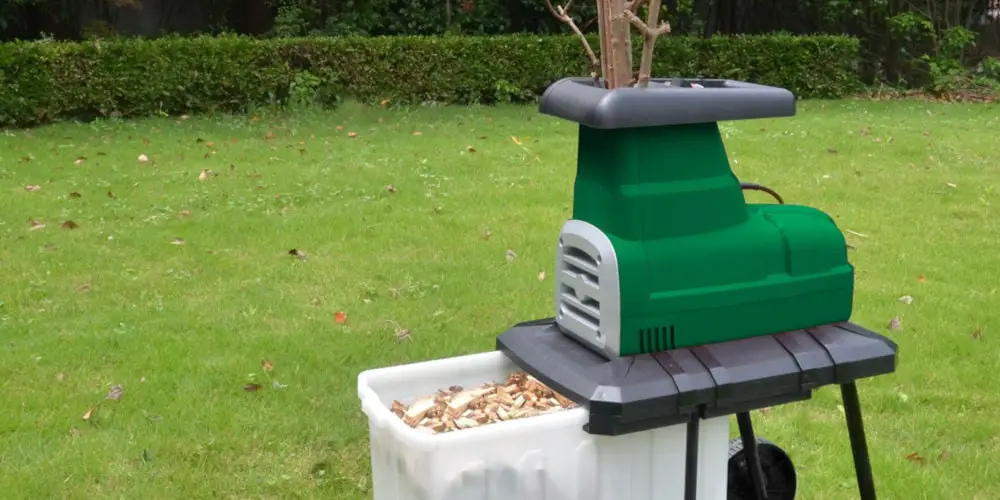 Unless you enjoy waiting at your local council waste recycling place, investing in the best garden shredder is the best way to keep your outdoors tidy and free from twigs and branches.
There are two types of shredders available: mains power and petrol, with many familiar brands offering either or both types of product.
Mains power units – cleaner and easier to use. But you'll need an extension cable.
Petrol chippers – robust and more portable. But dirtier and harder to operate.
Both work in the same way. Branches and twigs are cut by a blade into tiny pieces creating mulch. Finally this mulch is collected in a bag or box, making it easier to spread the mulch over your garden or moving it to a compost heap.
You might wonder how it's different to a garden vacuum. It's down to cutting size. A garden vacuum will compact leaves, moss and small debris into very fine mulch. Whereas a shredder or chipper will reduce twigs and branches into mulch.
So, you might need both, especially if you have a garden full of trees which require regular pruning. When using any shredder, you should wear gloves, ear defenders and eye protection.
We've picked a range of the best garden shredder including both petrol and mains powered unit from several well-known brands and across the price range.
Einhell GH-KS 2440 2000 W Electric Rapid Garden Shredder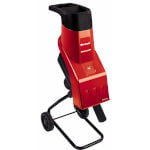 £90.00
Dirty Pro Tools™ Garden Shredder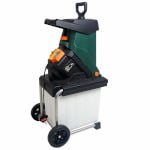 £110.00
* Prices correct at time of publishing
Makita UD2500 Electric Shredder
Description
As a mid-priced machine, the Makita UD2500 Electric Shredder has a powerful 2,500-watt motor, quiet cut and crush system and a cutting speed of up to 40 rpm
Sporting the classic Makita colour combination of green and charcoal grey, the UD2500 is well designed and compacted. Designed for transportation, it features handholds on both sides and has large, rubberized wheels.
Controlling the shredder is simple and the easy to use control panel contains an automatic anti-block system as well as automatic forward and reverse change. A large tool-free knob ensures the user can easily adjust the machine while working.
Handling materials up to 43 mm in diameter, the Makita UD2500 easily shreds and compact leaves, twigs and branches without fuss.
A powerful 2,500-watt motor works in sync with a cut and crush system which minimised shredded waste volume so the 67-litre collection capacity is used to the full. Checking the capacity is simple thanks to visible fill level through cut-outs.
Makita offers a standard 12-month warranty on their Power Tool Products. This can be extended to 3 years if the product is registered online within 30 days of purchase.
Pros
2,500-watt motor
Uses Makita's cut and crush system
Handles materials up to 43 mm in diameter
Conclusion
If you're a long term fan of Makita tools, then you'll be impressed with the UD2500 Electric Shredder. While you'll need to assemble some parts, once put together it's very easy to operate.
In terms of performance, it handles a range of diameters and sizes. Unlike a lot of garden shredders, it'll happily compact branches that are close to the maximum diameter.
There is one small issue, the unit will only work if the waste hopper is in place and locked in. This isn't immediately obvious but is a safety feature.
It does appear that Makati used to deliver the unit without a power cable. Thankfully they've seen the error in their ways and have now included a 10-metre power cable.
As you'd expect from Makati, this electric shredder has plenty of power, is easy to operate and can handle pretty much every branch up to 40 mm. Makita UD2500 Electric Shredder scores 9/10.
Hyundai HYCH1500E-2 Petrol 4-Stroke Wood Chipper/Shredder/Mulcher
Description
Sometimes your only option is a heavy-duty machine! The Hyundai HYCH1500E-2 420 cc Petrol 4-Stroke Wood Chipper/Shredder/Mulcher is expensive yet is a fantastic option for larger garden.
Powering HYCH1500E-2 is a 420cc / 14hp 4-stroke OHV electric start heavy-duty Hyundai engine. This ensures the unit is extremely powerful yet is designed to be easily moved despite its 180 Kg.
Capable of chipping and shredding large quantities of wood and branches into chippings quickly and effortlessly. The HYCH1500E-2 features a 2 blade drum mechanism, which draws in and chip branches up to 10cm diameter.
After shredding, chippings are passed through an a180-degree rotating chute which can feed expels any chippings directly into a trailer or spread over the ground.
Suitable for both domestic and professional users the HYCH1500E-2 ensures you will never struggle with back-breaking and time-consuming wood chipping again.
With low and maintenance requirements, the HYCH1500E-2 is very user-friendly and is covered by Hyundai UK 3 year platinum warranty.
Pros
Ideal for covering large gardens
Handles branches up to 100 mm diameter
Extremely powerful
Conclusion
The Hyundai HYCH1500E-2 is an excellent garden shredder for large gardens or commercial applications. That said, petrol isn't the cleanest of fuels, nor is having to mix lquids as you do with 4-stokes machines.
While expensive however, the price does reflects the precision and engineering that this unit provides. It can easily handle small twigs and branches without fuss and even mulch bigger materials.
It is by far the heaviest shredder on our list but has been designed for easy manoeuvrability. It's 2 large wide pneumatic tyres coupled with the front handles make it easy to move around a garden. Plus an ATV towing removable bar makes light work of transport it to additional locations.
There are numerous safety features built-in including electric start and an emergency stop mechanism. In short, it's straightforward to operate yet provides sufficient protection to the user.
If you have a large garden, then it's worth investing in a Hyundai HYCH1500E-2 Petrol 4-Stroke Wood Chipper/Shredder/Mulcher. 9/10
Bosch AXT Rapid 2200 Shredder
Description
A brand that always springs to mind when it comes to garden and DIY tools is Bosch. The Bosch AXT Rapid 2200 Shredder is an affordable tool which is designed to provide a high cutting performance of green or woody garden debris.
A 2,200-watt Bosch PowerDrive motor drives a 40 mm twin edged hardened steel blade. This lightweight blade is reversible and so offers an extended life over other products. A practical plunger enables you to makes light work of larger branches or big quantities of branches.
The chippings or mulch feed into a large capacity hopper making it quick and easy to shred garden waste. The hopper makes spreading the mulch easy while keeping the garden waste to a minimum.
Arriving flatpack, assembling the Bosch AXT Rapid 2200 Shredder is straight forward. Once put together, it's lightweight at 12 Kg and comes with wheels, making moving it around the garden or shed easy.
Finally, the Bosch AXT Rapid 2200 comes with 2 years parts and labour guarantee, you can buy in confidence.
Pros
2200 W Bosch PowerDrive motor
40 mm steel blade
2 years parts and labour guarantee
Cons
Maximum 30 mm cutting width
Doesn't preform well on small twigs
Comes flat pack
Conclusion
If you're looking for an affordable way to reduce branches and twigs to useable mulch, while keeping your garden tidy then consider Bosch AXT Rapid 2200 Shredder.
While it has a 40 mm blade, it struggles with branches over 30 mm and prefers a width of around 20 mm. The reversible blade is useful, however, it does blunt easily and a replacement costs £20. This could quickly add up, especially if you have a lot of garden waste to shred.
It has plenty of power on tap as it's mains powered. So you'll probably need to use an extension lead to use it. As a fairly light unit on wheels, it's easy to move yet it's well built and sturdy.
Feeding material is easy and the plunger is a welcome aid. There is a small design flaw as the front unscrews, rather than unclips. So when it gets blocked, you'll need to patiently unscrew.
The hopper bag is a nice touch and enables you to keep mess to a minimum while making it easy to spread the mulch around the garden. Some might prefer a plastic container over a bag, but you can always change it.
Thankfully it's easy to put assemble and the 2-year warranty ensures peace of mind. Overall the Bosch AXT Rapid 2200 scores 8/10.
The Handy Impact Shredder with Collection Box
Description
This Handy Impact Shredder with Collection Box THISWB is a high-performance electric unit which offers a fast and efficient way to compact your garden debris!
A mains powered 2,500-watt motor drives 2 reversible blades. These shred twigs, leaves and branches up to 45 mm in diameter into fine mulch. As the blades are reversible, they have an extended life.
Powerful and unforgiving, this impact-type cutting system is quick and efficient. Whether you're passing leaves or branches, the plunger enables you to safely direct debris towards the blades.
The chippings are collected in a large, removable 40-litre plastic box. This makes carrying them to a compost heap or flowerbed for spreading, easy.
The unit is well designed as the collection box sits under the cutting mechanism and therefore takes up less storage space. Two wheels make moving the unit around a breeze.
As a mains powered garden shredder, it comes with a short 3m power cable. So you'll need to use an extension lead.
It comes with a Handy 1-year domestic warranty.
Pros
2500 watt motor
40-litre removable collector hopper
2 reversible blades
Cons
Short 3-metre power cable
Very noisy
Conclusion
With plenty of power available and unforgiving approach to debris, The Handy Impact Shredder with Collection Box is ideal for many gardens.
As a fairly noisy unit, it's not for everyone. However, if you're looking for a way to stay on top of your garden waste then this trade-off is worth it.
The 3 metres power cable feels too short and means you'll always need an extension cable. Another small design flaw is the release screw, which allows quick assess to the blades. It's fairly long and so unscrewing takes more time than it should. A catch would be a better solution.
The collection hopper is a nice addition and takes up little space yet makes it easy to move the mulch. At 40-litre you should be able to clear quite a bit of debris before needing to empty it.
The reversible blades are a fantastic feature and should last a while unless you're trying to shred thick branches. In which case you'll need to replace them sooner. 8/10
Draper 35900 2400 W Garden Shredder
Description
The Draper 35900 2400 W Garden Shredder is The is easy to use and packed with useful features. Its sturdy design is built for uneven ground yet is portable enough to move around, thanks to its wheels and a transport handle.
Sitting a the heart of this machine is a 2,400-watt motor, which is powerful enough to shred twigs and branches up to 40 mm in diameter.
A twin reversible-blade cutting device allows for improved cutting performance and longer blade life. The quick-release housing interlock enables the user to quickly remove any blockages.
A large plunger makes shredding debris quicker and easier. While the handy collection bag is complete with wheels and reduces waste when shredding or move the mulch. A short 3 metres mains cable is included and so you'll need to use an extension lead.
This high-performance machine has been designed with convenience and safety in mind. As well as a built-in emergency stop brake and restarting protection.
Finally, the Draper 35900 2400 W Garden Shredder comes with a 2-year warranty.
Pros
2,400-watt motor
Twin reversible-blade
2-year warranty
Cons
Short power cable
No where to hold plunger when in use
Conclusion
Arriving flat-packed, the Draper 35900 Garden Shredder is easy to put together. The instructions while brief, cover what it can and can't shred.
It performs best with branches up to about 30 mm. Smaller twigs tend to pass without being cut up but can always be fed through again. The plunger is handy especially when trying to chip a few smaller twigs. Sadly there's no place to hang it when the machine is being operated.
As it's not made to shred hardwood, anything over 20 mm reduces the machine to a juddering mess. Thankfully, it's easy to open up to clean and remove any blockages.
The collection bag effectively catches chippings, keeping the garden tidy. It's easy to move whether you're creating mulch to spread over bushes or reducing waste for the compost heap.
The design is compact and so doesn't require much storage space. And while the power cable is tiny, you'll probably need an extension lead anyway. 8/10
Titan Pro 15HP Petrol Garden Chipper Shredder
Description
Featuring many award-winning design features, the Titan Pro 15HP Petrol Garden Chipper Shredder is very efficient and makes light work of any job.
It features a large brush hopper for small branches up to 10mm diameter, as well as a side chute, which handles thicker branches up to 75mm.
Garden debris is shredded by a single side blade, which is easily accessed. Spare blades are available for purchase on Titan website.
While petrol is dirty and messy, this Titan doesn't require you to mix any liquids. You can simply top up the petrol and start shredding. The electronic key-start ensure fuel isn't wasted and also that the machine is safe to use.
Designed primarily for use in the home, it's large wheels makes it easy to move around the garden. It's also supplied with a sturdy tow bar and hitch. So you can tow it behind your ATV or mower direct to wherever you're working within your grounds.
The Titan Garden Chipper Shredder is backed up with a full UK warranty and spares service.
Pros
Can mulch twigs, leaves and branches up to 75mm in diameter
Electronic key-start
Easy to move and tow
Cons
Petrol which is dirty and messy
Single side blade
Conclusion
The Titan Pro 15HP Petrol Garden Chipper Shredder is a heavy-duty with plenty of power on top. It's also easy to move, whether by hand or using a tow bar.
As with any shredder, it does require some patience when operating it to stop it from overheating or blocking. Even though it can handle branches up to 75 mm, it prefers shorter, fairly straight debris.
When blocked, it quickly overheats and can even catch alight. So you'll want to start with a few twigs and feel out what it can handle. If it does spark, you'll need to leave it to cool for at least an hour.
Once you've got into the swing of things, you'll be able to shred a large amount of debris within a short time. Just make sure you've got a good set of pruners which can help you cut down any materials to size before feeding into the machine. 8/10
TACKLIFE 2500W Garden Shredder
Description
Featuring a unique design and a superb specification list, the TACKLIFE 2500W Garden Shredder arrives flat-packed, but is easy to assemble and operate.
Manufactured from ABS plastic and steel, it's built to last and weighs 29 Kg. The design is ergonomically pleasing and the large rear wheels make moving the machine easy.
The high powered 2,500-watt motor combined with a manganese steel blade provides high cutting efficiency whatever debris you're trying to compact.
With a cutting diameter of 40mm, you can easily mulch branches, bark, bamboo, shrubs and soft plants. It performs best on dry branches and twigs. So you may need to dry debris first.
Chippings are fed into a 60-litre collection box, which sits under the shredder. This makes collecting the chippings simple while meaning the unit takes up minimal storage space.
It low noise design (less than 92 dB) means it's quiet yet doesn't lack power. There are many essential safety features including an overload protection button to prevent the motor from burn out and waterproof switches.
Finally, this TACKLIFE Garden Shredder comes complete with a 2-year warranty.
Pros
Powerful 2500 watt motor
60-litre collection box
Quiet (less than 92 dB)
Cons
Heavy (29 kg)
Requires assembly
Conclusion
As the TACKLIFE 2500W Garden Shredder requires some assembly, you'll have to navigate the manual. While the instructions aren't the worst we've seen, they do leave much to be desired.
That said after a bit of head-scratching it's fairly simple to built and is a very solid piece of kit. It should provide years of use just as long as well maintained.
You'll notice straight away how quiet it is and that it's happy to shred almost all garden debris. It does slightly struggle on overly wet materials but that's to be expected.
The 2500 watt motor provides plenty of power and the blades, while only single-sided feel durable and sharp. Of course, their lifespan depends on what material your shredding and how often you are using it.
The 60-litre large collection bin is a nice feature which helps to speed up the shredding process while keeping the area tidy. 8/10
T-Mech 15HP Petrol Wood Chipper
Description
The T-Mech 15HP Petrol Wood Chipper is ideal for large gardens and professional landscapers.
As a petrol chipper, you're not limited by mains powers but you will have to deal with liquids which can be messy and dirty. Also, by design, it's a fairly heavy unit.
The powerful 15HP 420cc engine has an incredible 2400 – 3600rpm blade speed which maximises efficiency when chipping. With a whopping cutting capacity of 102mm, you'll have your garden looking pristine in no time.
It's ideal for composting leaves, trimmings and branches which can then be spread over flowers bed and vegetable patches helping them to grow.
Equipped with wheels, this wood chipper is fully portable and be easily moved it around your garden. Included with the shredder is free personal protection equipment (PPE) should be worn at all times when operating the machine.
Some assembly is required. However, the package includes a free assembly and maintenance tool kit. Finally, a 12-month warranty ensures peace of mind.
Pros
Handles branches up to 100 mm
Free personal protection equipment is included
Easy to move
Cons
Petrol is generally quite dirty and messy
Heavy
Conclusion
As the third petrol chipper on our list and our last machine, the T-Mech 15HP Petrol Wood Chipper offers several interesting features.
It is expensive but is designed for the professional and so is ideally suited for large gardens or if you have lots of trees to maintain. A small amount of assembly is required but nothing too much. Plus the free tool kit makes assembling easier.
As it can handle up to 102 mm in diameter, it easily compacts leaves, twigs and most branches. Overall it performs well even over a long period. If does block, it's fairly easy to clear any debris and restart.
We're not massive fans of petrol tools especially for residential applications, however, like the other petrol units on our list, the T-Mech performs sufficiently without too many fuel-related issues. 8/10
Einhell GH-KS 2440 2000 W Electric Rapid Garden Shredder
Description
Sporting sleek a red and black colour combination, the Einhell GH-KS 2440 2,000 Watt Electric Rapid Garden Shredder is one of the most affordable units on the market.
The simplicity of design makes the GH-KS2440 easy to move around the garden as it weight just over 11 kg and has two rear wheels. A collection bag is included and hooks into place, ensuring your garden is kept tidy.
Using a 2000 watt motor, the GH-KS 2440 is a powerful tool that quickly and effectively shreds tree cuttings, hedge cuttings and garden waste. It's two reversible steel blades ensure cutting precision and longevity and can handle branches up to 40 mm.
The generous funnel opening makes feeding garden waste easy and the provided prodder is invaluable for dislodging pieces which get stuck. It's easily attached to the unit for storage.
Several safety features protect the user, including an interlock which interrupts the power supply and a restart safeguard. There's also circuitry to prevent the motor from overloading and the funnel can be unscrewed, exposing the blades for cleaning.
Pros
2000 watt motor
Lightweight design
Shreds materials with a width of up to 40 mm
Conclusion
As one of the cheapest garden shredders available, the Einhell GH-KS 2440 offers all the essential feature you'd expect.
As with a lot of shredders there stated maximum material width is far more than what the machine will accept. The sweet spot seems to be around 25 mm. Far less than the advertised 40 mm.
Another issue is the collection bag size. While we couldn't find an exact number for capacity, it's on the small size. This should be fine if you only have a small amount to shred but could be an issue.
The cable length also isn't stated anywhere but suffice to say, you'll need an extension cable. Again this is to be expected.
While it requires assembly, this is straight forward and once built it's fairly compact. The lightweight design allows you to easily move the unit and the wheels help.
As a budget-friendly and basic shredder, it performs quite well on small branches and twigs. Larger materials can cause it block and so slow down progress. Of course, the kind and thickness of material has a big impact on the blade's life. 7/10
Dirty Pro Tools™ Garden Shredder
Description
With a 50 litre hopper, powerful 2500 watt motor and maximum 40 mm cutting width, the Dirty Pro Tools™ Garden Shredder is affordably priced.
A powerful 2500 watt motor makes this garden shredder is ideal for most gardens. It can shred garden debris up to 40mm and does so with ease.
Chippings pass to a large 50-litre clear plastic collection box which reduces wastes and makes moving the mulch easy. As this hopper sits under the unit, the unit takes up little storage space when not in use.
At 15 kg, it's lightweight yet the frame features two generous sized wheels which make it easy to move. As mains powered unit, the Dirty Pro Tools™ Garden Shredder has a 6-metre power cable.
As the top unscrews, there's easy access to the blade, whether it needs cleaning or changing. Simple to use yet with a range of safety features including a safety cut out switch.
Dirty Pro Tools™ have included a pack of spare blades with the machine and also sell them on their website.
Pros
Up to 40 mm cutting width
Large 50-litre hopper
Spare blades included
Conclusion
Affordably priced with a good specification list to match, the Dirty Pro Tools™ Garden Shredder is a fantastic option.
It handles a range of branches and twigs up to 30 mm as well as soft greenery. As you might expect it easily blocks if too much debris is fed into the top, so you'll want to watch how much mulch is being produced and feed an equal amount in the top.
While it comes with a plunger, which is useful, there's nowhere to store it when the unit is in operation. Of course, it happily sits in the shute for storage.
It's ideal for shredding small amounts of garden waste but isn't powerful enough for large quantities. The resulting mulch is ideal for spreading on a veg patch or for composting. However, it doesn't always compact smaller twigs and leaves.
It is fairly noisy and the power cable is short. However, it's sturdy, easily moved and can sit quite happily on uneven ground. 7/10
What is the best garden shredder?
Having reviewed a range of the best garden shredders, all performed well. It's best to avoid the sub £100 units as they lack power and performance. You'll likely spend more time unblocking or waiting for them to cool than you will spend compacting garden waste.
Since it's impossible to settle the petrol vs electric debate, we'll pick the best garden shredder from each category.
On the electric side, the one that impressed the most was the Makita UD2500 Electric Shredder. At just shy of £260, it's not the cheapest but does live up to the Makita brand's good reputation. It's easy to use, powerful and has a generously sized collection box.
In terms of petrol, the choice was harder as all three are fantastic options. However, the Hyundai HYCH1500E-2 stood out as the best garden shredder. While the most expensive on our list, it solid and robust. We like that it can be towed yet is easily pushed by hand.