20 Best wheelbarrows that make gardening easier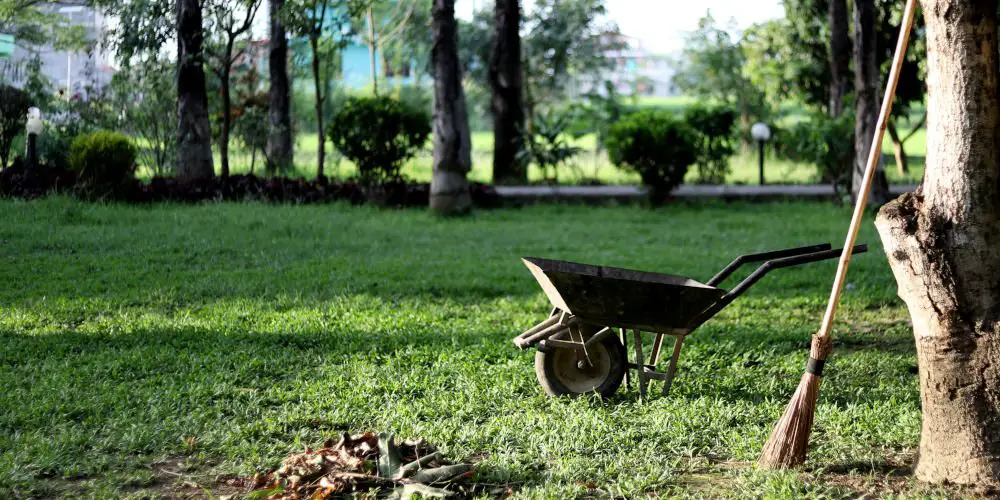 Believed to date back to the second century in China, the wheelbarrow has been ever-present in our gardens! But which are the best wheelbarrows for you garden?
With many uses, the humble wheelbarrow is an essential piece of kit for the garden and larger DIY projects.
At first, glance buying this piece of kit, might not seem like the most exciting garden purchase but it is one of the gardening tools you should own. However, there's actually a wide range of wheelbarrows on the market.
You have the classic metal type as well as more modern takes, such as folding ones. Some now feature two wheels or have a basket that tips.
Having evaluated a wide range, here are our top 20 best wheelbarrows on the market.
Walsall Wheelbarrows 85 Litre Easiload Wheelbarrow
Made in the UK, the Walsall Wheelbarrows 85 Litre Easiload Wheelbarrow. The 30 mm tubular steel frame is built to last. The anti-slip handles make it easy to move when full or navigating a tight path. As does the sizeable pneumatic wheel.
The metal basket has a capacity of 85 Litres (120 Kg), and so is of a decent size. The unique patent design does require self-assembly. However, once put together, it has the same integrity and strength as a fully assembled wheelbarrow.
VonHaus 78 Litre Wheelbarrow
The VonHaus 78 Litre Wheelbarrow sports a unique design and is reasonably priced. Assembling The VonHaus is straight forward, thanks to the easy to follow instructions. Simply attach the black steel frame, tray and wheels and you're ready!
With a capacity of 78-litres, you can easily carry up to 100 kg in the plastic tray. Whether you're moving compost, gravel or other garden items, you have plenty of space.
Dual wheels add stability over rough and bumpy ground. The soft grip handle extends over the top of the frame, and make navigating the wheelbarrow smoother.
A 2 Year Manufacturer Warranty adds peace of mind.
CrazyGadget 65 Litre Metal Wheelbarrow
The Galvanised Steel Tubular frame and body of the CrazyGadget 65 Litre Metal Wheelbarrow means it's fairly lightweight. When empty, the barrow weighs only 9kg.
It does require some assembly as you'll need to bolt it together. This is easier with two people. That said, once built, it has a 65 Litre capacity. While this is on the smaller side, it makes it perfect if you have a small or medium-sized garden.
The pneumatic tyre makes moving the CrazyGadget easy, when empty or full. The plastic handle grips also improve navigation. It's suitable for a range of gardening tasks.
Bison 100 Litre Heavy Duty Yellow Wheelbarrow
Bison 100 Litre Heavy Duty Yellow Wheelbarrow features a bold colour and comes flat pack, you'll need to screw the frame, tray and wheel together. That said, assembly is a quick and easy.
The single-piece steel frame uses 32mm tubing and has welded cross braces, making it extra strong. The pneumatic tyre is designed for use on rough, outdoor terrain, allowing it to tackle any gardening task.
With a bright yellow 100-litre plastic pan, the Bison is ideal for most jobs in the garden. Plus has enough capacity for moving most things around a garden.
The yellow easy grip handles mirror the pan. They make navigating the wheelbarrow easy, regardless of whether full or empty.
Homcom 75 Litre Garden Cart
Don't adjust your screen! The Homcom 75 Litre Garden Cart isn't your typical wheelbarrow but deserves to be included in our list. It's perfect if you have a lot to move, are disabled or have a large garden and need to stop and start.
Coming flat pack, it's fairly difficult to put together as the instructions aren't clear. Our advice is, don't fully tighten all the screws until you've got all the parts lining up.
The steel frame is sturdy has a black powder coat finish and designed to remain rust free. 4 pneumatic wheels and a long handle make it easy to navigate the cart, regardless of how rough the ground is.
Hidden below the green 75-litre plastic tub is a convenient tipping mechanism. A patented quick-release dump design to make unloading fast and easy. At 75-litre the tub has a good capacity and is made from a high-strength poly plastic.
This Homcom cart is maintenance-free and cleans easily. It's also rust resistant and will last for years.
Ideal for moving and unloading supplies around the garden. You'll find it easier to achieve more. It's also a fantastic addition to any stable as it will reduce the effort required to move bales, feed and water.
Monzana Deuba 100 Litre Wheelbarrow
Monzana Deuba 100 Litre Wheelbarrow will set you back and features a unique wheel.
As it comes flat pack, you will have to assemble. Sadly, the instructions aren't well written. So you might need a few tries to get it assembled. Our standard advice applies. Don't tighten screws until everything is aligned.
At the heart of the design is a black Powder coated steel frame. On this strong anti-rust frame sits a robust tub made of shock-proof polypropylene.
This 100-litre tub makes transporting leaves, wood, stones, building material, machines and tools, easy. Its safety handles also ensure ergonomic working.
Thanks to its ball bearing mounted pneumatic tyre on a steel rim and a wheel size of 40cm diameter, a max load capacity of 150 kg is possible. The all-terrain lug tread allows for smooth movement over through mud, lawn and stone.
Marko Tools 80 Litre Wheelbarrow
Nearly impossible to tip over, the Marko Tools 80 Litre Wheelbarrow is reasonably priced . On opening the package, you'll see a flat packed wheelbarrow and instructions.
While some report that it's difficult to assemble due to bad instructions, our standard advice applies. Make sure you line up the screws before tightening them.
The powder coat frame cradles the plastic 80-litre tub, making it hard to tip over. Dual wheels ensure stability no matter the ground and make it easy to move around.
A large easy to grip completes the Marko Tools 80 Litre Wheelbarrow.
Ideal for a range of function, whether you need to move tools, dirt or bricks around the garden, this wheelbarrow makes it's easy.
WheelBarrows Direct 200 Litre Blue wheelbarrow
If self-assembly isn't for you, then go bold with the WheelBarrows Direct 200 Litre Blue wheelbarrow! As one of the most expensive wheelbarrows on our list, it come assembled, allowing you to get working on your garden or mucking out your horses!
Using a tough tubular steel frame, this wheelbarrow is very sturdy and durable. The bright blue tub has a capacity of 200 litres and so is able to carry up to 265 kg of weight.
Dual puncture proof wheels, make moving heavy loads easy. Make navigation easy is two handles. This is best suited for large garden, horses or major building works.
Bristol Tool Company Big Mucker 120 Litre Wheelbarrow
Bristol Tool Company Big Mucker Wheelbarrow is another ready to use, British built unit. Featuring a black powder coat metal frame, Bristol Tool Company have designed this with longevity in mind. Two easy to grip handles ensure it moves with ease.
A solid wheel makes punctures a thing of the past and ensures stability over rough ground. An ultra-strong plastic tray completes the design and can hold loads up to 150Kg within its 120-litre capacity.
Thanks to the superior materials, you can leave this wheelbarrow outside all year without it rusting. Ideal for large loads, reduce the number of trips needed. So you can achieve more in your gardening or stable at the same time.
Carrimore King Wheelbarrow
As the most expensive on our list, the Carrimore King Wheelbarrow comes assembly, this wheelbarrow features a massive 300-litre capacity. This means you can move 3 or 4 times the typical load of a standard wheelbarrow.
A heavy-duty metal frame creates the perfect base. Twin wheels are positioned under the wheelbarrow towards the front. This makes it exceptionally well balanced and easy to tip.
The King Barrow was made with mucking out stables in mind. It's also ideal for moving earth, hedge/tree trimmings and much more. Whatever your moving and no matter how rough the ground, the King Barrow will handle it with ease.
Main Gate Wheelbarrow County Clipper
Main Gate Wheelbarrow County Clipper is one of Britain's best-selling wheelbarrows! Arriving flat pack, the country clipper is easy to put together.
The Frame is galvanised to help to postpone and inhibit the onset of rusting. Using seam welding, the frame is far stronger than the traditional spot welding. An oversized cross brace adds further rigidity.
Solid steel skids are welded onto the bottom of the legs of all County barrows. These skids greatly prolong the life of the steel tubing and hence the barrow as a whole.
The 4-ply block-pattern tyre features a pneumatic inner tube, which allows for easy DIY repairs. Roller bearings enable years of low-friction, squeak-free rolling. The thick tyre tackles steps and gravel with ease.
The injection-moulded polypropylene tray is light, yet incredibly tough. Plus it's also easy to clean. The 90-litre capacity allows you to move a large load of stuff around.
Finally, the comfortable hand grips make navigating the Main Gate Wheelbarrow County Clipper simple.
Trueshopping Folding Garden Wheelbarrow
Solving the problem in a different way, the Trueshopping Folding Garden Wheelbarrow is unlike others on our list. It's ideal for moving wood, earth, leaves and gardening tools. It's has a capacity of 50 kg (or 50 litres).
A robust and durable Steel frame with powder coated metal rim forms the basis. As this steel is rust resistant it will survive years of use. Keeping it moving is a smooth running rubber 13-inch pneumatic wheel and two rubber handles.
The tiltable polyester bag is sturdy and easy to wipe clean. It has 3 pockets near the handles, perfect for storing keys, phone or small gardening tools.
What makes the Trueshopping Folding Garden Wheelbarrow unique is its ability to fold flat for easy storage. If you don't have much garden or shed space, then you should consider getting one.
Wheelbarrows Direct Yelding 100 litre galvanised wheelbarrow
As there's nothing to assemble, you can use the Wheelbarrows Direct Yelding Wheelbarrow straight out of the box. Plus it's ideal for a range of gardening task.
Using a 35mm tubular galvanised steel frame, the wheelbarrow is very sturdy and durable. The heavy-duty galvanised tub can hold up to 100 litres and withstand years of abuse.
The puncture-proof wheel makes light work of moving any load while ensuring stability. Using nylon locking nuts throughout, the Yelding Wheelbarrow will last for many years.
Overall, this wheelbarrow is well built and will easily handle most gardening tasks.
Walsall Wheelbarrows 85 Litre Duraball
Replacing the wheel with a ball, the Walsall Wheelbarrows 85 Litre Duraball is a unique design. Manufactured in Walsall, this unique design is based on a James Dyson design from the 1970s. Comes flat pack, it's easy to assemble.
The ball increases the sturdiness and manoeuvrability on soft and uneven ground. Plus it's puncture-proof, so will provide you with years of use.
A heavy-duty frame made from tube steel provides a strong base. The galvanized steel pan holds 85 litres and has a slant at the front which makes this a perfect barrow for tipping.
Overall, this Duraball Wheelbarrow is ideal for gardening, building and pet care.
Relaxdays Folding 90 Litre Wheelbarrow
Relaxdays Folding 90 Litre Wheelbarrow is affordable and is a lightweight solution. Arriving in pieces (trough, wheel, wheel hanger, 2 handles), putting it together is fairly straight forward. However, you need some tools and a bike pump.
It's ideal for transporting leaves and Green cuttings as the large carrying tub provide ample space. The 90-litre capacity is of a good size.
The strong yet lightweight steel frame is sturdy. In terms of moving it, the handles are specially made with a no-slip surface. The single wheel makes guiding the cart simple.
As it folds down for storage, it's ideal for tight spaces and small gardens.
Keto Plastics Heavy Duty 110 Litre Wheelbarrow
The Keto Plastics Heavy Duty 110 Litre Wheelbarrow features a classic design and puncture proof wheel. The wheelbarrow comes boxed and unassembled for transporting. Constructing it is easy and you should be up and running in no time.
Made of 32 mm black powder coated tubing, the frame is heavy duty. The high tensile steel pan has a 110-litre capacity and features integral under-pan support legs. This offers greater strength and stability than standard wheelbarrows.
Keto Plastics have designed this hard-wearing wheelbarrow for a range of uses. It's ideal for home, garden, building use, equestrian, and more.
Marko Tools 100 Litre Wheelbarrow
Arriving flat-park, the Marko Tools 100 Litre Wheelbarrow often comes without instructions. So, it might take a bit of time to get it put together. Thankfully there are only a few parts to connect together.
The classic design uses galvanised steel to ensure stability and long life. The tube frame is lightweight yet tough. Sitting on this frame is a 100-litre capacity tub, which is again manufactured from galvanised steel.
The 41cm (16 inches) pneumatic inflatable tyre makes for simple navigation. Overall, Marko Tools 100 Litre Wheelbarrow is ideal for gardens of all sizes as well as many other uses.
Oypla Lightweight Folding Garden Wheelbarrow
As one of the cheapest on our list, the Oypla Lightweight Folding Garden Wheelbarrow features a durable weatherproof polyester bag and a heavy-duty steel frame. There are even a few pockets for carrying hand tools, keys or phone!
Ensuring easy moveability is a puncture-proof rubber wheel. The two handles feature anti-slip coverings, making it simple to move when full.
Lightweight, it only weighs 5 kg when empty and can carry up to 20kg in weight when fully loaded. The foldable design makes it easy to store and perfect for small properties and gardens.
Extremely versatile, the Oypla Lightweight Folding Garden Wheelbarrow is ideal for transporting garden waste, debris, tools and so much more.
Garden Gear Two Wheeled Wheelbarrow
The Garden Gear Two Wheeled Wheelbarrow features an interesting design and is affordable. Assembly is easy, thanks to clear instructions. It also comes with a 12-month guarantee.
The chassis is manufactured from hard-wearing powder-coated steel yet is lightweight. A highly durable polypropylene tub sits on top of the frame and has a 78-litre capacity.
What makes this unique is its 2-wheeled design. This feature spreads the weight evenly and eliminates the need for balancing, making it much easier to move about your garden.
The rubberised comfort grip handle ensures it's a pleasure to navigate. Regardless of what your moving, this heavy duty Garden Gear wheelbarrow makes any job a breeze.
Carrimore Twin 200 Litre Wheelbarrow
You can order the Carrimore Twin 200 Litre Wheelbarrow to arrive assembled or flat pack. Carrimore claims it can be assembled in around 30 minutes. The trick is to not tighten bolts until you're satisfied that everything is correctly in place.
The large 200-litre pan will allow you to move large quantities of muck, soil and other things. This makes it ideal for commercial organisations, domestic users and everyone in between!
A Fully galvanised frame guarantees rust protection and years of use. Twin wheels use semi-precision bearings to allow for an effortless moving experience.
Easy to clean, you can store the Carrimore Twin upright. This wheelbarrow can be used for many purposes including animal management, gardening and landscaping.