Is Google Home Zigbee compatible?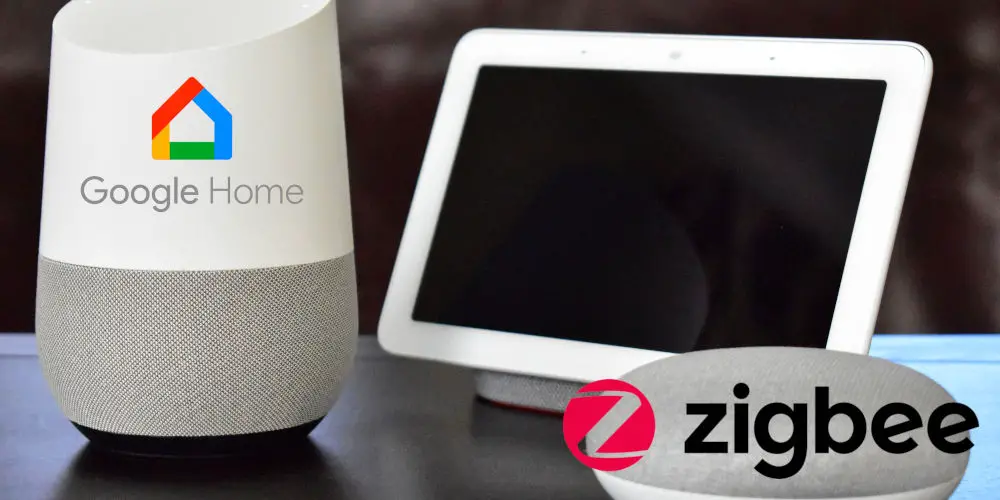 If you own a Google Home device, before long you might want to use it with some smart bulbs or control some basic home automation. So, you might wonder is Google Home Zigbee compatible?
Sadly, it's not directly compatible, but there are ways to get the two technologies to communicate. You'll need a Zigbee hub to bridge the gap and plenty are available. It's a similar situation with Z-Wave, which also needs a hub to work.
Google Home uses Wi-Fi to communicate with devices. So any smart device that uses Wi-Fi as its communication protocol can talk to your Google Home device. You don't need a hub or special wires. 
Some brands, including Philips Hue, use the Zigbee protocol to communicate. So you can use their Hue Bridge or a SmartThings hub as the glue that binds the two systems together.
Come with us as we explore the question: Is Google Home Zigbee compatible?
Can Google Home work with Zigbee devices?
We need a way to get your Google Home device to talk with Zigbee. But you might wonder why. It's a question we've all asked. The answer is fairly simple. Smart home devices use a range of protocols to talk to each other.
A protocol is much like a language. Imagine talking French to someone who only speaks Russian. They won't have a clue what you're saying. If we find someone who speaks both languages, they can translate for us, ensuring everyone understands each other.
Hopefully, you can understand what the hub does and why we need one.
In terms of protocols, there are four major ones, there are:
Bluetooth
Wi-Fi
Zigbee
Z-Wave
As different languages, they can't talk with each other without using another piece of kit to bridge the gap. So, we have a problem!
A way to solve this issue is to use a SmartThings Hub as it works with Wi-Fi, Zigbee, and Z-Wave. It's affordable, easy to use, and highly flexible.
Philips Hue has their own solution. You can control their bulbs from your smartphone using Bluetooth. If you have a few Philip Hue bulbs, you can buy the Hub and control them using Zigbee and Wi-Fi.
So, I need a hub?
You might think you need a hub, and all hope is lost without one. The Good news is, the situation isn't that bleak!
Both Google Assistant and Alexa work with a lengthy list of devices. You'll see their logo plastered on the packaging of many smart home devices, or the line "Works with Alexa"/"Works with Google Assistant".
These two systems communicate via Wi-Fi, and so don't require a hub. But you'll need to ensure a particular product works with your preferred system before buying it.
There is a good reason to use Zigbee or Z-Wave. Wi-Fi starts to slow the more devices that are connected to it. You might be fine with two bulbs and the lounge blinds, but you'll notice it gets slower if you have 10 smart home devices plus a few phones and a PC or two.
As Zigbee and Z-Wave use unique protocols, they are designed to run complex home automation systems without slowing down. So, as you add more smart home devices to your property, it's worth switching over to either system.
What can Google Home do by itself?
Your Google Home device is pretty powerful, as is Google Assistant, which is built in. Using your device, you can easily:
Responds to voice controls
Access to smartphone apps
Setting reminders, calendar events, checking the weather
Playing music
Control other smart devices.
As we've already talked about, your Google Home device can control thousands of devices, including Blubs, Blinds, IP Cameras, Thermostats, and more. So, you might not need a hub, especially if you just want to control a few devices.
Using the Google Home app, you can set up some basic automations using Routines and complete tasks such as setting reminders and checking the weather.
What can the Google Nest Hub do?
While they call it a hub, it's not one in the traditional sense. The Google Nest Hub is fairly basic but does allow you to access and control the linked devices from one smartphone app.
You can use the Google Nest Hub to:
Display photos
Control household devices (lights, locks, etc.)
Located devices that are connected to Google Home
Update calendar and reminders
Organize appliances and devices by room
Parental Controls
The Google Nest Hub offers multiple unique features that make managing life that little bit easier. That said, it doesn't understand Zigbee or Z-wave, and only uses Wi-Fi. So you'd still need a 3rd party hub to control a Z-Wave device, Ring Video doorbell, or Philip Hue bulbs.
How to set up a Google Nest Hub or Nest Hub Max
If you still want to buy a Google Nest Hub for its digital photo album or other features, cool.
Before setting up your Nest Hub, you need to decide where to place it. You should place it somewhere you'll use it the most, such as the kitchen or your bedroom.
Next, you will need to download the Google Home app to set up and operate your Hub. It's a free app that's available for both Android and iOS devices. After installing the app, you'll need to plug your Google Nest device into a power source and connect it to your home Wi-Fi network.
Using the screen, select Add, then Set Up New Devices In Your Home. The app will then automatically scan the area for available devices. Choose the device you want to use.
You then need to set up a range of preferences, including the Google Home Hub's location, password, and voice match preferences. You can set up the voice matching feature with one or multiple voice profiles. 
The device learns to pick up each individual's voice. Over time, it'll create customized reactions to each person's commands. Very cool! Your Google Nest Hub will answer the same question differently, depending on who asks it!
So, is Google Home Zigbee compatible?
Sadly none of the Google Home devices are compatible with Zigbee or Z-Wave for that matter. It doesn't matter if you have a 1st gen Google Home Mini or a new Nest Hub Max, they use Wi-Fi to communicate.
And while they are powerful devices, thanks in part to the built-in Google Assistant, if you want to build a truly smart home, you should look at Z-Wave or Zigbee systems.