Luxury Interiors: Redefining Excellence In The Home
Luxury Interiors are the pinnacle of an obsession with detail, quality and craftsmanship.
It's a misnomer to believe that cost is the sole determining factor. In fact, the cost is a result of fixation of detail and quality.
Luxury redefines how we live and expands the mind.
Historically luxury interiors were about expensive bling. Picture for a moment the formal rooms of a stately home.
You'll likely imagine a rich tapestry of the finest materials, lofty rooms, ornate chandeliers and emotive experience.
While today's luxury interior designers have paired back the bling, they still explore the world to source the best materials in order to create an emotional response.
What is Luxury?
Answering such a question is a tall order.
Luxury is a feeling, an emotion, hard to define but easy to recognize. It's a mindset. True luxury is in the details.
However, that only scratches the surface.
As already stated, with luxury interiors it's more than the price yet, that is a component part.
The designer has the largest impact on the project. Even in a sea of monochrome so-called "luxury interiors", each designer's fingerprints are often more present than first meets the eye.
It's also the materials, the layers, the furniture designs, the hidden extras. Not discounting the craftmanship and the hours spent honing one's skills.
Again defining luxury as only one of these element misses the wider point. It's a much more nuanced picture.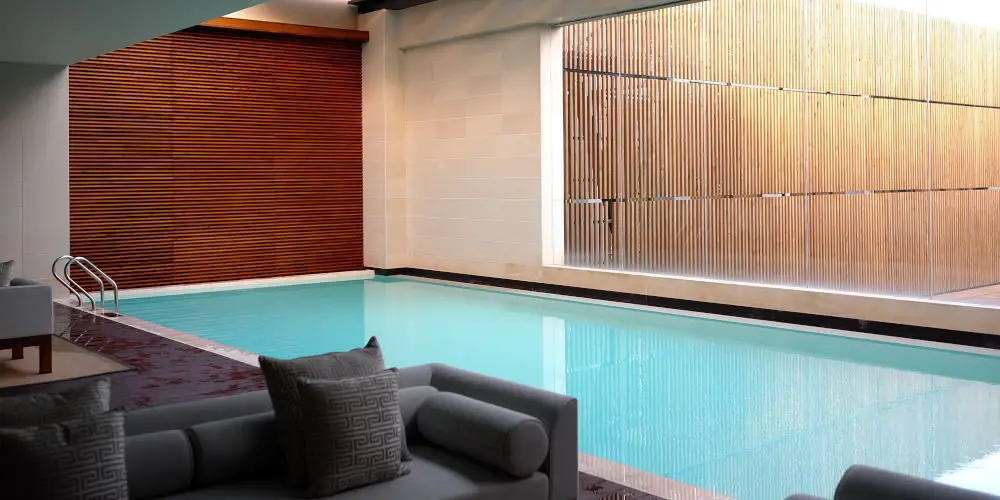 Unique Features
One of the easiest ways to define luxury interiors is to explore the unique features.
Home automation
At the top of most people's list is a home automation system. A prolific designer once wistfully said, "If you're closing your curtains, you're living in the past!" While this somewhat stretches the truth, today's high-end interiors have some form of automation.
Whether the client selects Control4 or Crestron, is beside the point. Both offer the user control over a whole host of features that most deem essential.
It's now possible to control your main gate or front door while out at sea. Lights can be set so they mimic you typically pattern, whether you're at home or halfway around the world.
While these high-tech features might seem like the height of luxury themselves, for most, they are essential.
Eccentric features
It's when we start to explore some of the more eccentric features, that we see what luxury interiors have morphed into.
It's not uncommon to see swimming pools which magically turn into dance floors. While unquestionably unique, in a London townhouse where space is already non-existent, this feature can be deemed essential to a work-life balance.
Another outlandish feature that only exists in luxury interiors is the photo mirror. This mirror actually hides a camera which takes a 360-degree picture of you. Thus allowing you to answer the age-old questions "does my butt look big in this"?
Basements
Several property developers specialise in creating new basements. However, these aren't you ordinary basements!
These addition spaces usually include a large swimming pool, cinema room, gym and even a nightclub. Not forgetting the wine cellar – a must have, even for the non-drinker!
Hidden extas
Also, a section like this wouldn't be complete without us mentioning helipads, staff accommodation and even stabling for one's polo team!
While most of us dream about it, others are counting the cost of owning such properties.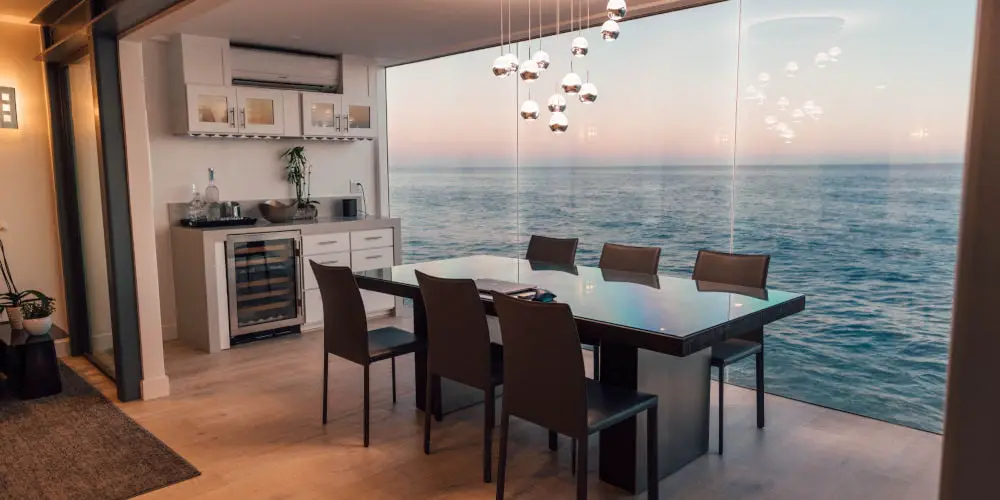 Exploring the finest materials
It's hard to draw meaningful comparisons between standard and luxury finishes. Usually, such discussions end in oversimplification, which often misses the point.
Our best analogy would be buying your first cotton shirt, after wearing polyester shirts for years.
Of course, the polyester looks smart and probably feels comfortable to wear. However, the cotton allows your skin to breath and moves with you. It not only looks fantastic, but it also makes you feel excellent.
Most high-end interior design companies spend hundreds of man-hours travelling and exploring to find designer and craftsmen. These people have spent their career in pursuit of excellent and have skills you can't learn by studying alone. It's akin to buying a supercar directly from Enzo Ferrari.
It may be best to explore some examples to fully illustrate the point.
Promemoria
Based in Lake Como, Promemoria has been creating hand made furniture since 1988. Headed by Romeo Sozzi, who's family centuries ago maintained and restored carriages for the local nobility.
Romeo is obsessed with designing and fills multiple notebooks each year with drawings and sketches. His team are some of the finest craftsmen in Italy and all are dedicated to creating outstanding pieces of art.
Promemoria uses exotic woods such as Tuscan cypress and Macassar ebony and fabrics like linen, silk and cashmere. As you can imagine, these materials coupled with the finest craftmanship creates a truly exceptional product.
de Gournay
Using centuries-old techniques, de Gournay create a range of handmade fabrics and wallpapers.
The London based firm creates pieces using their in-house artisans, which will hold its value for many years. As many of their fabrics and wallpapers are custom, they are as unique as they are valuable.
The de Gournay quality is immediately noticeable to the naked eye. Their products are far superior to machine-made replicas.
Interior Designers to watch
Clive Christian
It's never easy to highlight our favourite high-end designers, and so we've picked a few based on what they do best.
The first is Clive Christian, primarily known for his kitchens, Clive has since expanded to design the whole house and has even launched a perfume range.
Clive in the 70s took the kitchen from the basement and moved it to the ground floor while enlarging the space to make it more communal. He even added chandeliers! 
Today Clive Christian kitchens can be found in the homes of Wayne Rooney, David Beckingham, Celine Dion, and Shania Twain.
Candy and Candy
Next is Candy and Candy who in the late 90s changed the luxury interior design game completely. The brothers started to add cinema rooms, dressing rooms, home automation and their now classic neutral interior scheme.
Many London based interior designers got their start at Candy and Candy and so the company's legacy continues. The firm's clients include Kylie, Sheikh Hamad bin Jassim bin Jaber Al Thani, Naomi Campbell and many Russian oligarchs.
NH Designs
Finally, Nicky Haslam has pioneered a unique style while constantly updating and tweaking at the edges. His ability to layer antiques with modern finishes have made him one of the worlds most in-demand designers.
Nicky has designed for Ringo Starr, Mick Jagger, and Rod Stewart, as well as Oligarchs and heads of states.
Luxury interiors on a budget
The first thing is to study luxury interiors that you love. It's ok to lose yourself for hours on Instagram or Pinterest. We've all been there!
Next start looking for similar pieces or a different route there. For example, if you're a little nerdy like us and want to automate your home then start with LightwaveRF or Z-Wave.
Websites like eBay and Facebook Marketplace are also treasure troves of gems and bargains. While you might not be able to afford custom seating, you might be able to find something which is close at a fraction of the cost as it's being made in the far east and is available on eBay.