What will Samsung SmartThings cost to install?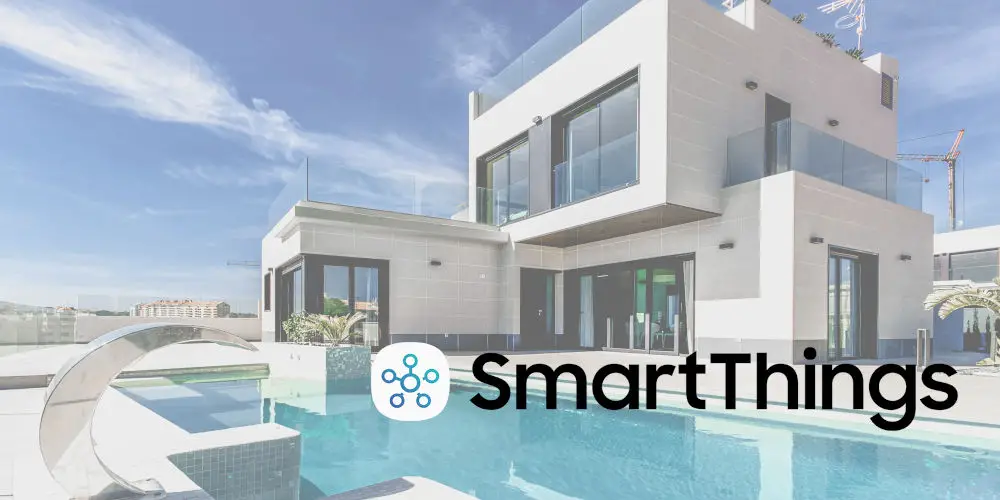 With plenty of Samsung products in your home, you've decided to control them and some other basic functions using a Samsung SmartThings home automation system. You wonder how much will SmartThings cost to install in your home and if you can DIY?
As an entry-level smart home system, all of the SmartThings products are easy to install and programme. You can build a system without hiring an electrician. Plus, a range of Samsung appliances work with the SmartThings system, allowing you better control over your home.
As one of the most affordable smart home systems available, you might be surprised, just how inexpensive it is to build your dream automated home using Samsung SmartThings.
Come with us as we explore what Samsung SmartThings costs to install from a basic system to a complete automated home with voice control.
Does Samsung SmartThings cost a small fortune?
What makes Samsung SmartThings ideal is they offer a range of products that allow you greater control over your home. The marriage of SmartThings and Samsung means the system is unique as many Samsung products work with SmartThings out of the box.
SmartThings is an entry-level smart home system. So, don't expect it to offer a range of advanced features (such as smart door locks or pool automation). However, it does allow you to control basic features effortlessly.
As an affordable option, SmartThings is DIY-friendly, scalable and future-proof. Compare this to the cost of Crestron, which can quickly add up to five or six figures, and you can begin to see how inexpensive it can be.
It will cost you under £200 to automate a few mains powered device using the system if buying new. Of course, you can pick used devices up for a fraction of the cost using eBay, Facebook Marketplace or Gumtree.
Scaling the system to cover your entire home could cost around £5,000, depending on the number of devices you need and if you install them yourself. While this figure might sound expensive, your system should last years with the occasional firmware update.
It's worth remembering that potential buyers are looking for smart homes and are willing to pay more. By installing a home automation system, your property can stand out, especially in a crowded market.
Essential Samsung SmartThings smart home components
The first device you'll need is a SmartThing Hub (£90). Many Samsung products have this technology already built-in, but it's worth buying a stand-alone Hub to ensure the system is rock solid. You might be able to buy a used Hub for around half of that amount.
After setting up the SmartThings Hub, you can begin to pair devices and appliances wirelessly with it and start to build your dream smart home.
Total
The total cost of must-haves: £90
Automating lighting with Samsung SmartThings
When it comes to lighting, there's a catch. SmartThings doesn't offer light switches or bulbs. However, you can use the Philip Hue range as the two systems are compatible using the Philips Hue Bridge. The Philip Hue bulbs aren't cheap but upgrading to them is far easier than replacing switches.
A single Philips Hue bulb starts at £25, and so for a 3-bed semi, you might need 10 bulbs, costing £250 in total.
In a 4-bed semi, you might need 15 bulbs, and that would cost £375.
Another option is to use Zigbee light bulbs as these are compatible with SmartThings.
Total
The total cost of lighting: £250+
Samsung SmartThings cost of updating your power sockets
Offering a plug-in-and-play single socket, to control non-smart appliances using a SmartThings system couldn't be simpler. Plus, as the socket costs £14, it's budget-friendly! Of course, the downside is that they look quite ugly, despite their white colour.
We estimate that the average 3-bed semi has 40 single power sockets, which would cost £560 to replace the lot. In reality, you wouldn't need to change all of them as some sockets never get turned off (fridge, TV, microwave, etc.), and so don't need replacing.
You might be able to get away with only changing around 20 or so. Even swapping these will give you a greater degree of control than you currently do.
Total
The cost of changing 20 dual-gang power sockets to SmartThings ones: £280+
Smart heating control cost
To control your boiler or radiators, you'll need to use Z-Wave or Zigbee compatible devices as SmartThings don't offer any heating products. You could change your thermostat to a smart one or replace every TRV with smart radiator valves.
Upgrading to a smart thermostat such as the Honeywell T6 Pro Z-Wave Thermostat is an affordable and simple way to control your boiler from anywhere while still using the SmartThings system.
If you want more control over your heating, then consider upgrading to smart TRV, Fibaro offers an excellent one that is Z-Wave and SmartThings compatible. By adding a smart TRV to each radiator, you can adjust the temperature of each room using an app.
Total
Making your boiler and heating system smart: £100+
SmartThings home security system cost
An area where SmartThings excels is home security with cameras, motion sensors and door/window sensors all available. Yale smart door locks also integrate into the system with ease, adding a further level of protection.
The SmartThings Cam offers 1080p video, night vision, 2-way audio and smart detection. Ideal for ensuring your home is safe when you're at work, away or busy.
Use a Multi-purpose Door/Window Sensor to remotely track when they are opened or closed. You can even link them with a smart thermostat. If someone opens a window, the sensor will tell the thermostat to turn down the heating.
Track movements within your home using a Motion Sensor. You can programme these to activate lights when triggered. So no more stubbing your toe when using the loo during the night.
Finally, protect your home from water damage with a Water Leak Sensor, which will detect any leaks before they become a problem.
Total
Securing your home starts at: £30
Any extras?
A product we're yet to mention is the SmartThings Smart Button, which allows you to run scenes using a single click. You could, for example, place it by your front door and use it to turn off all of your SmartThings devices.
It's worth mentioning that the big draw of Samsung SmartThings is that many Samsung products work with the system, allowing you to control them from anywhere. You can use Samsung TV, washing machine, clothes dryer, oven and robotic vacuum cleaner with your SmartThings system.
Also, the system is compatible with Z-Wave and Zigbee devices, allowing you to create a system using multiple brands.
Use either the app or website to configure and control devices. Both are free to use. If you have a Samsung phone or smartwatch, then you can use Bixby Voice control to operate your system.
SmartThings also works with both Alexa and Google Assistant, but you'll need a compatible device such as an Amazon Echo Dot.
Total
You can get away with spending nothing on extra depending on your needs.
Should I hire a professional installer?
As a wire-free system, you should be able to add Samsung SmartThings devices to your home without needing to pay someone to install them. And as they are easy to install, you can reduce how much SmartThings costs you.
Ensuring your Samsung SmartThings system is affordable
Before purchasing any Samsung SmartThings devices, you need a clear idea of what you'd like to automate. Without clarity, you'll likely waste money, time and effort.
In addition to buying SmartThings devices, consider upgrading your appliances to the latest Samsung releases as they have the SmartThings technology built-in, allowing you another level of control. Building a smarter home involves having total control over every element.
Hopefully, this guide to how much Samsung SmartThings costs has helped you price your ideal system and showed you a few ideas.