Why upgrade your AV receiver? 5 Reasons
The home cinema of tomorrow is wildly different from that of 5 or 10 years ago. As technology advances, we should consider upgrading key components. And at the top of the list is the AV receiver. You might need some convincing. That's ok. But, why upgrade your AV receiver?
Some home cinema enthusiasts are eager to try the latest equipment, waiting up late for retailers to release new items. Others take a more budget-friendly approach and wait for their unit to die before replacing it but miss out on the latest technology.
If your AV receiver is over 5 years old, it's might be time to consider an upgrade. We've seen plenty of new technology and cool features added to even the most basic units in the last 2 or 3 years.
You can always give your old unit to a friend or family who wants a home cinema set up but hasn't got the funds or is struggling to know where to start.
So, why upgrade your AV receiver? Here are 5 reasons you should consider.
#1 Network and streaming features add convenience
Streaming content has only taken off in the last 5 or so years. Before then, we'd either record shows and movies or buy the DVD. So if you're using an old AV receiver in your home, chances are you don't have access to streaming capabilities.
Bluetooth
Let's start with the basics, Bluetooth. Available on mobile phones for decades, Bluetooth allows you to play music from your phone or tablet to your home theatre system. It takes a nanosecond for your devices to pair. Almost all receivers come with built-in Bluetooth.
One thing that's fantastic about Bluetooth. Your friends and family can easily play their favourite music on your system. They only need to pair their device with your receiver and they're able to enjoy listening. No need for access codes or a complicated set up process.
Internet
The majority of units currently available are internet-ready. They'll either have Wi-Fi built-in or offer a wired Ethernet connection that requires running a cable to your router. 
Once connected to the internet, you can stream content from popular services such as Spotify, Netflix, YouTube, and access internet radio stations.
AirPlay 2
Apple fans are covered too with receivers that have AirPlay 2 built-in. With your iOS device (iPhone or iPad, for example), you can use Apple AirPlay 2 to quickly access your music. It can also stream audio from other sources, including YouTube videos and Netflix.
Apps and voice control
As remotes are so last century, many AV receivers now allow you to operate them using an app. You can use your phone or tablet to control your entertainment system and never need to go hunting for a remote again!
Some even allow you to control them using voice commands. A lot of receivers are compatible with Alexa or Google Assistant, making it even easier to use them.
Multi-room audio and video
Most receivers offer Zone 2 or Zone 3 outputs, allowing you to create a multi-room audio system. Being able to listen to music throughout your home is great for parties or getting away from it all! 
Some units even have a second HDMI output, allowing you to connect a TV in the next room to the system. Fantastic if you have a drinks bar in your home entertainment space!
There are even units that sync with wireless speakers for multi-room audio without needing to add more cables. Options include Sony wireless speakers, Sonos, and Yamaha MusicCast!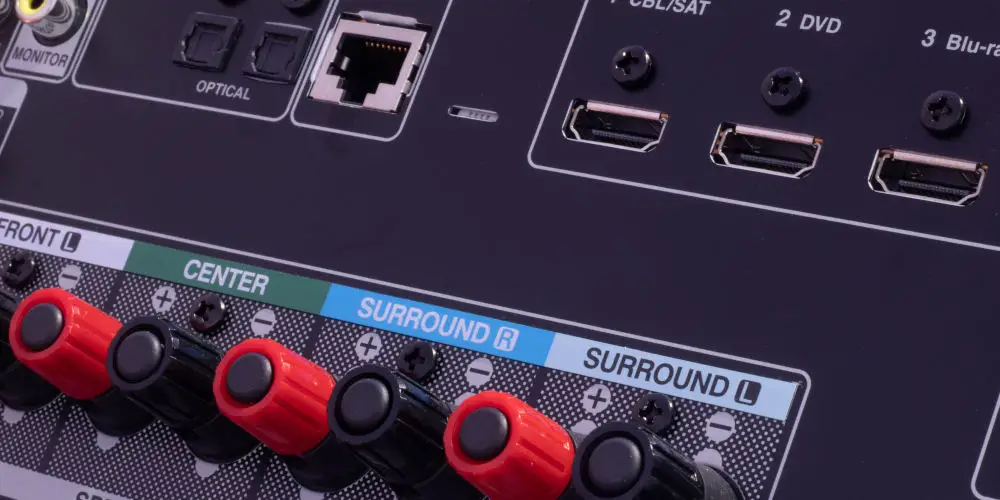 #2 Greater connections making adding devices to your AV receiver easier
We all want a simple system that's easy to use! Well, that's the idea until we start trying to add a game console, Blu-ray player, Chromecast, and the rest! It can be easy to run out of connectivity options and still have devices to connect.
And this is without mentioning devices that require specific connections. You can't plug your turntable into a USB port and vice versa. So, you'll need both a USB port and RCA inputs. All of these complexities need to be considered when upgrading your AV receiver.
Inputs
It's worth knowing what devices you want to connect to your receiver before you start shopping. If you plan to keep things simple and only need Bluetooth, Wi-Fi, and 2 HDMI ports, you'll have access to a wider range of options.
However, if you need RCA inputs for your turntable, then you'll find yourself with fewer options or needing additional kit to get the two talking.
Speakers
Just looking at the surround speaker options might not be enough for the system you envision. You might need to look for a unit with multiple speaker zones, allowing you to spread audio around your home or entertainment space.
It's also worth upgrading to an AV receiver that's future-proof. Spending that little bit extra is worth it. So, consider investing in a 7.2 or 9.2 receiver, even if you only plan to use a 5.1 speaker set up now.
Get 4K-ready
We've moved on from HD TV to 4K and in some cases 8K! So buying a receiver that's 4k-ready is a must or you'll find that you need to upgrade again in a year or two.
Built-in streaming
You might already have a Chromecast or Fire TV stick and know how powerful and flexible they are. So it makes sense to look for a unit that has one of these built-in. Doing so frees up the inputs and reduces the cost yet still allows you to access to a wide range of content.
#3 MORE VOLUME for your home cinema!
Upgrading your AV receiver could mean more volume for your home cinema. Modern units feature bigger amplifiers and more speaker options. Years ago, 5.1 surround sound was the big thing, with plenty of receivers talking up such features.
Consumer expectations have moved on massively since then. We now envision having a 7.1 or 9.1 speaker set up within our home media room. These additional channels provide a depth you didn't know you needed! 
With more speakers dotted around the room, how you hear sound effects and audio become more 3D. Few things compare to being fully wrapped in sound from all directions, whether you're watching a movie or gaming. 
If you enjoy listening to music, gaming or movie watching with a basic 5.1 system, upgrading to a 7.1, 9.1 or even adding a few Dolby Atmos speakers will create a completely different experience. 
DTS:X is another superb option to consider when shopping for a new AV receiver as this surround sound format uses technology rather than more speaker to deliver an immersive audio experience.
If the idea of adding more speakers makes you feel slightly unsettled due to the cost or the hassle of configuration, help may be at hand. The cost will take care of itself as you'll value the improvement in sound quality more than the price of new speakers!
Also, all new receivers offer automatic speaker calibration, allowing you to simplify the set up process and quickly tune your surround sound to the acoustics of your room. So you can focus on enjoying your space and not endlessly tweaking speakers or settings.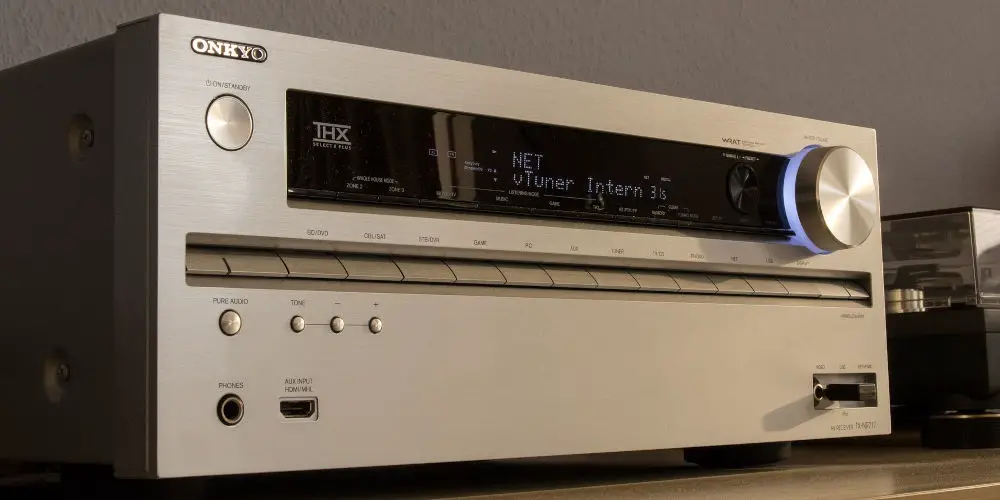 #4 Enjoy your next-gen gaming console to the max!
While your old AV receiver might be great for movies and listening to music, it doesn't produce the best result with your next-gen games console. So, it makes sense to upgrade your AV receiver to fully enjoy every second of gaming time.
Case in point, both the Xbox Series X/S and the PS5 should be hooked up with an HDMI 2.1 connection for the best picture quality. HMDI 2.1 offers much higher bandwidth than its predecessors, passing up to 48 Gbps. In comparison, HDMI 2.0 hits a max of 18 Gbps. So the difference is huge!
As HDMI 2.1 passes much more information, it's capable of running 4K picture quality at a super-smooth 120 Hz refresh rate, which is a key feature for next-gen consoles. It can also pass 8K at 60 Hz too, making it future-proof.
Your last receiver might only be HDMI 2.0, meaning once you upgrade to a unit offering HDMI 2.1, the difference will be very noticeable. That said, you'll also need HMDI 2.1 support from your display (TV or projector) and ultra high-speed HDMI cables.
Without these additional upgrades, you're automatically working with the lowest version of HDMI. And so, you'll be missing out on the enhanced gaming features of 2.1.
To ensure you buy the ideal AV receiver for gaming, here are several things to look out for.
Variable Refresh Rate (VRR)
VRR dynamically adjusts your TV's refresh rate to match the framerate of your game. Your visuals will appear smooth as the technology prevents screen tearing and shuddering.
Auto Low-latency Mode (ALLM)
ALLM signals your TV to automatically switch over to a gaming-focused "low-lag" preset when it detects a signal from a gaming source. You'll notice controllers become more responsive and in better sync with the on screen action.
Dolby Atmos and DTS:X audio
Both Dolby Atmos and DTS:X audio bring your entertainment to life by immersing you in high-quality surround sound.
#5 Giving "high-res" audio a listen
For years, we've been used to poor-quality audio thanks to formats like mp3. And while the mp3 is here to stay as it's a convenient file format, we have seen the rise of high-resolution audio formats. The sound quality offered by these formats exceeds what you would get from a CD.
These file formats allow new ways for us to experience music that's closer to how the composer intended their work to sound. Listening to them will transport you to the recording studio, allowing you to hear every note and nuance of the artist's performance.
Upgrading your AV receiver enables you to enjoy a high-quality onboard DAC (digital-to-analogue converter) that improves the clarity and performance of your digital files.
After you've experienced high-res with the right combination of receiver and speakers, it's hard to go back. Mp3 can feel hollow in comparison and like listening to the radio through a 1-inch battered speaker.
You can also stream audio in high-res formats, allowing you an even wider amount of content to enjoy listening to.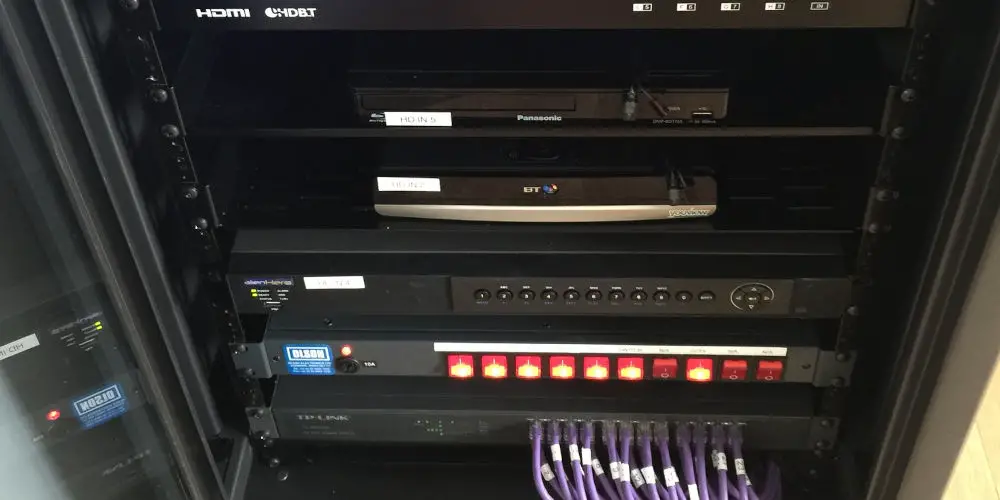 Why upgrade your AV receiver?
As the pace of technology advances, it's worth upgrading critical pieces of kit. In a home cinema, this means your AV receiver. If you wonder why upgrade your AV receiver, you now have several reasons.
If you don't know where to start when looking for a new receiver, you'll find plenty of reviews and helpful information and you'll want to read our guide on how to set up an AV receiver when you buy a new unit.