Crestron vs Control4: Battle of the home automation titans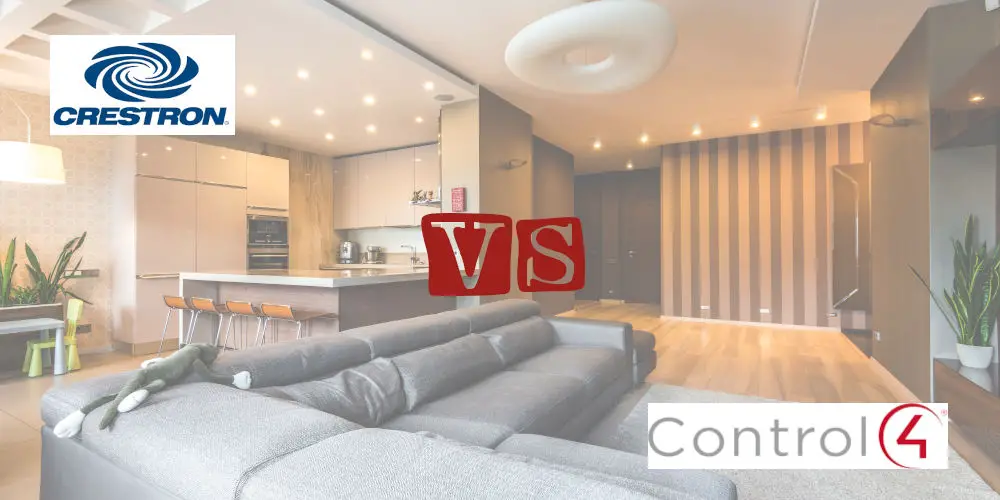 Only a handful of brands dominate the professional level of home automation. For most, the choice is between Crestron vs Control4. Comparing them can be difficult as you need to visit a dealer unless your friends have one of the systems installed in their home.
Of course, it's unlike that your local home automation dealer will sell you a solution that isn't a perfect fit for your requirements, lifestyle and property. But the first meeting can be intimidating, so it helps to arrive armed knowing the basics and with some questions.
On the surface, both Control4 and Crestron home automation systems appear to achieve similar results. They both enable you to use technology to regain control over your home. However, each system uses a unique methodology, technology and architecture.
Comparing Crestron vs Control4 can be difficult as each offers a seemingly endless list of options, functions and features. All of this is without talking about cost as both options can easily cost five or six figures.
Crestron
History
As one of the oldest home automation companies, Crestron Electronics was founded in 1971 by inventor and engineer George Feldstein. Based in New Jersey, USA, Crestron designs, manufactures, and distributes smart home and audiovisual equipment using a global dealer network.
Products aren't available direct, and so you need to hire one of the thousands of dealers they have across the world. The dealer will work with you to design, install and configure automation systems.
Beyond the residential applications of the system, Crestron also supplies the US government, Microsoft, hotels, hospitals and schools.
Crestron provides complete control of every element of your home or office. For example, the system allows you to operate lights, heating, gates, TVs and a home cinema room, both in person and remotely using Wi-Fi.
How does Crestron works?
As a highly customisable wired system, every Crestron system is unique. At the centre of the system is some rack gear that sends and receives control signals to devices installed around your home.
Use remote, touchpads, smartphones and voice assistants (such as Alexa and Google Assistant) to control the system. As Crestron has built-in Wi-Fi, you don't need to be at home to control your home automation system.
Crestron can control your lights, blinds/curtains, audio, visual, cinema room, and ensure your home is secure. The system allows you to build pre-sets. For example, pushing a button activates multiple devices such as dimming lights, lowering blinds and playing a favourite song.
A Crestron system can also integrate with a wide range of popular brands meaning you can keep using your Sonos speakers or Amazon Echo Show and add them to the system without too much hassle.
Do you need a dealer to install?
Unless you have endless time to research or have installed a system before, you'll need a dealer to install Crestron in your home. As it uses a wired architecture, a lot of the install cost goes on labour. Another reason it's difficult to install is the system uses a complex programming logic.
For example, you might push a scene button on a remote. Crestron then turns on your favourite music, adjusts the lighting to a preset configuration and lowers the blinds. Getting this chain of events programmed right takes experience and knowledge.
Unlike installing a Fibaro home automation system, whose smart devices are widely available, Crestron limits who sells its products. And while it is not impossible to buy their devices on eBay, you might be waiting a long time to purchase all the components you need for a system.
If you're serious about using Crestron in your home, then you'll need to speak to a local dealer or a few and then ask for quotes.
Current product range
With a range of automation solutions, whatever your need is, there should be a Crestron product that enables you to complete the task.
Controlling lighting is easy thanks to a range of dimmer modules, in-wall switches and the ability to build preset scenes. You can even dim lights in real-time using the app. Building scenes or creating sequences is also simple.
As no one likes closing curtains or blinds, allow Crestron to take care of it. Even if you're on holiday, the system will mimic you by raising or lowering blinds.
If you enjoy listening to music, then their multi-room audio solution is ideal. Equally impressive is Crestron DigitalMedia™ technology, which makes watching TV easy, regardless of how many screens or viewers you have.
The system offers flexible temperature control by using multiple sensors within the home.
Keep your home safe and secure with a range of cameras, an intercom, an alarm and door locks (from Yale). You can even automate your gates and garage doors to allow a seamless experience. If you have a swimming pool, Crestron can also help ensure it's clean and well maintained.
Crestron also has an app store with over 1,000 paid and free apps for you to download and use with your home automation system.
Any downsides?
There are a few issues to be aware of. Crestron doesn't offer zoned heating or control over individual radiators, instead, it only offers a global temperature. So if you're hoping for flexibility in your heating system or a way to reduce your bills then, Crestron won't meet your requirements.
As you are required to use a dealer, costs can quickly escalate. When you want to update or modify the system, it will cost you a small fortune too as you'll need an engineer with the necessary experience.
Plus as a wired system, it isn't designed for historic homes as the installer needs to run cables throughout the property. Ideally, you'd install Crestron in a new build, where you can add the cables before decorating.
It's difficult to update the system or products with new software and firmware. So, you'll need your dealer to send their engineer out to apply the latest updates.
As a high-end home automation system, the products are expensive and it's difficult to find a price list. Dealers don't want clients who try to negotiate a discount or demand the removal of features to save money.
Control4
History
Since bursting onto the scene in 2004, Control4 has established itself as a leading provider of home automation systems for both homes and businesses. Based in Salt Lake City, USA, the company operates through a global network of nearly 6,000 authorized dealers.
Each system is unique as it's built around the client and their requirements. Control4 can help automate and control connected devices. You can use the system to control features such as lighting, audio, video, climate control, intercom, and security.
To buy a Control4 home automation system, you have to use one of their approved dealers as products aren't available directly to consumers. The dealer will install and configure the system, creating a bespoke smart home.
In addition to a superb range of products, the Control4 operating system now works with tens of thousands of third-party products. Over the years, they have cemented their place as a leader in the market by acquiring several companies such as Pakedge, Triad, Neeo and others.
Around 475,00 homes worldwide use a Control4 system with more than 15 million connected devices.
How does Control4 works?
Control4 is a predominantly wired system, usually requiring your home to be rewired. Devices are wired into rack-mounted modules that control the system. However, the majority of the controllers are wireless and battery-powered.
Many wireless devices including Sonos smart speakers, for example, can be effortlessly integrated within a system, allowing the user access to a wider set of functions. The system even works with Google Assistant!
As a wired system that requires programming from the ground up, unless you're a highly trained engineer, it's near impossible to install alone. It's why they have dealers all over the world! That said, once installed, a Control4 system is rock solid.
If you compared two homes with a Control4 system, you'd quickly realise that each will act differently depending on the homeowner's demands and requirements.
Do you need a dealer to install?
Unless you know what you're doing or have endless time to research, you'll need to hire a dealer who understands how to install and configure the Control4 ecosystem. Far from being affordable, the cost of installing Control4 is high.
If you think you can buy second-hand devices from eBay and rewire your home, then you're in for a shock. Plus, it's unlikely you could ever cobble a system together from what's available on eBay, even if you waited a while. Not to mention how complex it is to programme control4.
So, you'll need to work with one of their dealers from conception to configuration.
Current product range
Designed to be a complete home automation system, Control4 can help you control your lights, power, security, media and more.
On top of the Control4 branded products, they have worked with a range of 3rd party manufacturers. You, therefore, have access to an even wider range of products that seamlessly integrate with the system.
As long as it's a repetitive task, you should be able to automate it with Control4. You can even connect all of your TVs to your Control4 system, then be able to pause and move rooms while taking the show with you!
Any downsides?
Due to it being a wired system, installing a Control4 smart home involves rewiring your home. So, if you live in a historic or listed property, you might struggle to actually install a Control4 system.
Another issue with having to run cables throughout your home is doing so isn't cheap. The labour cost alone quickly adds up, not to mention buying the cables and equipment.
As a closed dealers network, they expect that you'll spend a sum of over £50,000. So, it's hardly a system you would install on a whim or give it go yourself. Nor should you expect your system to be installed and working overnight.
Control4 products are costly. Even finding the latest price list is tricky as dealers don't want to be knocked down on price or have clients trying to remove features to save money.
Updating the system or products with new software and firmware is complicated. As is getting the system to work with Siri, for example. So, you'll need your dealer to send their engineer out to apply the latest updates.
Crestron vs Control4
Having explored each system in some detail, it's worth seeing how they compare. So in the battle of Crestron vs Control4, which is best?
Crestron
Crestron offers the integrator the ability to build a custom interface for each home. It can be programmed to show as much or as little information as the client requires. Control4 only offers a standard interface that looks the same across different devices (phone/tablet/PC).
Also, Crestron offers more control over devices as the system is designed to be highly customisable and scalable. The more complex the device, the more you can programme Crestron to control it.
Another benefit that Crestron offers is scale. Initially, the system was built as an enterprise solution for large companies. So, is designed from the ground up to handle multiple complex tasks at once. So using this system in a home uses a fraction of its power.
Crestron comes into its own in large, complex properties where the demands are high, and a zero failure rate is required. That said, there are more affordable options if you're looking for fewer features or functions.
Control4
Designed with a more mass-market approach, Control4 is widely available and is easily integrated with other brands. Both Crestron and control4 design and manufacture products in house, ensuring the end-user has a solid system.
Control4 is easier to programme as it's designed around a standard interface that offers only basic customisation. As a simpler system, it is ideal if you want to create a rock-solid smart home that works without needing Wi-Fi and expertly covers a range of basic functions.
One element that Control4 does well is native integration with 3rd party hardware and software. For example, installing 4Sight will enable you to use Alexa, Google Assistant, and control your system remotely via Wi-Fi.
Crestron uses a marketplace approach. Developers can upload apps to their marketplace, which are free for the users to install. Some externally developed Control4 apps are available online (both paid and on GitHub). However, Control4 does not support or endorse any of these.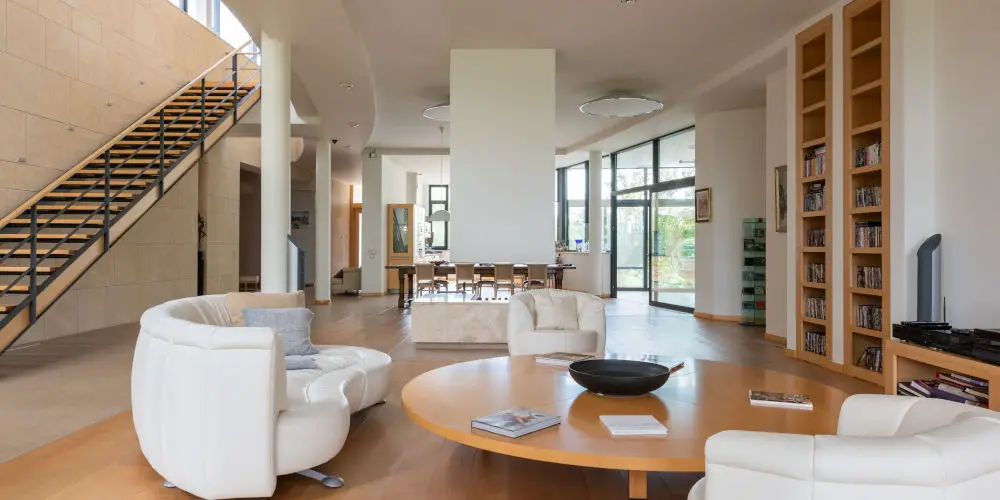 Picking your best option: Crestron vs Control4!
Choosing between Crestron vs Control4 can be tricky as both help automate the essential features in your home. Either system can help you have more control over lights, media, security and heating.
Control4 uses a simpler interface with limited customisation. On the other hand, Crestron uses a much more powerful system that allows bespoke customisation from the start. The system also integrates with a wide range of devices.
If your goal is to install a smart home system that does the basics with precision, then Control4 might be ideal. However, if you are looking for a fully tailored solution, then a Crestron system will help you meet your home automation goals and build your dream smart home.