Apple HomeKit vs Samsung SmartThings: Your best option?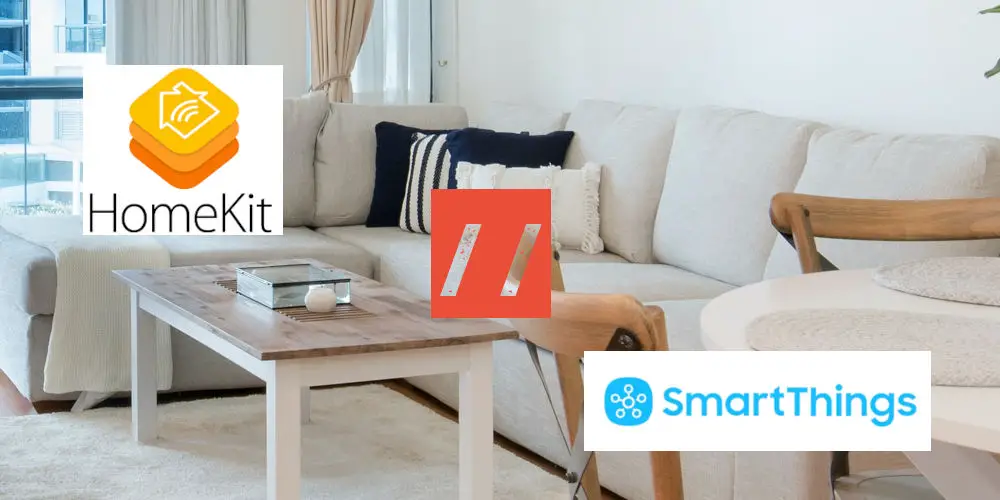 Choosing the ideal smart home system can be a little difficult. There are plenty of options and most claim to offer the same functionality as the next. Two of the top smart home brands are Apple HomeKit and Samsung SmartThings. Both are DIY-friendly, affordable and easy to configure. So, you might want to compare Apple HomeKit vs Samsung SmartThings.
At the heart of both systems is a home automation protocol. This software allows devices to talk with each other. The Apple HomeKit system uses a unique protocol developed by their engineers. SmartThings uses two open source protocols, namely Z-Wave and Zigbee.
Many manufacturers license either the HomeKit protocol or Z-wave, or they create devices that use the Zigbee protocol as it's less regulated. With a quick Google search, you'll find thousands of devices that use Z-Wave or Zigbee and only hundreds that are compatible with HomeKit.
On the surface, they appear to produce similar results of giving you back control over your home. Yet SmartThings is far more advanced than Apple's HomeKit for a few reasons. 
Samsung has built the technology into many appliances, meaning you can control almost every aspect of your home remotely using an app. You can build a system using some of the thousands of devices available. Then use advanced programming logic to control every aspect of your home.
HomeKit, while answering a gap in the market, allowing Apple to compete directly with Amazon's Alexa and Google Home, has suffered from low adoption both from brands and consumers. The result is less than 500 HomeKit compatible devices available.
In this article, we'll cover each system in detail, exploring what it offers and its limitations. Next, we'll do our best to draw a fair comparison between the two, allowing you to make an informed buying decision.
By the end, you'll know whether Apple HomeKit vs Samsung SmartThings is the right option for you and your home.
Apple HomeKit
History
First released in September 2014, HomeKit is Apple's smart home platform. It allows control over various internet-connected home devices, such as thermostats, window blinds, and light bulbs, from your favourite Apple device.
Rather than needing a separate system, HomeKit makes it simple to add some automation to your home using your existing Apple phone/watch/tablet. The system is quite similar to Amazon's Alexa and Google Home.
HomeKit is Apple's "Internet of Things" solution that connects HomeKit enabled smart devices into a single system that's easy to control using your Apple products.
How does Apple HomeKit work?
HomeKit is a communication protocol that uses a mixture of Wi-Fi and Bluetooth to send signals between devices. Unlike many home automation protocols, you probably don't need a hub with Apple HomeKit. That said, there are hubs built into Apple TVs, iPads, and the HomePod.
New devices are automatically found and configured without the user needing to work through a set up wizard. After adding a new device, they can be assigned to rooms or actions, allowing for easier overall control.
The real magic is that you can use voice commands via Siri or the Home app to control your devices from anywhere with Wi-Fi. You can even set up basic HomeKit automations and scenes to control multiple devices with a single action.
Is it DIY friendly?
Most of the devices that work with HomeKit are plug-in and play, allowing you to easily the system to your home. A few products are easy to retrofit. After installing devices, you need to pair them with the hub for them to work as part of the system.
Current product range
Currently, there are around 450 HomeKit enabled devices on the market. These include door locks, light bulbs, smart TRVs, security cameras, and thermostats. Compared to other systems, HomeKit is quite limited. That said, you can easily automate key tasks within your home.
Plus, as the system doesn't require a hub, you can easily integrate new devices straight away without waiting for a hub to arrive.
Are there any downsides?
Like Alexa and Google Home, Apple HomeKit is fairly limited both in terms of the number of devices it handles and the functions it allows you control over. Plus, only a handful of devices work with the Apple HomeKit system.
One of the primary communication methods of devices is Wi-Fi, which is fine for a handful of units. However, if you have 20 or more devices using the same Wi-Fi network, you'll notice the speed slows down.
Another issue is the cost. It can be a large investment to buy compatible products. And while the result is extremely convenient, your alone if devices don't communicate well together to troubleshoot yourself.
Samsung SmartThings
History
After experiencing extensive damage to his Colorado mountain home due to a power outage, co-founder Alex Hawkinson reasoned that it could have been avoided by using the right technology. As he couldn't find a suitable solution, Hawkinson decided to solve his problem by starting SmartThings.
A few short years later, Samsung acquired the start-up for $200 million. Many considered this acquisition as Samsung's first move into the Internet of Things (IoT) space and a small indication of the brand's future direction.
Now known as Samsung SmartThings, the system provides customers with a fully integrated and automated home solution. As Samsung owns the technology, they have started to roll the SmartThings technology into various products.
How does Samsung SmartThings work?
At the heart of the Samsung SmartThings system is a hub, which connects to your Wi-Fi router. It allows you to control your system from anywhere with an internet connection using the SmartThings app or website.
The hub sends and receives commands to devices and can be linked with up to 231 units. You can easily build a system that controls your lights, curtains, power, heating and TV.
What makes the system unique is Samsung now offers a range of products with the technology built-in, making integrating devices into a smart home system easy. For example, you can buy a washing machine or robotic vacuum with the SmartThings technology already built-in.
But that's not all. Another feature that makes the Samsung SmartThings system incredibly powerful is that it also works with any Z-Wave or Zigbee device. So you're able to use thousands of 3rd party products with the system.
If you want to be able to remotely control anything within your home, there will be at least one solution available.
Is it DIY friendly?
Samsung SmartThings is very DIY friendly and easy to install. It's also highly affordable. The majority of devices are plug-in and play, allowing you to be set up and running in minutes.
Current product range
Easily automate your home by using a hub and a few plug-in-and-play power sockets. Once installed, it takes about a minute to pair devices with the hub.
Currently, Samsung doesn't offer bulbs or light switches. That said, you have a range of options, including Zigbee light bulbs and Philips Hue range. Both work painlessly with SmartThings.
Partnering with Honeywell and Natamo, SmartThings offers two heating control options depending on your budget and the level of functions required.
An area where Samsung SmartThings excels is security. The product range includes several sensors that can detect motion, water and opening doors/windows. There are also smart security cameras and a smart doorbell, which has a built-in camera and two-way audio.
Many Samsung products now include the SmartThings technology. For example, you should be able to integrate any Samsung TV released since 2016 into your SmartThings system or even use your TV as the hub. No other smart home brand offers thing level of integration.
Following this success, Samsung has started to roll out products with SmartThings built-in, including a Blu-ray player, soundbars, washing machine and robotic vacuum.
You can control your system using either an app (both iOS and Android versions available) or a dedicated website. If you're already using a Galaxy phone, you can use Bixby to control your smart home with voice commands. You can also use the Samsung SmartWatch.
Are there any downsides?
As with other smart home systems, some users have experienced drop-outs or poor signals. Often, this is due to the position of the hub or the wall thickness. However, you can boost the signal by adding a secondary hub.
Pairing devices can be tricky as the hub can sometimes struggle to find new devices. Usually, this is a temporary problem that sorts itself out after a few attempts. If you fail to properly or fully remove a device's pull tab, you can have issues pairing devices.
While they offer superb customer service, app updates can be quite buggy, leading many users to roll back to a previous edition until Samsung releases fixes.
Samsung only offers customer support for their products, not for 3rd party devices. So, if you end up using a mix of SmartThings, Z-Wave and Zigbee devices, it might require you to spend some time configuring devices to successfully communicate with each other.
Unlike some home automation systems, which use aesthetically pleasing retrofittable devices, the Samsung SmartThings uses plug-in and play devices that stick out. That said, these are easy to install and don't require you to rewire anything.
Apple HomeKit vs Samsung SmartThings
Having looked at both of the systems in detail, you might wonder how Apple HomeKit vs Samsung SmartThings compares. Let's take a look.
Apple HomeKit
It's easy to see the appeal and the reasons behind Apple HomeKit. They likely saw what Amazon and Google were doing with their voice assistant and wanted to add these functionalities to Siri.
That said, HomeKit has suffered from low adoption by both brands (with less than 500 products available) and users. If you're already an Apple devotee, you'll likely want to use the Home app and a few connected devices.
However, you're unlike to change to Apple just for HomeKit, especially given the other options. For example, Alexa works with 85,000 devices, there are over 5,000 Z-Wave devices and around the same amount of Zigbee devices. Far more devices than what's available for HomeKit.
As an Apple product, the Home app is easy to use and programme. Plus, it works out of the box with Siri. That said, it lacks some of the programming flexibility offered by SmartThings.
Samsung SmartThings
As SmartThings uses both Z-Wave and Zigbee protocols, you can easily build a home automation system that covers every aspect of your property, including security, A/V, lighting, and heating. Plus, as Samsung own the brand, they have incorporated the technology into various products.
SmartThings offers more programming flexibility than the Apple HomeKit system. There's a dedicated app, an online portal, and you can control the system using Samsung's Bixby app (voice assistant).
Many Z-Wave, Zigbee, and SmartThings devices are plug-in and play, making installation super simple. Good news if DIY isn't your thing! Plus, Samsung offers excellent customer support for their own devices.
An aspect you might not fully appreciate is how Samsung is using the SmartThings technology in their appliances. The more products that include this tech, the easier it becomes to build a smart home that reacts exactly as you want.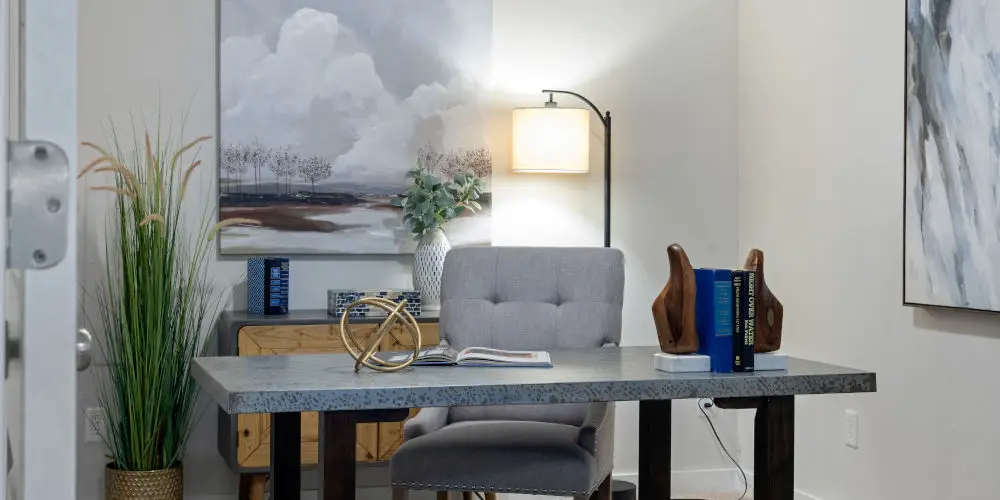 Choosing a winner: Apple HomeKit vs Samsung SmartThings?
Deciding between Apple HomeKit vs Samsung SmartThings should be easier now that we've taken a detailed look at each system and explored the good and bad points.
If you're already using Apple products in your home, you'll likely want to use HomeKit devices to automate key functions. And while the number of devices available is limited, making the switch to another system, such as SmartThings will be out of the question.
However, if you're not devoted to Apple, SmartThings is a far better system. It provides access to a significantly wider range of devices, including Samsung appliances. Plus, it offers deeper programming logic compared to the HomeKit ecosystem.
Hopefully, you've made your pick between Apple HomeKit vs Samsung SmartThings and are on the way to building your dream smart home.