Lightwave generation 1 vs 2 comparison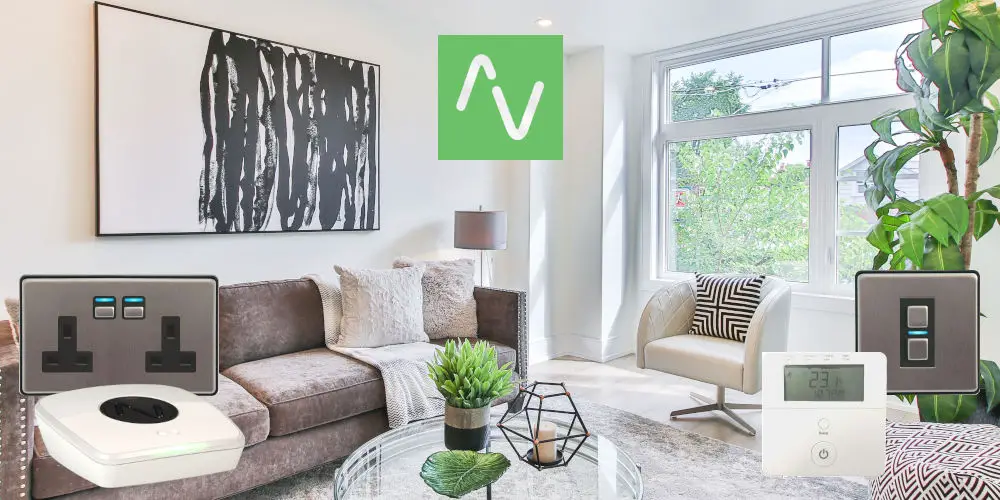 In 2017 Lightwave launched their Smart Series devices, replacing their Connect Series. As the two series are different, it's worth comparing Lightwave generation 1 vs 2.
The Smart Series offers several benefits over the Connect Series, including improved range, two-way communication and better app. Also, the second-generation offers better integration with Apple HomeKit, Amazon Alexa, Google Home, and IFTTT.
You can use your Connect Series devices as part of a Smart Series system. However, the second-generation devices aren't backwards compatible. So you can't use Smart Series devices with a Connect Series hub.
Come with us and explore the differences between Lightwave generation 1 vs 2.
What is the difference between Smart and Connect Series?
The major differences between the first and second generations might seem subtle at first. However, the Smart Series provides a noticeable improvement over the original Connect Series.
The Connect Series uses the Lightwave Link Hub (either the JSJSLW500 or JSJSLW930), which only sends commands. It didn't know if the device has received them. Also, you couldn't check the status of the devices. It was a bit like trying to find a light switch in the dark.
Connect Series devices only had a 15-metre range, meaning the system wouldn't work well in larger properties. Also, these original hubs could only handle up to 100 devices, which sounds like a lot but quickly isn't.
The new Smart Series devices offer an improved range, two-way communication, and the Link Plus LP2 Hub can handle up to 280 devices. Overall, this new hub is a game-changer.
Devices released before October 2017 are referred to as Connect and can work with the original Lightwave Link or the new Link Plus. However, the new Smart Series devices do not work with original hubs.
What new features do Smart Series devices offer?
The most impressive feature of Smart Series devices is two-way communication, which enables users to see the status of any device using the Lightwave app. For example, the app will show if a dimmer or a socket is currently on or off. The app also shows any changes to devices in real-time.
In addition to 2-way communication, Smart Series devices are compatible with Apple HomeKit and offer wire-free 2-way switching. Power sockets (L42) now feature built-in energy monitoring.
But that's not all. Devices can wirelessly update, allowing Lightwave to roll out new features with ease and ensure your smart home is protected.
Do Connect Series devices work with the new Link Plus hub?
If you want to upgrade to a new Link Plus hub but have Connect Series device, you might be concerned if this is possible. Thankfully, the new Link Plus hubs work with older devices, allowing you to control them using the Lightwave mobile and web apps.
You can still control your Connect Series devices using Amazon Alexa, Google Home, IFTTT & Samsung SmartThings. Also, three devices from the Connect Series are Apple HomeKit compatible as they run on 869MHz radio Frequency:
Home Thermostat (LW921)
Radiator Valve (LW922)
Electric Switch (LW934)
Will Smart Series devices work with the Connect Series link?
Sadly, you can't control the newer Smart Series using the original Lightwave Link hub. As the biggest difference between Lightwave generation 1 vs 2, if you're buying used devices, it's important to check what series they are.
Should I replace all my Connect Series devices with Smart Series devices?
Even after updating your hub to the latest Link Plus version, all of your Connect Series devices will still be completely functional and supported by Lightwave. So there's no need to replace your connect Series devices.
By swapping your hub for the latest one, you'll have a better overall experience, even if you're still using Connect Series devices. The new Link Plus is far more powerful than other Lightwave hubs, offering more functions, improved automation options and a new app.
That said, it's worth over time upgrading any older Connect Series devices to the newer Smart Series as they offer more features and functions.
Can I use both Lightwave App and Apple HomeKit to control my Smart Series products?
If you have a mixture of Connect and Smart Series products, you'll benefit from using the new Lightwave Link Plus app.
If you want to control Smart Series devices alongside other HomeKit enabled accessories, you should use the Apple Home app. That said, you will need to use the Lightwave app initially to set up Lightwave and configure settings.
Apple has a great article on setting up and operating HomeKit.
What next for the Lightwave Smart Series?
The Lightwave Smart Series still has plenty of room to grow. The Connect Series offered a few control options such as the Mood Lighting Controller and Scene Selector, that aren't available in the Smart Series range. Hopefully, Lightwave will introduce something similar soon.
While Lightwave offers an excellent heating system, they have teamed up with Honeywell to create a superior boiler switch and a wireless radiator valve. Of course, these aren't your only heating options. You can integrate Hive Active Heating with Lightwave.
It would be interesting if Lightwave reintroduced lightbulbs as these would provide an easier way to add their technology to a home. Not to mention a doorbell that notifies you by push notification when activated.
Lightwave are likely to stick to devices that control essential functions. However, that doesn't mean they won't release innovative products at an affordable price.
Comparing Lightwave generation 1 vs 2
The new Smart Series is far superior to the original Connect Series. And hopefully, our comparison of Lightwave generation 1 vs 2 shows why in detail.
If you have Connect Series devices, start by upgrading to a new Link Plus LP2 hub. You'll still be able to control your devices as you have been, but you'll have more functions at your fingertips. Over time, you can upgrade to Smart Series devices.
The Lightwave Smart Series is a superb place to start your home automation journey. If you plan to use eBay to buy Lightwave devices cheaply, be careful of which series of devices you're looking at; otherwise, you might be in for a shock.