Does Fibaro need a hub to work?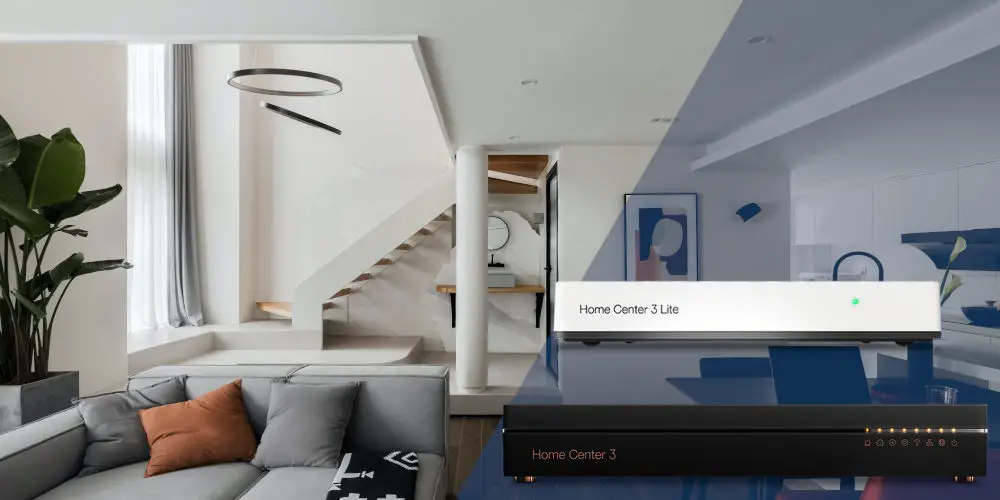 Fibaro is a highly flexible home automation system that's affordable. You can use their devices to control lights, blinds/curtains, heating, and more. Using the system, you can easily turn your property into a smart home. But does Fibaro need a hub to work?
The answer is yes. The even better news is you don't have to use one of Fibaro Home Center hubs. As the system uses the Z-Wave protocol, you can use any Fibaro device with any Z-Wave hub. You're not limited by choice!
Without a hub, your system won't work as devices communicate with the hub to send and receive commands, allowing you to control devices using the app, voice control, and IFTTT.
So while Fibaro would argue their range of Home Center Hubs provide the best functionality, and we tend to agree, you can use any Z-Wave Hub. However, you might not have access to the full range of control options that you would with a Fibaro Hub.
Come with us as we explore: Does Fibaro need a hub to work?
What Fibaro devices are essential?
If you're new to home automation and IoT, to get Fibaro up and working, you need:
A hub
Devices
App
Online portal access.
Fibaro also works with voice assistants, such as Alexa and Google Assistant. Plus, IFTTT (If That Then This) works with the system, allowing you to painlessly integrate other smart tech without needing a computer science degree.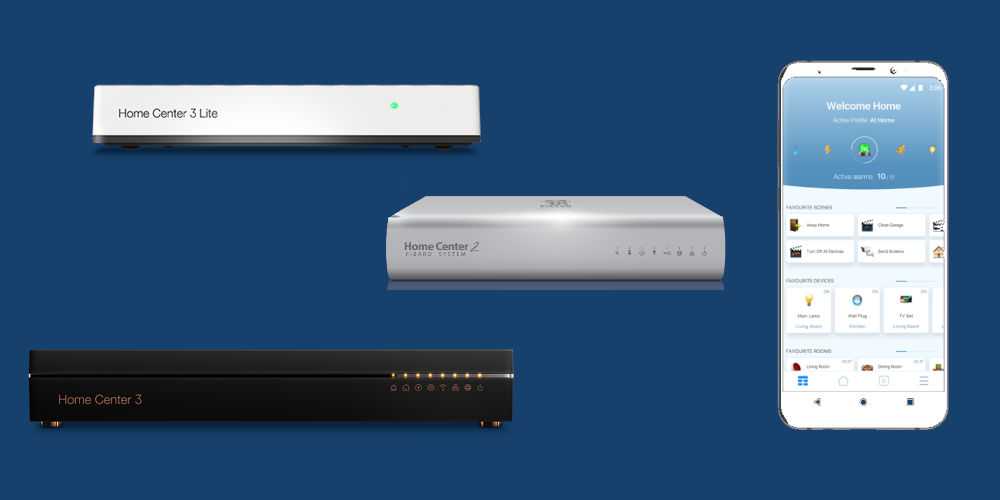 What Fibaro hubs are available?
There are currently 5 hubs available from Fibaro. As the brains of the system, they send and receive commands from the app to any linked Z-Wave devices. The Fibaro app can communicate with your hub within the home using Wi-Fi or 3G/4G if you're out and about.
Installing any of the hubs is simple. At worst, you need to plug in the power cable and connect an Ethernet cable from the hub to your Wi-Fi router. A few of the hubs use built-in Wi-Fi to connect directly with your Wi-Fi router and only require you to plug in a power cable.
With your hub plug-in and connected to Wi-Fi, you can pair devices with the hub and sync the app to work with the system.
All of the hubs have enough range to cover a typically large house. However, you can always add more hubs to extend the range in larger buildings or if you want to automate elements in the garden.
Let's have a brief look at each of them.
Home Center 3
The biggest is the Home Center 3, which is super powerful and robust. It can handle up to 232 devices, multiple controllers, and can be linked with other Hubs in the range to extend coverage and control even more devices.
It can control Z-Wave, Zigbee, and Bluetooth Low Energy devices, allowing you to easily build your dream smart home. You can create advanced scenes and automations, use the alarm feature. Plus, you can use Quick Apps to control devices.
Home Center 3 Lite/Yubii Home
The Home Center 3 Lite and Yubii Home are exactly the same, just the badge is different. You can control up to 40 Z-Wave and 40 NICE devices using one of these hubs. They offer the same level of functionality as the bigger Home Center 3, albeit on a smaller scale.
The Home Center 3 Lite/Yubii Home is ideal if you want to automate the essentials in your home or apartment and don't need all of the extensive options offered by the other hubs. They are fantastic as a starting point for you to dip your toe into Fibaro and start to explore home automation.
Home Center 2
Designed for larger homes, the Home Center 2 is an advanced controller. Able to handle 232 devices, you can comfortably automate your home. It's compatible with Amazon Alexa and Google Assistant. Plus, build complex scenes using LUA programming.
It works with an unlimited number of plug-ins, VOIP Communication, and SATEL alarm system integration. Like the Home Center 3, you can link multiple hubs together and control even more devices.
Read our comparison of the Fibaro Home Center 3 vs 2.
Home Center Lite
As a slimmed down version of the FIBARO Home Center 2, you can connect hundreds of Z-Wave devices to the Fibaro Home Center Lite Hub and control them using the app and online portal.
However, there are several small differences between the Home Center 2 and Lite, such as it doesn't offer LUA programming options, no VOIP, no SATEL alarm system integration, and you're limited to a maximum of 5 plug-ins.
All of that said, it's still a powerful hub with plenty of useful features. The Lite is ideal for running smaller automation systems or if you don't need to programme any advanced Z-Wave scenes.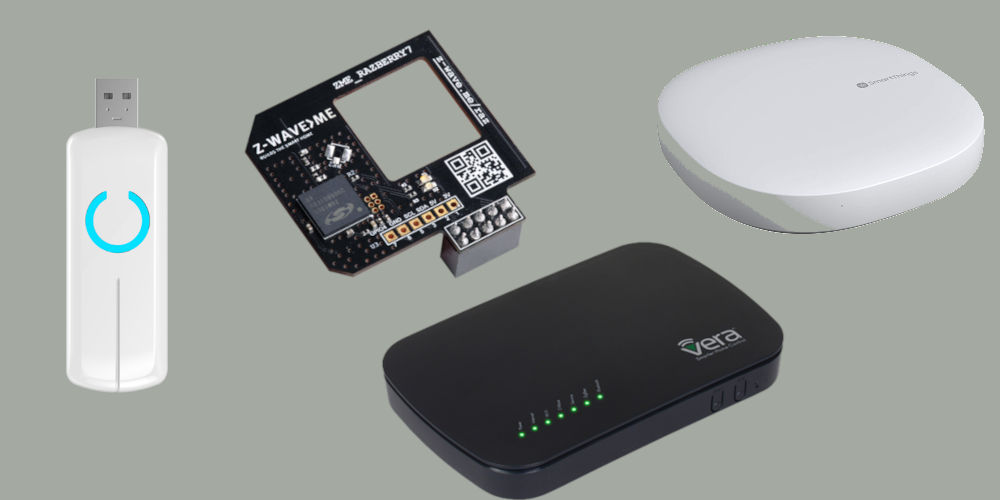 Finding the ideal Z-Wave Hub
As you're not short on options, it's also worth considering the best Z-Wave Hubs. Your options include the Athom Homey Pro, Aeotec SmartThings Home Hub, and Aeotec Z-Stick Gen5 Plus. So if you don't want to use a Fibaro hub, you have plenty of options.
Adding Z-Wave devices
A hub alone isn't much use! So we need to add some devices. As Fibaro uses the Z-Wave protocol, you have access to thousands of devices from over 100 brands.
Fibaro offers lighting dimmers, relays for blinds/garage doors, smart TRV radiator valves, multiple sensors, and much more. All these devices use Z-Wave to communicate with the range of Home Center Hubs.
Designed for DIY installation, Fibaro devices are easy to add to your home. The system is highly flexible and easily scales with your requirements. You can start with a single dimmer or smart socket in your lounge, and keep adding devices until you can control your lights, heating, blinds, and more.
The Z-Wave chip is used in over 4,000 products and the Z-Wave Alliance has a full list on their website. Within a few minutes, you'll quickly realise there's at least one solution that will allow you to automate any repetitive task in your home.
The Fibaro app and online portal
Controlling your system is simple thanks to an easy to use app that's available on the Apple App Store and Google Play. Depending on the hub you choose, you can use the app to control between 40 and 232 devices.
The app allows you to add new devices, control existing devices, turn on/off groups and scheduled events, and also energy monitoring and costings.
Their online portal can be accessed on a desktop computer or tablet by logging into the Fibaro website. The online portal allows you to programme groups and events, assign devices to rooms, and more.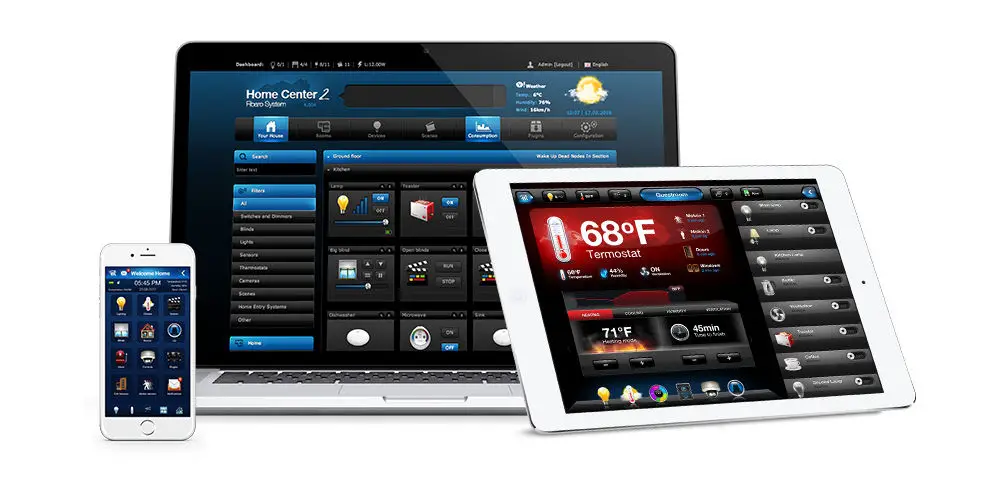 More control options!
In addition to the Fibaro app and online portal, you can control your system with Amazon's Alexa and the Google Assistant. Both allow you to control your Fibaro system using voice commands. So you don't need to look for your phone or log-in to the online portal to control your system.
You can also use IFTTT with Fibaro, allowing you to control even more devices using this simple yet powerful web platform. IFTTT uses pre-built applets that allow control of a range of devices without needing programming skills or waiting for a brand to release software updates.
So, does Fibaro need a hub to work?
If you're wondering: Does Fibaro need a hub to work? The answer is yes. Thankfully, you have plenty of options, including 5 hubs offered by Fibaro. You could instead use a Z-Wave hub with Fibaro devices.
After purchasing a hub, you can start adding devices and control them from your smartphone. Before long, you'll be well on your way to automating your entire home.