How to decide between Lightwave vs Zigbee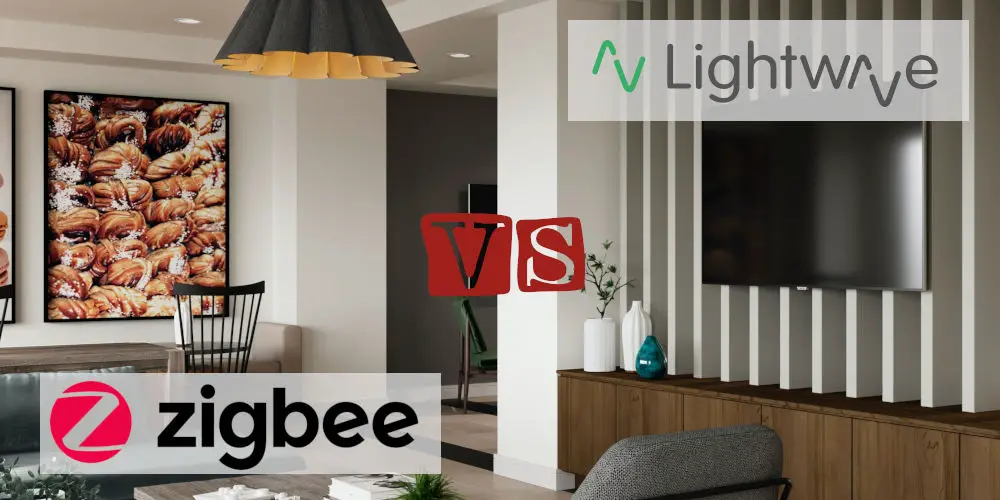 After exploring Lightwave and Zigbee smart home systems in-depth, it's worth comparing the two options to find your best option. However, comparing Lightwave vs Zigbee isn't as easy as it might seem!
Both allow you more control over key aspects of your home. You can switch lights on or off from the sofa, adjust your boiler before you leave the office, or even raise your bedroom's blinds every morning.
And yet, each system uses a unique method to allow you to control your home in new ways. When comparing Lightwave vs Zigbee, it's worth remembering that both have benefits and bad points.
We'll start with a brief history, then explore how each system works and some current products. Finally, we'll try and answer if Lightwave vs Zigbee is better, once and for all!
Lightwave
History
Since forming JSJS Designs in 2008, John Sinclair and John Shermer have transitioned from building home automation solutions for the disabled to releasing products for the general consumer market.
Before they rebranded as Lightwave, they teamed up with B&Q to release the HomeEasy range. They also partnered with Siemens on a system that would become the basis for the first generation of LightwaveRF products. They've since dropped the RF and are simply known as Lightwave.
How Lightwave works
Simply put, Lightwave uses wireless technology to enable users to control a range of household devices. As wireless technology is widely used and highly affordable, it makes perfect sense to incorporate it into home automation products.
This simple, low-cost wireless technology is used to transmit commands to individual Lightwave devices. While this method is more than sufficient for most applications, it does not have the advanced features of a mesh network technology such as Zigbee or Z-Wave. But more on that later.
However, Lightwave has tried to address this shortfall with 2-way communication in its second generation.
Is it DIY friendly?
If you're good at DIY then there are virtually no installation costs and many products can be retrofitted. Many home automation systems require one of their dealers to install the system, but not with Lightwave.
The power sockets and lighting switches are easy to install and come in a range of cool finishes. Once installed, each device needs to be paired with the hub and the app. This is also really easy to do.
You can use Alexa and Google Assistant to control your smart home system, giving you greater flexibility.
Current products
The current range of Lightwave products includes power sockets (single and dual gang) and lighting switches (single, double, triple, quad). As well as a heating system, which is made up of TRV valve controls, a boiler switch and a thermostat.
Doorbells, several sensors, and relays are also available.
Downsides
There are a few limitations to Lightwave, hence why the devices are cheap to buy. The first is the sockets are designed for the UK market. So, they don't work outside the county.
Second, you can only pair each device with only 6 controllers or sensors. The device limit comes down to a lack of controller memory rather than of Lightwave technology itself.
Lightwave doesn't offer any Audio or Visual products. So, you'd need to use a different system for those features.
Third, even though the system is DIY-friendly, you could damage your home as you're working with live electrics. And while you can hire an electrician, this might double the cost.
Zigbee
History
Zigbee is a low-power, low data rate, and short-range wireless network that uses the IEEE 802.15.4 specification. The Zigbee protocol was conceived in 1998, standardized in 2003, and revised in 2006. 
The idea behind the Zigbee specification is to provide technology that's simpler and cheaper than other wireless personal area networks (WPANs), such as Wi-Fi and Bluetooth.
Due to its low power consumption, transmission distances are between 10–100 meters. Zigbee devices can transmit data over long distances by creating a mesh network of devices that repeat signals to reach more distant ones.
How Zigbee works
The beauty of the Zigbee protocol is that hundreds of manufacturers use the technology in thousands of products. You can easily build a home automation system that operates a range of functions rather than being limited to a single manufacturer's idea of what a system should control.
Devices use wireless signals to communicate, meaning there are no long cable runs to install and can be controlled by a range of options, including traditional switches and mobile apps.
Is it DIY friendly?
Zigbee is that devices are easy to install, especially if you're good at DIY. Many devices are plug-in-and-play, meaning they take a minute or two to swap with whatever you're currently using.
After installing devices, it takes another few minutes to pair them with your Zigbee hub, controllers and an app. Installing and configuring a system takes a few hours.
Current products
As hundreds of manufacturers use the Zigbee protocol, you can select from thousands of devices and find one that matches your requirements. You can buy light bulbs, power sockets, light switches, relays for blinds or garage doors, motion sensors, and doorbells.
It's very easy and affordable to build your dream smart home using Zigbee. You can even buy a touch screen remote, the Zemismart Z1, that controls your Zigbee, Wi-fi, Bluetooth, and IR devices.
Downsides
As Zigbee is an open-source protocol, getting two manufacturers' devices to communicate can take some work. And while theoretically, they should work harmoniously, the reality is quite often different.
Some devices have a short range of 10 metres, while others can operate over a much longer range. The majority of hubs can handle up to 128 devices, which sounds like a lot on the surface but isn't when you add up all the functions you'd like control over.
Currently, there are no retrofit power sockets, only plug-in-and-play options. While a minor point, they don't look as aesthetically pleasing as replacing the socket. Some brands offer Zigbee modules that can sit behind your current power socket, allowing the best of both worlds.
The only Audio or Visual products available are the latest generations of Amazon Echo devices as they have a Zigbee hub built-in. So, you'd either need to use a Samsung SmartThings hub or Athom Homey to allow you to integrate a wider set of devices.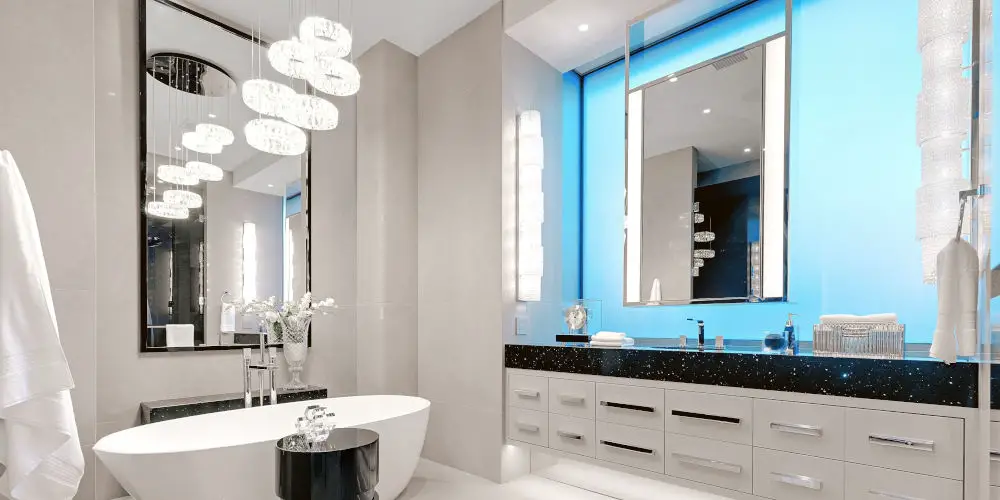 Lightwave vs Zigbee
So that gives you an overview of each of the home automation systems. Let's now directly compare Lightwave vs Zigbee.
Lightwave
We like how intuitive Lightwave is to use. Plus, they sell a couple of home automation starter kits that make it easy to experience the system without breaking the bank. When you're ready to progress, you can build a system with up to 256 devices.
Since launching the second generation in 2017, Lightwave has become a strong competitor albeit only in the UK. The 2nd gen devices offer an improved range, two-way communication, and more programming capabilities.
The system also works with IFTTT (if this then that) and Alexa, providing you with seemingly endless options for integration and control.
Unlike Zigbee, Lightwave is a closed system that is still quite basic and only available in the UK. That said, it is a simple and affordable way to automate the key functions of your home. Ideal, if you don't require anything too fancy.
Zigbee
With thousands of Zigbee devices available, your home automation system can be as simple or complex as you need. Plus, as an open protocol, you're not limited to a single brand. And as devices are available worldwide, you can use Zigbee where are you live.
The system creates a communication mesh that repeats messages, ensuring all devices receive control signals, and so is superior to Lightwave. Plus, some Zigbee devices offer an operating range of up to 100 metres, compared to the 15 metres of Lightwave devices.
One area Lightwave wins some points is aesthetic. Zigbee power sockets are plug-in and play devices, a factor we dislike. Plus, with Zigbee, you could end up with slight colour mismatches when using two different brands. Lightwave provides consistent colours options.
Winner of Lightwave vs Zigbee?
In the debate between Lightwave vs Zigbee, the clear winner is Zigbee, despite its inherent limitations. Both systems are fairly basic and are as advanced as Z-Wave. That said, Zigbee devices are typically cheaper than Lightwave and Z-Wave ones.
While Lightwave does offer more devices, an impressive 256 to be clear, Zigbee provides more options for home automation. Plus, as SmartThings uses Zigbee, you can always use their hub and Samsung devices as part of your smart home set up.
For some, Lightwave will be the better option. They are a UK based company with superb technical support. Zigbee can be tricky to work with, especially if you're trying to work with devices from two different manufacturers as there's no technical support other than online forums.
With both, you can easily automate your home quickly and affordably without paying a dealer. Plus, both are scalable, allowing you as much or little control as you wish.
Hopefully, that answers your questions about Lightwave vs Zigbee!