5 Lightwave alternatives for a smarter home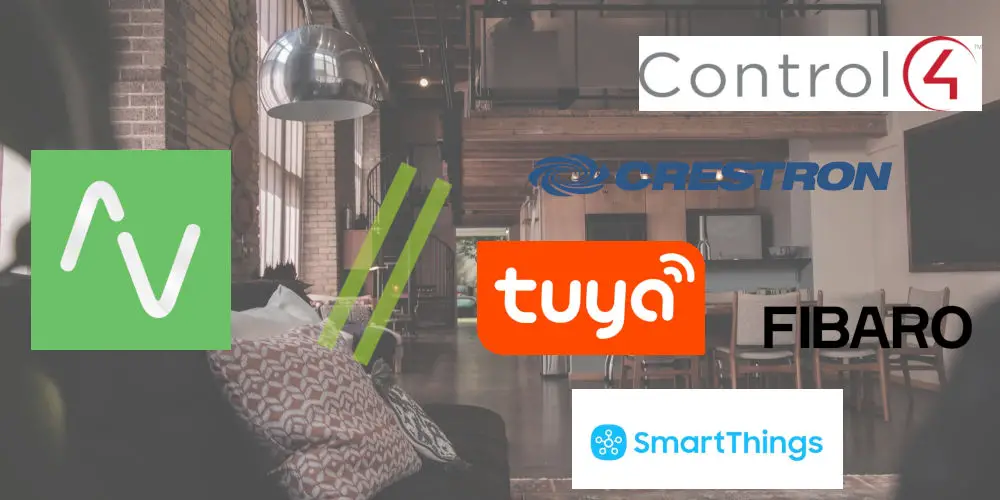 As a UK-based publication, we're big fans of Lightwave, purely as they are a British success story. While the system is ideal for automating the basics of your home, it's always worth considering any Lightwave alternatives, especially before installing a system in your home.
If you want to automate your lights, heating, and blinds, Lightwave is ideal. The system supports a limited range of devices, so you might struggle to integrate certain features or control some functions. Plus, it also lacks advanced programming of other systems.
Thankfully, there are plenty of Lightwave alternatives to consider, including Fibaro (Z-Wave), Tuya (Zigbee), and Samsung SmartThings (Z-wave and Zigbee). These are all DIY systems that cost around the same as Lightwave but are more flexible.
If you have a bigger budget, you could install a professional system like Control4 or Crestron. Compared to Lightwave, these systems are all singing and dancing, enabling you to control lights, heating, AV, and security features.
Come with us as we explore these Lightwave alternatives and ensure you're choosing the ideal system for your home when automating it.
Fibaro
Launched in 2010 and based in Poland, Fibaro devices are available in over 100 countries. Devices are designed around the Z-Wave protocol, allowing them compatibility with thousands of 3rd party devices.
Fibaro offers devices to control the main functions of your home. You can easily operate the system from anywhere with Wi-Fi. Fibaro works with Google Assistant and Amazon Alexa.
Every Fibaro system needs a hub, which acts as the system's brain that sends and receives control signals to devices. They offer a good mix of retrofittable and plug-in and play products, allowing you to add the technology to your home without creating an eyesore.
As a wireless smart home system, you'll likely experience drop-out. However, these should be very rare and only temporary.
With new products being released and old Z-Wave chips discontinued, you'll always need to update software and firmware. Some have had issues with software releases that have resulted in having to reprogram the system or restore software to a previous version.
Even as a Z-Wave compatible system, not every 3rd party device will work with Fibaro, despite what the packaging says. Before buying any devices, you'll need to research to ensure they will interact without issue.
An area where Fibaro has room for improvement is in audio and video. Several audio systems integrate into the system, but not every system does. Plus, there are only limited TV integrations, which is frustrating.
As a Lightwave alternative, Fibaro is night and day. It's highly flexible yet easy to programme. While devices cost about the same as Lightwave devices, as a Z-Wave system, you can choose from thousands of devices.
Tuya
While Fibaro is a popular Z-Wave system, Tuya is one of the best Zigbee based smart home systems. It uses a low-power, low data rate, and short-range wireless network based on the IEEE 802.15.4 specification. 
Zigbee provides technology that's simpler and cheaper than other wireless personal area networks (WPANs), such as Wi-Fi and Bluetooth. Devices can transmit data over long distances by creating a mesh network of devices that repeat signals between them.
Hundreds of manufacturers use the technology in thousands of products, including Zemismart. You can easily build a home automation system that operates a range of functions rather than being limited to a single manufacturer's idea of what a system should control.
Many devices are plug-in-and-play, meaning they take a minute or two to swap with whatever you're currently using. It takes minutes to install and configure a hub and devices with your Tuya system. Within an afternoon, you should be able to automate the majority of your home.
You might run into issues getting two manufacturers' devices to communicate, and it can take some work to get them playing nicely together. And while theoretically, they should work harmoniously, the reality is quite often different.
Currently, there are no retrofit power sockets, only plug-in-and-play options. While a minor point, they don't look as aesthetically pleasing as replacing the socket.
The Tuya ecosystem lacks any real Audio or Visual devices. However, compared to Lightwave, Tuya and Zigbee are far more advanced, with thousands of devices available, allowing you to automate the majority of your home.
Samsung SmartThings
If you can't choose between Z-Wave and Zigbee, there's a solution, and it's called Samsung SmartThings! And it's a great Lightwave alternative!
After experiencing extensive damage to his Colorado mountain home due to a power outage, co-founder Alex Hawkinson knew that technology held the answers. He couldn't find a suitable solution. So, Hawkinson decided to solve his problem by starting SmartThings.
A few years later, Samsung acquired the start-up, and many considered this acquisition to be their first move into the Internet of Things (IoT) space.
Now known as Samsung SmartThings, the system provides customers with a fully integrated and automated home solution. Samsung has started to roll the SmartThings technology into various products, including TVs, washing machines, and robotic vacuum cleaners.
A hub sits at the heart of the system and connects to your Wi-Fi router, allowing you control from anywhere with an internet connection using the SmartThings app or website. It can connect with up to 231 devices and sends and receives commands.
Samsung SmartThings is very DIY friendly, easy to install, and highly affordable. Thousands of Z-Wave or Zigbee devices work with the system, and you can be set up and running in minutes.
As with other smart home systems that use Wi-Fi, some users have experienced dropouts or poor signals. Often, this is due to the position of the hub or the wall thickness. However, you can boost the signal by adding a secondary hub.
Pairing devices can be tricky as the hub can struggle to find them on the first try. Usually, this is a temporary problem that sorts itself out after a few attempts. The app can be a little buggy, especially after updates.
As a Lightwave alternative, SmartThings is a superb system for automating your home that works with several Samsung products as well as Z-Wave and Zigbee devices.
Control4
Based in Salt Lake City, USA, Control4 has quickly established itself as a leading provider of home automation systems for both homes and businesses. The company operates through a global network of nearly 6,000 authorised dealers.
Control4 automates and controls features such as lighting, audio, video, climate control, intercom, and security. In addition to a range of their own devices, their operating system works with tens of thousands of third-party products.
Each system is unique, as it's built around the client and their requirements. And so, you must work with an approved dealer who will design, install and configure the system.
Control4 is a predominantly wired system, usually requiring your home to be rewired. So, it's nearly impossible to install yourself. Devices are wired into rack-mounted modules that control the system. The majority of the controllers are wireless and battery-powered.
It's not designed to be DIY friendly. So, you'll need to hire a dealer or installer who understands how to install and configure the Control4 ecosystem. Typically, this isn't cheap, with systems starting from £50,000.
 You can't update the system or products with new software and firmware, so you'll need your dealer to send their engineer out to apply the latest updates.
That said, Control4 is excellent if you want a comprehensive automation system that's completely robust. While it might be 10 times the price of a Lightwave system, it's on a completely different level. It's more like driving a Bentley to a mini Cooper!
Crestron
Inventor and engineer George Feldstein founded Crestron Electronics in 1971, making it one of the oldest home automation companies in the world. As with other high-end home automation systems, Crestron uses a global network of dealers to design, install and configure systems.
Using a wired network, Crestron requires the rewiring of your home. At the heart of the system is rack-mounted modules that control the system, and devices are wired into these. However, the majority of the controllers are battery-powered, wireless units.
You'll need to work with an approved and highly trained dealer as each system is unique to the client, their home and their requirements. That said, once installed, a Crestron system is rock solid.
Crestron offers sophisticated control over lighting, blinds and curtains, and enjoy superior multi-room audio and video. Each system offers flexible temperature control, ensuring consistency. They also provide solutions to keep your home safe and secure.
The current Crestron Home™ OS 3 delivers a simple, clean, and sophisticated user experience. Control your entire system from a single point using a touch screen, remote, keypad or the app.
Most homeowners spend £75,000 plus on a Crestron system. It's not a system you'd install on a whim or overnight. Your dealer will take a few months to design, install, and configure your system.
As devices are only available from dealers, Crestron devices are costly, and finding a price list can be tricky. Dealers don't want to be knocked down on price or have clients trying to remove features to save money.
As new software and firmware updates become available, you'll need to pay your dealer to send their engineer out to apply the latest updates, as you can't do this yourself.
What's the best Lightwave alternative?
If you only need to automate the basics, Lightwave is ideal. It has a great app, and the system works with Alexa and Google Home. However, if you're looking for something a little more advanced with a wider range of devices, you'll need to invest in a Lightwave alternative.
Thankfully, there are several Lightwave alternatives available, including SmartThings and Control4. Our favourite DIY system is Fibaro, as it's highly flexible and works with thousands of Z-Wave devices.
If you have a sizeable budget, we recommend installing a Crestron system, as it's a comprehensive smart home system. A Crestron dealer will design your system for you, and their team will install and configure it before handing you back the keys.