Lightwave vs Fibaro: Building your ideal smart home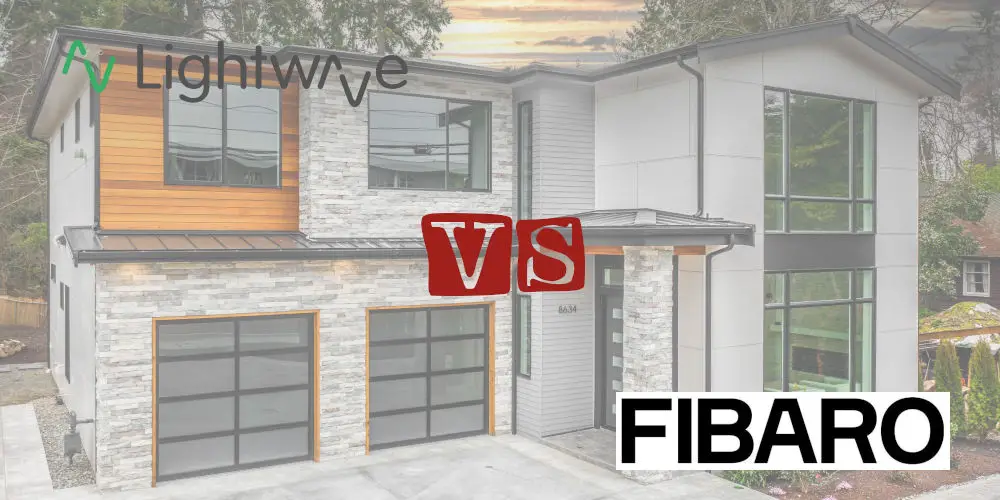 It can be hard to choose a home automation system. Each year, more options come on the market, compounding the issue! We've previously looked in-depth at Lightwave and Fibaro, but which is better? We aim to explain the difference between Lightwave vs Fibaro.
Each may appear to offer the same solution of automating key tasks in your home, yet how they achieve this is different. Of course, each system has benefits as well as negatives, making it even harder to draw a fair comparison.
For each, we'll start with a brief history, then explore how the two systems work as well as cover some of the current product range. Finally, we'll try and answer whether Lightwave vs Fibaro is better, once and for all!
Lightwave
History
Starting life as JSJS Designs in 2008, the two founders John Sinclair and John Shermer began building home automation solutions for the disabled. Within a few years, the demand from the general consumer market was so large, that they created a specific range of products.
Before settling on the Lightwave name, they teamed up with B&Q to release the HomeEasy range. Also, they partnered with Siemens on a system that would become the basis for the initial LightwaveRF products range. They've since dropped the RF and are simply known as Lightwave.
Lightwave is now widely available throughout the UK and available on Amazon, and even works with Apple HomeKit.
How does Lightwave works?
Simply put Lightwave uses wireless technology to enable users, control over a range of household devices. As wireless technology is widely used and highly affordable, it makes perfect sense to incorporate it into home automation products.
This simple, low-cost wireless technology is used to transmit commands to individual Lightwave devices. While this method is more than sufficient for most applications, it does not have the advanced features of a mesh network technology that's used by Fibaro and Z-Wave home automation systems. More on that later!
However, Lightwave has tried to address this shortfall with 2-way communication in its second generation, making it a real contender to other smart home systems.
You can use Alexa and Google Assistant to control your smart home system, giving you greater flexibility.
Is it DIY friendly?
As an entry-level system, it's designed to be easy to install and DIY friendly. So, you'll likely have no installation costs, which is unlike many smart home brands that require one of their dealers to install your system.
Many of the Lightwave products can be retrofitted in place of your existing device, allowing for a more seamless look that blends nicely into your interior design scheme.
For example, the power sockets and lighting switches are simple to install and come in a range of cool finishes. After installation, each device needs to be paired with the hub and the app. From there, you can build pre-set scenes and control your system from anywhere with Wi-Fi!
Current product range
The current Lightwave products range includes power sockets (single and dual gang) and lighting switches (single, double, triple, quad). As well as a heating system, which is made up of TRV valve controls, a boiler switch and a thermostat.
The range also includes a sensor, relays and a recently released 'Home and Away' button which acts as a master on/off and can also trigger scenes. There are also plenty of Lightwave compatible bulbs that work painlessly with their dimmers.
Are there any downsides?
While highly affordable there are a few limitations to Lightwave. First, the product range is quite limited but does cover all of the basics you could need.
Until recently, Lightwave was purely designed for the UK market, they have since released an EU specific power socket, allowing a wider market to access their technology.
Second, the first-gen devices can't talk with each other. So, the hub has to tell each device what to do and limits the range to 15 metres indoors. The second-gen devices do use two-way communication, extending the range and speeding up response times.
Third, up to 100 devices can be used in a Lightwave network. Each device can be paired with only 6 controllers or sensors. The device limit comes down to a lack of controller memory rather than of Lightwave technology itself.
Fibaro
History
Headquartered in Poznan, Poland, Fibaro launched in 2010. Today, their products can be found in over 100 countries. Fibaro is widely considered to be one of the most advanced wireless smart home systems. That said, the cost of Fibaro is very affordable.
Devices are designed around the Z-Wave protocol, allowing them compatibility with thousands of 3rd party devices. All devices work are compatible with the Apple HomeKit protocol, offering even more options to automate your home.
Fibaro offers devices to control every aspect of your home and the system can be operated from anywhere with Wi-Fi. As voice control has become popular, Fibaro also works with Google Assistant and Amazon Alexa.
How does Fibaro works?
All devices are built using the Z-Wave chip, allowing for a much wider range than Bluetooth and yet is a lower power alternative to Wi-Fi. Like Lightwave, every Fibaro system requires a hub that sends and receives control signals to devices.
Use two-way communication, devices can repeat messages and also acknowledge they've received messages. As devices have a 30-metre range, the network can adapt itself to ensure signals are routed in the best possible way to avoid any 'dead-spots'.
Fibaro rigorously tested 3rd party products to ensure seamless integration and ease of use within their eco-system. Also, they continually invest in their app and website.
Is it DIY friendly?
Fibaro offers a good mix of retrofittable and plug-in and play products, allowing you to add the technology to your home without creating an eyesore. Once devices are installed, they need to be paired with the hub for them to work as part of the system.
Current product range
Fibaro offers a solid product range with multiple hubs available (Home Center 2 and 3). They also offer a few different sensors, relays, sockets and even a TRV valve called The Heat Controller that allows you to add smart technology to your radiators.
Not to mention a few controllers including Swipe (read our review), which uses hand gestures to activate pre-set scenes, allowing you to control multiple devices with ease. Fibaro even offer a smart intercom, so you can see who's at the door and communicate with them regardless of where you are!
Also as a Z-Wave compatible system, if Fibaro doesn't offer a particular product, you can always use a device from a 3rd party brand. There are over 2000 Z-Wave compatible products currently on the market! So, you should be able to find a device to complete the task!
Any downsides?
As a wireless smart home system, you'll likely experience drop-out, however, these should be very rare.
With new products being released and old Z-Wave chips discontinued, there will always be the need to update software and firmware. Some have had issues with software releases that have resulted in having to reprogram the system or restore software to a previous version.
Even as a Z-Wave compatible system, not every 3rd party device will work with Fibaro, despite what the packaging says. Before buying any devices, you'll need to do some research to ensure they will interact without issue.
Lightwave vs Fibaro
As we've looked at each system in some detail, you might wonder which is better? So, let's compare Lightwave vs Fibaro.
Lightwave
Starting with Lightwave, it's simple to install, program, and use. Plus you can begin with one of their home automation starter kits. There's even one that includes a remote and plug-in power socket, enabling basic control of a key function.
As they have developed over the last few years, the system has become even more exciting. In particular, the introduction of the heating system and generation 2 are worth noting.
With the release of Gen 2, Lightwave has upped its game as these new devices offer two-way communication. The new hub is another welcome addition as it can handle up to 200 devices and also works with IFTTT (if this then that).
However, it's still a closed system that offers fairly basic options. If you're looking for a simple and affordable way to automate the majority of your home, then Lightwave is probably ideal!
Fibaro
Offering a wide range of products, you can use Fibaro to build a simple or complex system, depending on your needs and desires. Plus as a global company, you can find Fibaro products to install regardless of where you live.
Another element that makes Fibaro excellent is they are always investing in their apps and software to provide a better end-user experience.
As all devices use two-way communication, the system range and control available is superior to Lightwave.
Unlike many Z-wave products which are plug-in and play devices and fairly ugly, Fibaro has offers a range of retrofittable products, allowing you to hide the technology and not create an eyesore. Both system's devices are aesthetically pleasing.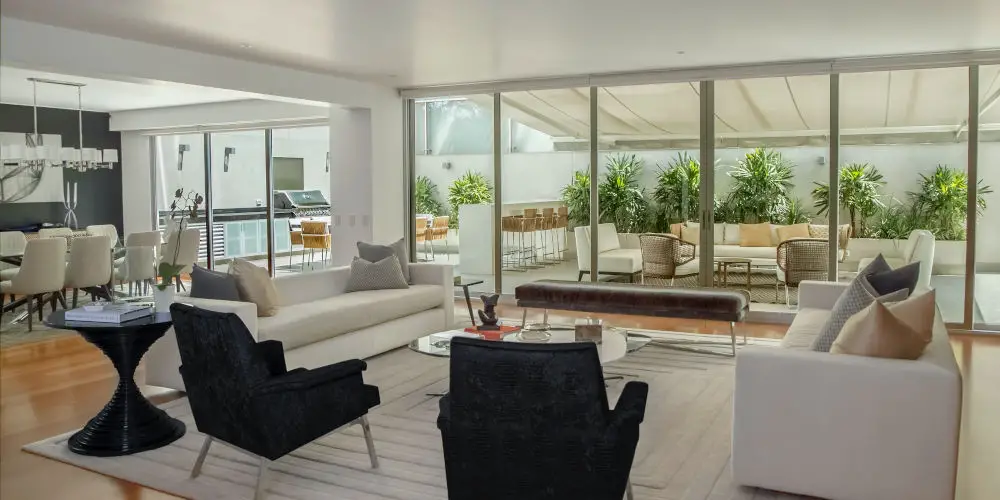 Picking a winner: Lightwave vs Fibaro!
Trying to pick between Lightwave vs Fibaro is hard as they offer a different route to building a home automation system. Depending on your needs, budget and requirements, one might seem more attractive to you.
If you're looking for a basic system that's affordable, easy to use and aesthetically pleasing, then go with Lightwave. However, if you have big plans for your smart home system, then invest in Fibaro.
Fibaro is a fantastic alternative to Lightwave as it offers nearly limitless possibilities and can keep growing as you gain more confidence using home automation devices. Plus you can use thousands of 3rd party products with ease, thanks to Z-Wave!